BWW Interview: Lauren Ward and Nathan Amzi Talk PROM QUEEN
We recently caught up with Lauren Ward and Nathan Amzi while on a break from rehearsals for Prom Queen, a new musical based on the true story of Canadian teen Marc Hall, who took his Catholic school board to court when they wouldn't let him attend prom with his boyfriend. The show will receive a workshop presentation at The Other Palace on 2 July.
Lauren Ward is best known for originating the role of Miss Honey in Matilda in the West End and on Broadway, and was recently seen in Caroline, or Change, which transfers to the Playhouse Theatre in November.
Nathan Amzi appeared on the The Voice in 2014. He was also part of the original UK cast of Rock of Ages and was recently seen in In the Heights.
How did you first become involved in theatre?
Lauren: My mom took me to some Saturday youth theatre drama classes that were run by the MFA students at the University of Kansas City, where my dad was a professor, and it was basically Saturday babysitting while my dad was teaching. So I just kind of went through the ranks there.
Nathan: I was dancing at a barbecue and this woman came up to me and said, "So you like to dance?" and I was like, "Yeah, just Michael Jackson". Then she said she was taking this girl she taught to go up to London to see a professional school and offered for me to come. I was like "Yeah, I've never been to London".
I went up and the principal said to me, "If I put Michael Jackson on in the studio, will you dance?" I was 12 years old, so I said yes. I did it and she offered me a scholarship to go to the school and paid for my training.
Lauren: And what school was that?
Nathan: It was Urdang. They sorted out accommodation and I lodged on my own with families. I was not into it all. But my mum was like "They're giving you a chance. If you don't like it, after a year you can come home". And I got the bug.
What else are you involved with right now (that you're allowed to talk about)?
Lauren: Well I'm doing Caroline, or Change again. That I can talk about! It's the production we did at Chichester and then we did it at Hampstead Theatre this past spring and now it's being moved into the West End just for a limited run.
Nathan: I've just been filming some TV bits. I'm doing a TV show with Karl Pilkington where I play his boss called Sick of It. I'm doing Good Omens with Neil Gaiman and Terry Pratchett, which is filmed in South Africa. I'm doing Informer for BBC; I've got a little bit in there.
And then I'm doing Henry V, playing Exeter, with an orchestra in private palace gardens in Florence, as part of the New Generation Festival. They're doing Don Giovanni, Tchaikovsky's Fifth Symphony and Henry V with the orchestra playing.
Lauren: Wow, that's amazing. And in Florence!
Nathan: Yeah, and they're using the score that was written for Laurence Olivier's Henry V.
You've both worked in the States and here in the UK. What are the major differences?
Nathan: The pay is better.
Lauren: The pay is way better in America. I think Equity in this country could learn a lot from American Equity. The law system that's here is very unfortunate for artists, I think, in the country because the pay is often not a living wage.
Nathan: There was an article recently with a comparative study that looked at wages there and here and the gap's huge.
Lauren: And the cost of living here is higher. I mean, it's high in New York City but it doesn't compare to London. However, I think that in a strange way, you can be slightly more creative and take more risks here than you can take in commercial sectors in the United States.
Nathan: Yep, definitely. You're able to do things like this, which would cost a fortune to mount in America. Also, when I worked in the States, even if you have to a plug a keyboard in, you need two people to plug it in because the union is so strong. You need the guy who plugs the keyboard in and someone to make sure he doesn't get electrocuted. Here, our director Paul just plugs in the keyboard.
Lauren: One of the things that Paul is doing that's fantastic is, at least in musical theatre writing, in the States there's so much more going on and there's more development and more money behind helping new artists and this camaraderie amongst people. And I don't feel it's the same for writers in this country.
Nathan: I also feel like in this country the media doesn't support theatre in the same way that it does in America, which again makes it harder for those developing projects. I think the Oliviers has grown over the years and it's amazing to see where it sits now, but in comparison to the Tonys and how you can watch it all over the world...
Lauren: It gets the worst ratings though.
Nathan: Yeah, but I mean people celebrate the accolades.
Lauren: Yes, but I think that has its downsides, because if you don't win a Tony Award, you close. Whereas here, if you don't win an Olivier, it doesn't matter. That has to do with cost and unions. It's quite complicated to compare them.
Nathan: There are pros and cons. Being here, I've always felt Broadway's such a tight community, but when I was there, I felt like actually we have a really strong community here as well. You always think the grass is greener.
Lauren: I feel that way, bridging the gap between both. I have just as many fantastic friends here as I do there. You just bump into each other more in New York because it's a smaller, more contained area.
Can you tell us what Prom Queen is about?
Lauren: It's about a boy who wants to take his boyfriend to the prom.
Nathan: He goes to a Catholic school.
Lauren: And they deny him the right because they say it's against their teachings, and he sues the Catholic District School Board.
Nathan: It's a true story and what's interesting, I think, is it's really a story about relationships. It's this really good relationship story with his parents, his teachers, and also the community.
Lauren: And the kids are actually mostly supportive of this. When I think about when I was in high school, I want to believe that they were, but I don't know what it would have been.
Nathan: There's members of the community who say they should support this kid, but I guess the dogmatic religion teaching is what stops it going on. He tries to get it resolved through the school board and it goes through stages, and that's when a lawyer comes in to represent him to take on the Catholic church, which is a massive undertaking when you think about the reality of what happened.
What drew you to the project?
Lauren: Paul [Taylor-Mills] just called me up and asked me. I like Paul and I think he's doing really good work, so I was happy to do it.
Nathan: Same. I know Paul and in his tenure here at The Other Palace, he has sat in front of hundreds and hundreds of new musicals and new writing. I trust his judgement that he saw this while he was abroad and thought, "This is something that I think could work in the UK as well".
I want to champion what he's doing, giving a voice to new writers, and be part of the developmental process. Heathers is a prime example of that. Seeing the development from its workshop and now on the main stage, and I think it should transfer, personally. I don't know if it will happen. But the trajectory we're giving to new musicals and new writing is really important.
Lauren: I think as an artist, you have to be supportive of that. You need new writing. Sometimes, it seems there's a snobbery here about musical theatre writing, and actually it is an art form and it's constantly changing. You have to be quite innovative in it. I think the old formula has changed quite a bit.
Nathan: And the ability to present with a team of established performers and a team of Guildford School of Acting students.
Lauren: They're amazing.
Nathan: It's something that they're aspiring to do when they leave college, but also with this experience that they bring, it's invigorating for us watching their commitment and their drive.
Lauren: They learn things so quickly!
Nathan: It's throwing things up for the writers, especially being in a new country with a new team of people. Last night, they went away and wrote a new song and then came in today and said, "This is new; we're changing this". I think that's what workshops are for: the development.
What they do here at The Other Palace is for the audience who come to watch, there'll be questions on the app posed by the writers and the director and producers, and they fill out that form and it's constructive feedback for them to take on board. It's not to say that app becomes dogmatic and these 300 people didn't like this bit or that, but it's really a good way to get feedback from a wider group. In the same way that when you do a film, they put it out to screeners.
Lauren: It's part of the process.
Can you tell us a bit about the characters you play?
Lauren: I play sort of a feisty, French-Canadian mom of Marc, the boy who wants to take his boyfriend to prom.
Nathan: I play Lonnie Winn, who is a lawyer and he's gay himself. He never went to his prom. He offers to take the case pro bono to help support Marc and also to sort of to live vicariously through Marc, to justify something that he'd never gotten to succeed in.
How would you describe the show musically?
Lauren: It's more pop-y.
Nathan: It's very contemporary, in the ilk of the Dear Evan Hansen movement. Benj [Pasek] and Justin [Paul] are good friends of mine, and I see so much of that same youthful vibrancy and pop sensibility in the music. It's really catchy.
Lauren: It's really well crafted. I feel like they know what to write a song about. Sometimes, really novice writers write a song, but it totally stops the action and doesn't necessarily propel the story. I think these guys are quite good at that. There's still stuff they've got to work out.
Nathan: Yeah, it's a workshop. But what I think is really beautiful with musical theatre, for me, is when we go into song, it should be that the state of emotion is so high that you can't really express it in normal words. The musicality should bring something else to what you're saying.
There's a beautiful song we heard this morning. Luke Bayer, who is incredible and the current understudy for Jamie in Everybody's Talking About Jamie, is playing Marc. He sings this song called "We Could Be Infinite" or "Let Me Be Infinite". There's so much repetition in the song, but there's also so much colour brought into what he's talking about.
Lauren: It's a quite universal song. You could take it out and put it somewhere else.
What's your favourite thing about the show thus far?
Nathan: For me, it's got to be the GSA students.
Lauren: For me as well, I think!
Nathan: They're amazing. Just seeing young fresh talent and what they bring to the table and being a bit inspired by these people who put so much work in.
Lauren: They're really talented and I just love working on new writing. I love going through that process and trying to make it work and being a vessel for new writers.
Nathan: I think development is really important for them, but also for us as performers and actors. I learn something every time I come. Especially in this, you start to delve in a way you often don't do in bigger productions that have been done before.
Lauren: You have to learn quite quickly and improvisationally. It keeps your motor going.
Nathan: We ran through Act I today and I can't believe that yesterday was the first day people had learned the music and they were standing up there...
Lauren: And doing harmonies. I'm really impressed with this group of kids.
How's it feeling thus far in rehearsals?
Nathan: Happy, smooth. Paul's really efficient because he knows we don't have much time. We have the confines of six mics to perform with, but he wants to give as much clarity as we can give but move quickly through so we give the audience a fair enough sense of what the project is.
What's it like getting to work not just with the GSA students but also with this fabulous cast, including Caroline Sheen and Luke Bayer?
Lauren: It's great; it's really fun.
Nathan: It's a joy. The funny thing is, I don't know about you, but I've met you. We all know each other.
Lauren: Yeah, I know Caroline just because Mike [Jibson] was in my husband's production of Our House, so I've known him for years.
Nathan: I've known Mike for years as well, so I know Caroline. I know Luke [Bayer].
Lauren: It's that community where you kind of know each other, but I've never actually worked with anyone in this company.
Nathan: We sat next to each other at a wedding and then we've just been seeing each other loads.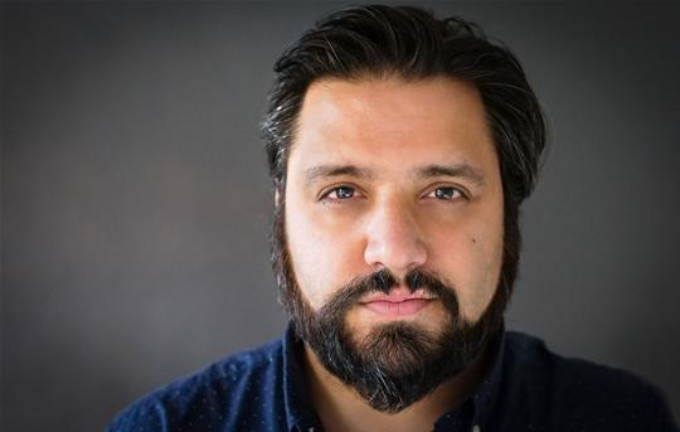 What themes of the show do you think will resonate with people?
Lauren: Acceptance, confidence in who you are.
Nathan: Love.
Lauren: Change.
Nathan: Also, I think support is really strong in this because, like you said, the kids in the school support him immediately. So building community.
Lauren: And tolerance, too. Lord knows, that's what we need at the moment in the world.
Do you think that it's important to have shows like this or Dear Evan Hansen or Everybody's Talking about Jamie that address issues that people are dealing with today?
Lauren: That's what art and theatre and writing are about really.
Nathan: I think that's the purpose of theatre, isn't it? To hold a mirror up to things.
Lauren: Any sort of art form.
Nathan: And to spark discussion and sometimes escapism from that world as well. I just did One Flew Over the Cuckoo's Nest at the Crucible before this. It's really interesting taking a play from 1961 and doing it now, and we had lots of talkbacks and Q&As afterwards. People were saying it's so important now because mental health is a discussion that's not spoken about enough. The play was enabling people to discuss it more and be more frank.
One lady said, "I've been in mental institutions and I've had electroshock therapy and I've never really talked about it, and I wanted to come and see this show and be here at this Q&A because we need to talk about it more and address it". In the same way, that's what this show does. It allows us to talk about something that sometimes gets put under a rug.
What are Prom Queen's plans beyond this run, if you know?
Nathan: I think more than anything it's development. It's a show that's still in that state of flux that needs developing.
Lauren: I was saying to Paul I hope that other producers and development people from other places, who are always looking for new writers and material, come so they can hear these guys' work, because they're really good. They should be doing more things.
Nathan: I was talking to them both last night and they were talking about their other job that lets them eat. They should be able to make a living off their talent.
Do you have any advice for people who want to work in theatre?
Lauren: Never say no. I mean, to jobs and things! I just think you should always take what opportunity comes, so that you keep growing and developing because you never really stop learning. Even as we change and we age, you have to keep growing.
Nathan: I think if you really want to do something in life and you're really passionate about something, never let life knock you back. If you really want something, fight for it and keep going.
I worked with Dustin Hoffman out in LA and he was saying he was 30 before he got his break. Before that, he was waiting tables and was literally on the bread line. He got a part and went over and filmed in LA and still didn't know how he was going to pay his rent. He didn't know that The Graduate was going to change his life and his career. So, if you truly believe in something, never give up.
Lauren: I also think, and I say this as a mother, I think you need to get an education.
Nathan: Absolutely.
Lauren: A smart actor will work for their lifetime. I really do believe that. The ones who are just not the sharpest tool in the shed, sometimes they have a harder time in the business because you have to learn how to do it.
Nathan: It's so interesting you say that, because I wholeheartedly believe that what gets missed out of what we do is the business of it. We are our business. It takes a lot to run a business. And the skills that you need to run any business are needed to be an actor or performer. It's funny when people say, "When are you going to get a real job?" I'm like "No, being a performer is a full-time job". And it does take highly skilled workers.
Lauren: I think people don't understand how hard you actually do work, sometimes for very little pay.
Finally, what do you hope that people who come see the workshop take away from it?
Lauren: You want to hope that they understand the story, but you want them to understand that they're coming to see something that's not a finished product.
They're kind of getting a window into a creative process, and even though we've made it somewhat presentational for the clarity of the storytelling, they're helping with that process. They're helping us understand what's clear and what's funny and what's too long and what doesn't work. They are collaborators in it.
Nathan: I think it's so exciting for the audience to come and have that window into the process when normally they just see a show that's up and running.
Lauren: A lot of people don't understand how long it takes to put something on and to create something.
A sharing of Prom Queen is on at The Other Palace on Monday, 2 July