BWW Interview: Michael Gore and Chris Terpening of SHREK THE MUSICAL (Charleston Light Opera Guild)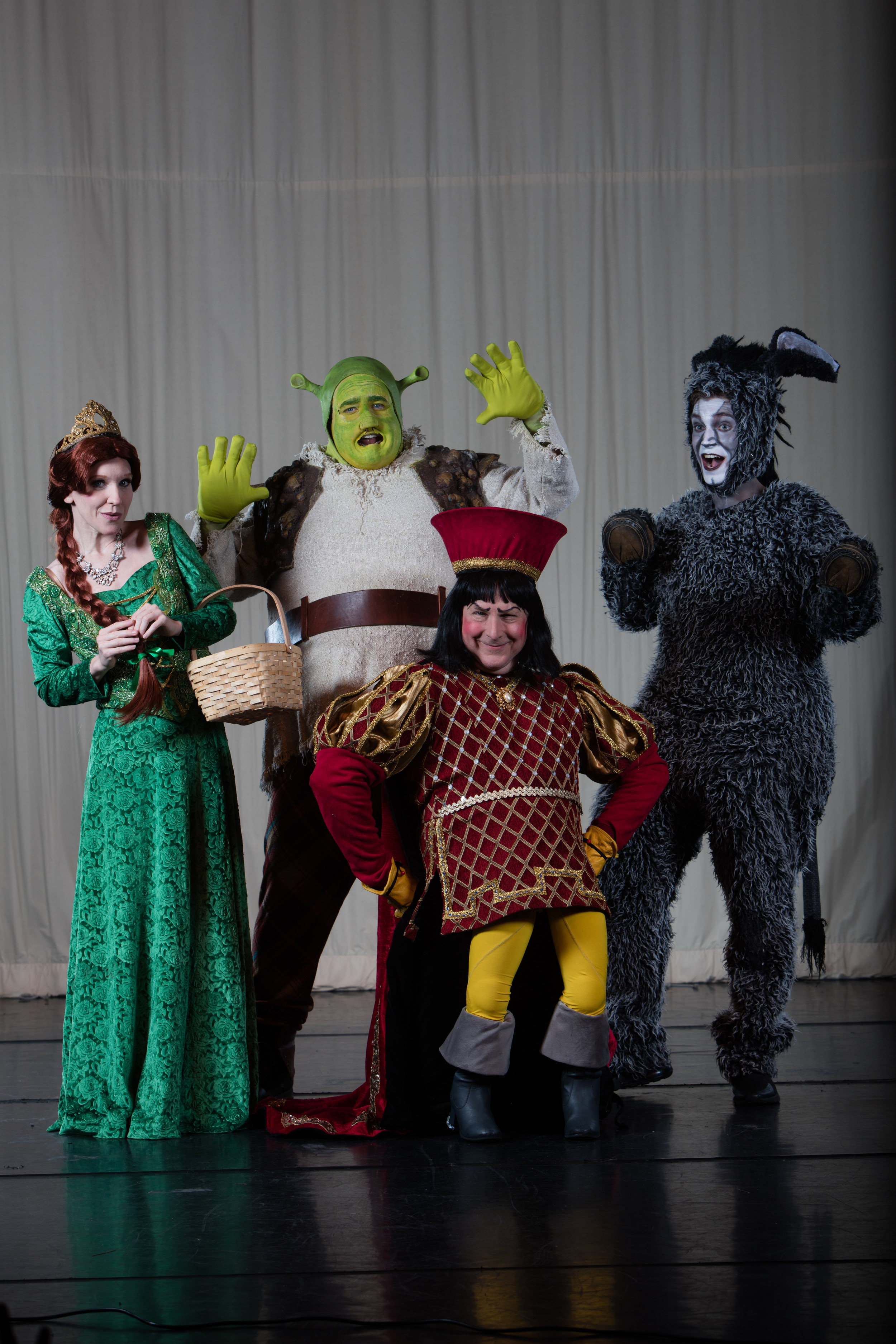 The Charleston Light Opera Guild (CLOG) is currently hard at work preparing for their upcoming production of Shrek the Musical, based on the wildly popular Shrek film series. The play - which opened in 2008 on Broadway and features a book and lyrics by David Lindsay-Abaire and music by Jeanine Tesori - follows essentially the same story as the first Shrek movie, albeit with the incorporation of multiple musical numbers and a few expanded set pieces.
For those unfamiliar, Shrek is the story of a simple ogre who wanted nothing more than to be left alone. Unfortunately for him, Lord Farquaad, ruler of the Kingdom of Duloc, decides to banish a large group of fairytale characters for being freaks and promising death to any who try to return. This caravan of the unwanted, including Peter Pan, Pinocchio, and a Fairy Godmother, end up on Shrek's doorstep looking for help. Annoyed, Shrek decides to travel to the Kingdom of Duloc to speak with Lord Farquaad in hopes of changing his mind. Lord Farquaad agrees, but only under the condition that Shrek rescue a beautiful Princess from a dragon guarded Castle. During his travels Shrek gains a loyal traveler in the form of a fast-talking and wise-cracking Donkey and together they fight to regain Shrek's lost solitude.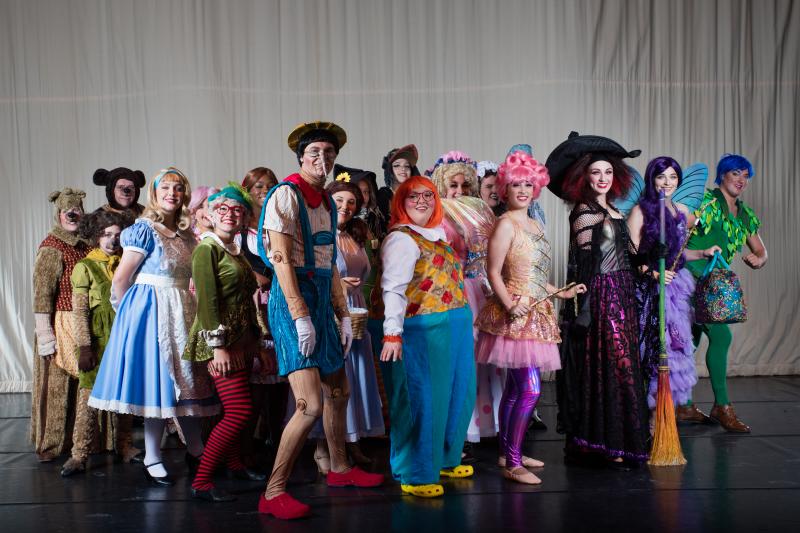 I had the chance to speak with two of the stars of CLOG's production to get their thoughts on the show, its message, and various aspects of performing this particularly grueling production. Michael Gore, who plays the eponymous title character Shrek, and Chris Terpening, who plays the evil Lord Farquaad, spoke about the show's iconic score and heartwarming message.
"It's far more than your average fairytale," explained Michael Gore. "While most will see it on the surface as a humorous work of art, at its core it is a show about acceptance and inclusion."
Chris Terpening agreed. "The message in this show is acceptance. Acceptance of others and their differences, and acceptance of yourself. In a world roiled by division, this message couldn't be more timely."
Fans of the film series should expect a few differences in the musical.
"The biggest difference is the music," explained Terpening. "There was underscoring in the film, but relatively little direct singing by the characters. In the play, the music is really good, and really helps develop the characters."
"The storyline remains the same in the transition from screen to stage, yet the stage production somehow lets the audience look deeper into the story of each character," said Gore. "The added music allows the stories to expand. You'll see most of the characters that you saw in the first Shrek movie and even a few from the second film."
For both actors, Shrek has been a bucket list show to perform in.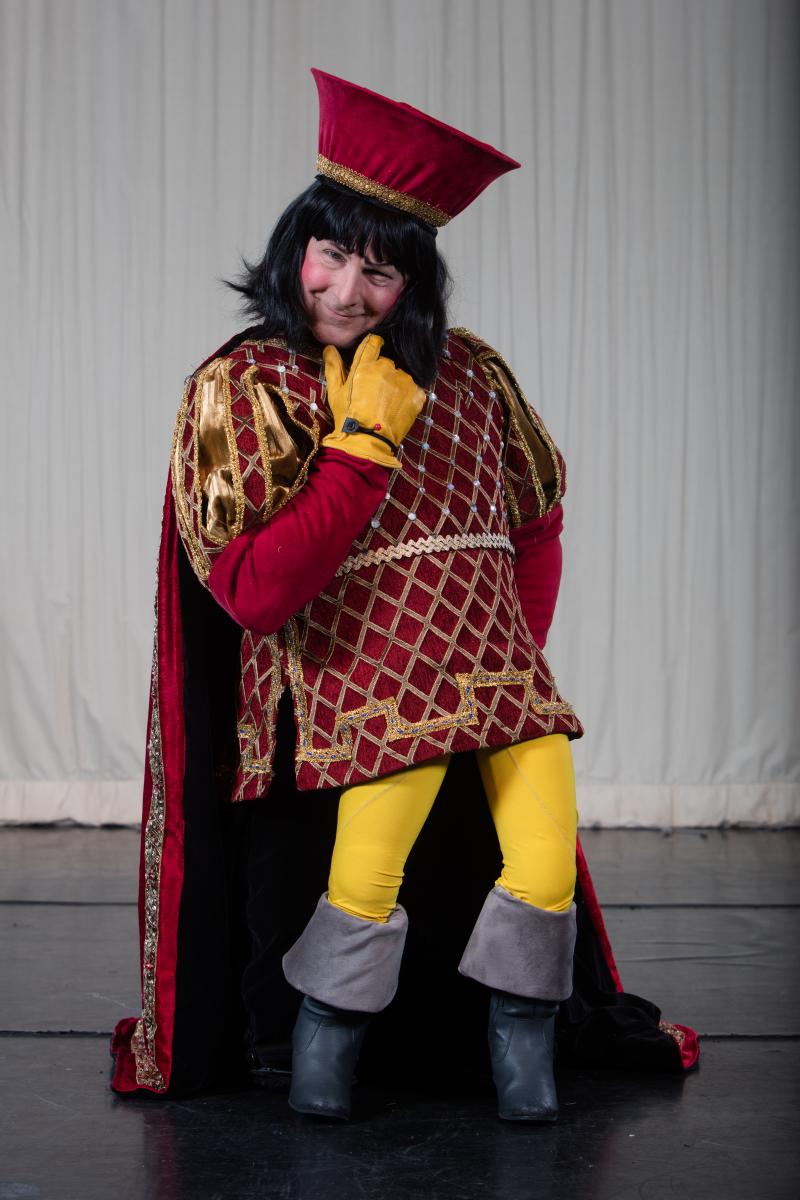 "About nine years ago I was driving and a song from the show came on," said Gore, recalling his first memory of the show. "I immediately downloaded the Original Broadway Cast Album. I fell for the show. I knew at that minute that I would one day play Shrek! I think every actor has a bucket list of roles and shows they want to be a part of - this is the last one on my current list."
"I really wanted to play Lord Farquaad," explained Terpening. "He's one of those over the top villains where you aren't trying to make him relatable, just as out and out silly as you can. Those are just pure fun for performers - the only limits are your warped imagination. Also, the songs he gets to sing really fit my voice well, in terms of range and dynamics."
Terpening and Gore gave a few examples of their favorite scenes and musical numbers.
"From my (Lord Farquaad's) scenes What's Up, Duloc? Is my favorite song - precisely because it is so silly," said Terpening. "But really, my favorite number in the show is Who I'd Be. It is beautiful, powerful, and emotionally gripping; everything you could want. Our three leads do such an incredible job with it."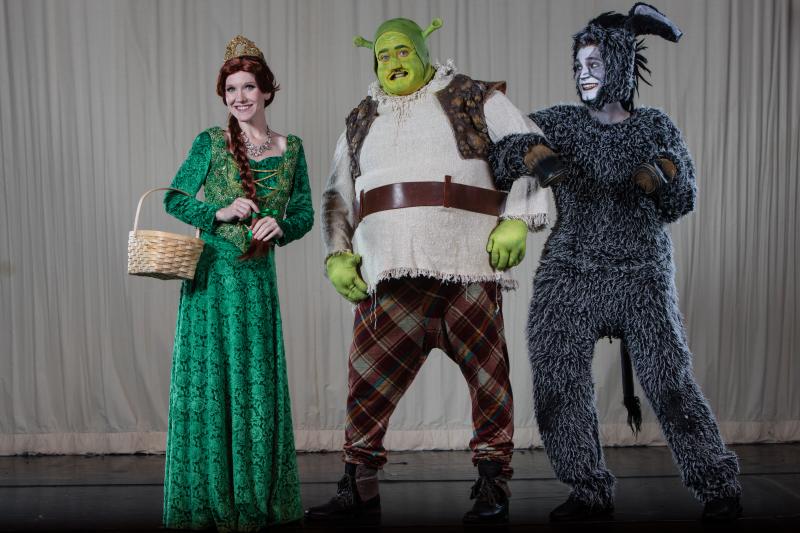 "There are so many to choose from," said Gore. "My favorite song to sing is the second act ballad Build A Wall. I love watching the ensemble sing Freak Flag and Story of My Life, because they are freaking awesome. However, the staging of I Think I Got You Beat has me laughing on stage every night."
Both actors undergo a rather intense transformation each night.
Gore must endure hours of make up to become the green ogre. "It is pretty intense. To prepare I've said goodbye to my beard and will be shaving my head so it will be easier to glue the mics to me. The makeup session is taking about two hours a night. It depends on if we are starting with a new prosthetic or reusing one that has already been painted with my green makeup. It was surprisingly easier than I thought to get into the character makeup, but it is much harder to get out of than I expected. I'm using a lot of lotion to keep my face happy because there is a lot of glue and makeup during the process."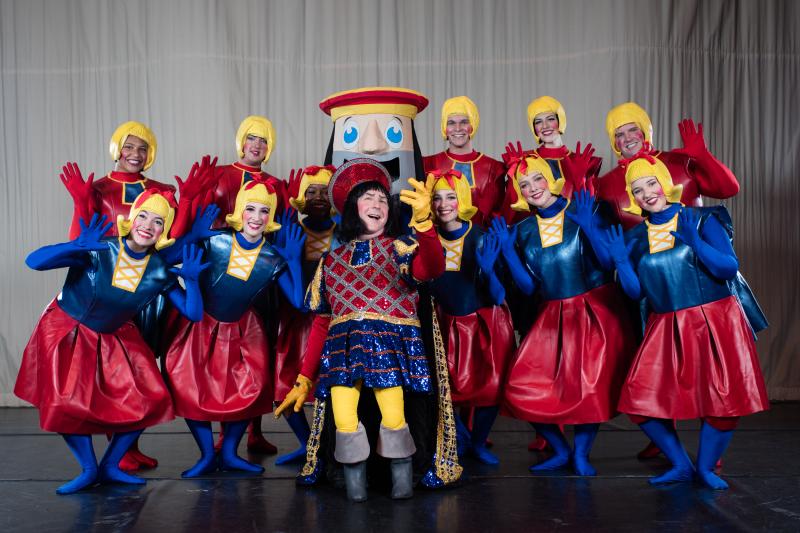 Terpening's routine isn't as makeup based as Gore's but did require learning a whole new skill set: how to walk and dance on only his knees. "In preparation I got heavy duty kneepads designed for those who are on their knees all day at work, laying carpet and the like. Even that didn't work as well as I'd anticipated, because my knees moved in them which rubbed the skin. Thus, I added a second pair of thinner, more tightly fitting kneepads underneath. After that my knees held up fairly well. It is indeed hard work, especially if you need to cross stage quickly. But at the same time, the perspective from being on your knees really helps you hone in on the character. It's well worth the inconvenience."
Gore and Terpening each took time to praise the cast and crew and to urge audiences to come out and enjoy the show.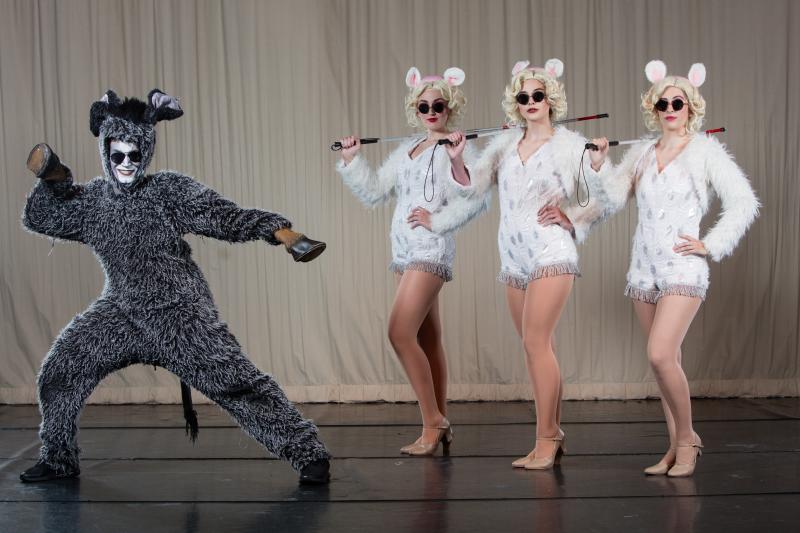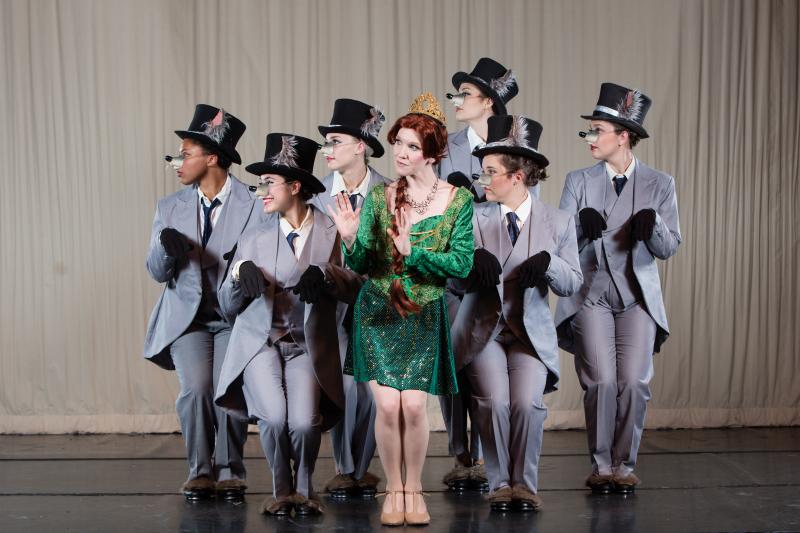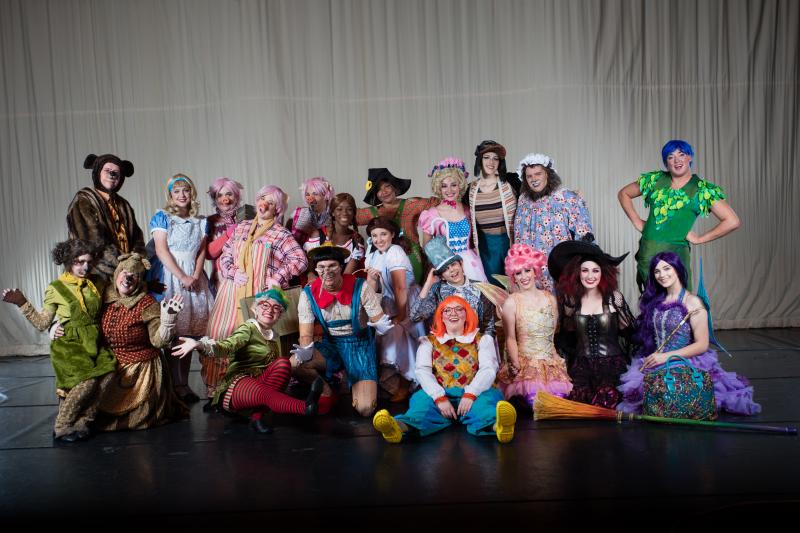 "It is a solid cast, top to bottom," explained Terpening. "The rehearsal period has been short, but everyone has picked up everything really quickly - which is a testament to their great talent. The show has a cartoony feel to it and - like all great cartoons - it works at both a kid's level and an adult level. There are tons of little theater inside jokes, which parody other shows. It will keep the whole family entertained."
Gore added that, "audiences should come ready to have a good time. The show is family friendly and will make you laugh, and hopefully make you think. The audience will love the big production numbers and the ensemble, they are just amazing. Shrek the Musical is full of catchy zingers and lots of subtle Broadway references."
Shrek the Musical
Show Dates:
August 2nd, 3rd, 9th, and 10th, 2019 at 7:30 PM and August 4th and 11th, 2019 at 2:00 PM.
Location:
Charleston Coliseum and Convention Center Little Theatre located at 200 Civic Center Drive in Charleston, WV 25301.
Tickets:
Tickets can be purchased online here. Tickets are $25.00.
Pictures:
All pictures courtesy of Brian Marrs / http://brianmarrs.com/
Related Articles View More West Virginia

Stories

Shows