Student Blog: Sharing Their Stories: An Interview with Bret Shuford
"You can work anywhere that makes you happy and still do what you love." - Bret Shuford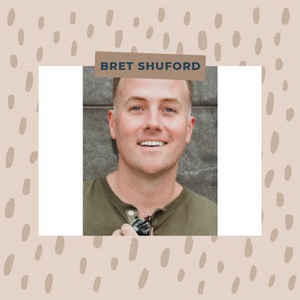 Hello Broadway lovers, creators, and theatre students around the world! Welcome back to the blog, and to my new segment: Sharing Their Stories. For the last few weeks, I've shared the journeys and artistic discoveries of notable artists in my DC area, and around the world. Every person I've had the honor to speak with, carries unique experiences and perspectives about the constantly changing world of the arts. I hope their stories serve as inspiration, demystification of the road to artistic success, and as fuel to keep creating.
As I start wrapping up the interview series, I want to be honest as to why I started writing them in the first place. I just wanted answers. As a thoroughly overwhelmed college theatre student, I just wanted someone to lay out a road map and show me the correct path to success. Well readers, if you've followed along with this series, you'll know the exact opposite occurred. I learned that every actor defines success differently, with a meaning created through experiences that shape your life and character. Everyone will take a different, crazy path to achieve their dream. There are no solid answers or solutions, only guidance as we create our own journeys. But what if you don't know where you want to end up?
When Broadway actor, content creator and life coach Bret Shuford sits down with new clients, he helps them "envision what they want their life to look like. So many actors come to me and say...I want to work on Broadway. I help them get more specific than that. Sometimes the vision exercise reveals truths about your career path." He reminds actors that they don't have to follow school à New York à Broadway. "You can work anywhere that makes you happy and still do what you love."
In a difficult business, the "Broadway or Bust" mentality can set up unrealistic expectations for your personal career path. But Bret raises the question, "does Broadway even fall into your idea of success?" He encourages creators to get specific about what they want in all areas of life, and then fearlessly seek it out. Meeting with Bret not only reminded me to prioritize the steps that will lead to success, but how important it is to define what you're searching for in the first place. Here is his story.
Bret was drawn to the performing arts since day one. "I trained! I worked as much as possible, did every show in every vicinity of my human body. The best way to learn is by doing, especially in college when everything is presented to you as training. The people who really stand out are the ones who push past that and continue learning." He studied at University of Oklahoma before transferring to Wagner College in New York. During spring and summer breaks, he worked outside school through summer stock and various internships to gain valuable experience. After graduation, he and other actor friends got an apartment in the city and began the journey to professional acting.
As a beginning actor, Bret filled his days with the balancing act of survival jobs and auditioning. But he always made sure to honor his vision. "I wanted to be a working actor in New York, so I always made auditioning and taking classes a priority. I would work to clear my schedule, making myself available for what truly matters." When he landed a job at the Paper Mill Playhouse, Bret got his equity card. "Joining the union was an easy decision for me. I just knew I really wanted to play on the professional level." Armed with union healthcare and benefits, Bret continued getting cast on and off Broadway. He had no doubts about his professional path until his third Broadway show.
"I was backstage during The Little Mermaid, dressed as a stingray, standing next to a blowfish. I was having a Saturday matinee kind of mood, and I just didn't want to be there. It hit me pretty hard in that moment...what am I doing here? If I wanted to make money, I could be doing anything else. Why am I specifically in this business?" This realization caused him to look inward, about the lessons he'd learned, his purpose, and what he wanted to give back to the theatrical community. Bret was drawn to the idea of helping others create their success. "I realized that so many of us actors are training for Broadway without ever really learning how to run a business. How do I help people really look at their values so that they show up to work from a place of fulfillment?" In response to this realization, Bret became a certified life coach and began helping artists find their purpose in the theatrical world. Today, he works to help people realize and achieve their personal vision of success. "I think so many believe that they'll be happy once they book a Broadway show. But it's the opposite. Once you're happy, then you start booking the Broadway shows."
Today, Bret works a balancing act between his performance side and his business side. "Balance comes from forgiveness, knowing that you're not always going to do it perfectly." This past year allowed him to dedicate more time to his coaching, helping him serve his community during this time and analyzing his own next steps. A typical day in Bret's life involves content creation, whether producing his podcast (Broadway Husbands), creating reels on Instagram, or taking over Tiktok. He also coaches 12-16 private clients per week. How does he handle it all? "It's all about structure, delegation, and asking for support. Getting support is one of the most powerful things I've done for myself and my business."
While the pandemic has allowed Bret the time to reconnect with his purpose and give back to the community, he also has great hopes for the theatrical world when Broadway re-opens. "I would like to see Broadway be more equitable. I think part of that is figuring out how to have a Human Resources department for people who work there. Especially, I'd love to see at least one Broadway theatre owned by a person of color."
Broadway may remain shut down, but Bret emphasized that our creativity doesn't have to follow suit. "Don't wait for Broadway to come back to be the creator and person you want to be in the world. People need your message, and they need to know what you can create, so put it out to the world regardless. People need what you have."
Get your free roadmap to move from "Imposter to Influencer" at bretshuford.com