Review Roundup: Critics Weigh In On TURN ME LOOSE at Arena Stage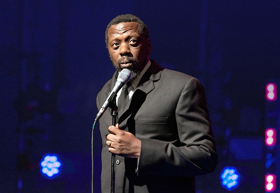 Arena Stage's D.C.-area premiere of Turn Me Loose, Gretchen Law's intimate, no-holds-barred drama about the extraordinary and explosive life of Dick Gregory, who spent his later years in the nation's capital recently celebrated opening night.
Turn Me Loose chronicles Gregory's rise as the first Black comedian to expose audiences to racial comedy; in confronting bigotry head-on with biting humor and charm, Gregory turned activism into an art form. "Scorchingly funny and brilliant" (The New York Times), Turn Me Loose, directed by John Gould Rubin, runs September 6-October 14, 2018 in the Kreeger Theater.
Obie Award-winner and former stand-up comedian Edwin Lee Gibson will portray comedian-activist Dick Gregory. Gibson's 90-plus professional theater credits include Off-Broadway's Battlefield by Peter Brook, Love and Information by Caryl Churchill and The Seven. Making his Arena debut, John Carlin joins the cast as Stand-up Comic/Emcee/Interviewer/Heckler/Cabbie, reprising the roles he originated.
"Dick Gregory's impact is more than being a socially conscious comedian," says Molly Smith. "He put his heart where his mouth was and used a talent for comedy as a platform for action - and change. He lived in our town and it's a joy to present a play about him."
"Dick Gregory - uniquely - sacrificed an extremely successful and lucrative career for activism," shares Rubin. "There are any number of prominent figures who use their celebrity in favor of a cause, but very few who relinquish fame and money for their beliefs. For this alone, he was a hero. I created this show when he was still alive to re-discover a hero living among us. Now, of course, to re-discover a hero. And he pursued injustice wherever his experience and imagination led him, so that, ultimately, he wielded his activism on behalf of a wide array of progressive issues, especially racial injustice. He was deeply intelligent, acutely attuned to the truth, unbendingly faithful to his beliefs and ridiculously funny. A hero by any standard."
Tickets may be purchased online at arenastage.org by phone at 202-488-3300 or at the Sales Office at 1101 Sixth St., SW, D.C.
Let's see what the critics have to say!
Beatrice Loayza, DC Metro Theatre Arts: Fans of stand-up and more traditional theater-goers alike will find something to love about this production of Turn Me Loose, which was originally co-produced by John Legend Off-Broadway in 2016. Since then, this theatrical dramatization of the life of Mr. Dick Gregory has found great success in New York City and throughout the United States. Tts homecoming to the birthplace of Mr. Gregory in Washington, D.C. is a first class addition.
Nelson Pressley, Washington Post: Gibson sinks into the halting cadences of the elder Gregory so thoroughly that at times it slows the performance. But the upside is the edge of the material, still sharp enough to make a D.C. audience gasp or snap their fingers in solidarity. The elder Gregory reckons that "Being white is an attitude," and that there aren't actually more than three (give or take) white people on the planet: Vladi­mir Putin, the Koch brothers and Mitch McConnell.
Brian Bochicchio, MD Theatre Guide: The show is a swirl of onstage appearances and somber asides where the inequality he sees around him grind at him incessantly. He recounts early on his he was once accused of touching a white woman's leg while shoe shining, and had his front teeth knocked out. From dealing with an abusive alcoholic father to not being able to stay with the other students on the track team hotel, his painful past emerges. "Last time I was down South I walked into this restaurant and this white waitress came up to me and said, "We don't serve colored people here." I said, 'That's all right. I don't eat colored people. Bring me a whole fried chicken.'"
Elliot Lanes, BroadwayWorld: The show is well paced and Director John Gould Rubin's staging serves the piece well. I just wish he was able to reign in the playwright and focus the script a little better during the creation phase. (He was the one whose idea it was to create it.)
Kelly McCorkendale, DC Theatre Scene: Dick Gregory was a genius. And this show captures his brilliance with mesmerizing effect. Moving and funny, Turn Me Loose is a necessary, authentic, and satisfying portrait of a man and the America he dared to confront. It also feels a shade shy of dangerous. Just like Gregory himself, sitting in a segregated Mississippi diner, challenging a trio of white men to come at him.
Related Articles View More Washington, DC

Stories

Shows
More Hot Stories For You