Photo Flash: First Look At A BURIAL PLACE At The Wheel Theatre Company
The Wheel Theatre Company's production of A Burial Place by award-winning playwright Owen Panettieri opens this week at the DC Arts Center in Washington, DC.
The cast features local DC performers Philip Kershaw, Alex Lew and Colton Needles as three best friends forced to confront a secret that will change their friendship forever. A Burial Place is directed by Elizabeth Floyd.
Following a rough sophomore year at college, Emmett, Colby and Marcus were hoping to reunite at home for a fun night of beers and laughs at their annual summer sleepover. Instead, they come back to find their town at the epicenter of a major police investigation. A gruesome discovery out in the woods where they used to play has resulted in public outrage and a growing list of unanswered questions. What's been found out there could be connected to an incident involving Marcus from years earlier, but if the boys go in search of the truth now, it may only pull them apart forever. Some secrets, no matter how far you push them down, never find a place to rest.
A Burial Place runs at DC Arts Center 2438 18th St NW, Washington, DC 20009. Performances are March 8-17, 2018 at 7:30pm & 3:00pm.
Tickets are $20 can be purchased online at www.thewheeltheatre.org or at the door on the day of the performance.
All Photos by Elizabeth Floyd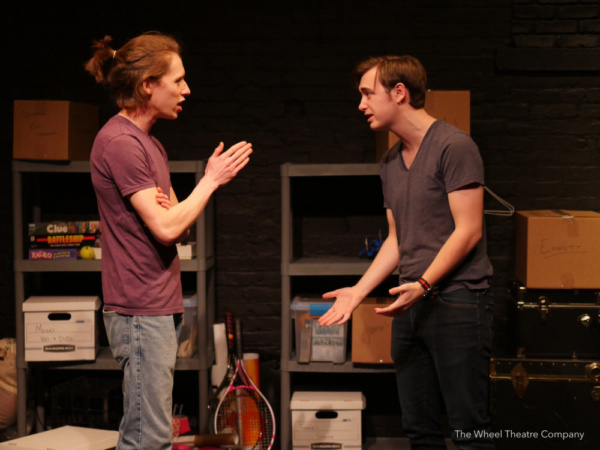 Alex Lew and Colton Needles

Philip Kershaw, Colton Needles and Alex Lew

Philip Kershaw

Colton Needles and Alex Lew

Colton Needles and Philip Kershaw

Colton Needles and Alex Lew