Performances of A CHRISTMAS CAROL Begin Next Month at Ford's Theater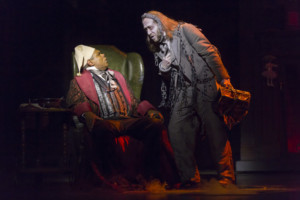 Ford's Theatre Director Paul R. Tetreault announced that acclaimed Washington actor Craig Wallace will return to Ford's to perform the role of Ebenezer Scrooge for the company's holiday production of "A Christmas Carol." Performances of the classic Charles Dickens play begin November 16 and continue for a six-week engagement through December 31, 2017. This "musically high-spirited" and "infectiously jolly" (The Washington Post) production is adapted by Michael Wilson, directed by Michael Baron.
Join the ghosts of Christmas Past, Present and Future as they lead Ebenezer Scrooge on a journey of transformation and redemption. The production captures the magic and joy of Dickens's Yuletide classic with abundant caroling, spooky stage tricks and cheerful dancing for the holiday season.
"When you first see him, you think that Scrooge is untouchable," says Wallace. "But the warning from Marley, and then from these spirits, allows Scrooge to unlock his compassion and charity. Scrooge learns that genuine happiness is found in doing for others-and that is a message that resonates with me and with our audiences. Scrooge could easily be you or me. It is never too late to live life with empathy."
"A Christmas Carol" is made possible by Lead Sponsors AT&T and Charter Communications; and Sponsors Southern Company, Liberty Mutual, United Parcel Service and the National Retail Federation. The Ford's Theatre 2017-2018 Season Sponsors are The Home Depot and Chevron.
THE DIRECTOR
Michael Baron made his Ford's Theatre directorial debut with the 2009 production of "A Christmas Carol." He also served as associate director of the 2008 Ford's production of "The Civil War." Regional directorial credits include: "The Little Dog Laughed;" "James and the Giant Peach;" "A Year with Frog and Toad" (2012 Helen Hayes Award); "December Divas;" "Lost Songs of Broadway I and II;" "Sex Habits of American Women;" "A Christmas Carol" for Trinity Repertory; and productions for La Mama and the Washington Savoyards. Baron holds a MFA from Trinity Repertory and has taught at American University, Brown University and College of the Holy Cross. Baron is Producing Artistic Director of the Lyric Theatre of Oklahoma.
THE CAST
Craig Wallace was most recently featured at Ford's as Willy Loman in "Death of a Salesman" and in productions of "The Guard," "Driving Miss Daisy," "Necessary Sacrifices" and others. Additional recent credits include productions of Mosaic Theater Company's "Satchmo at the Waldorf," "All the Way" at Arena Stage and "Stage Kiss" at Round House Theatre, among others.
"A Christmas Carol" also features Lauren Williams as Belle, Michael Bunce as Bob Cratchit, Rayanne Gonzales as the Ghost of Christmas Present, James Konicek as Jacob Marley and Justine "Icy" Moral as the Ghost of Christmas Past, with Jonathan Atkinson, Ryan Burke, Maria Egler, Rick Hammerly, Yesenia Iglesias, Eben K. Logan, Gregory Maheu, Amy McWilliams, Christopher Mueller, Stephen F. Schmidt, Melissa Victor and Jaysen Wright.
The young cast of "A Christmas Carol" (roles rotate every other performance) includes Malcolm Fuller and Nathan Pham as Tiny Tim, with Tad Clifton, Ainsley Deegan, Penelope Gallagher, Lindsey Gattuso, Sophia Greene, Jeremiah Hasty, Antonio LaNave, Sarah Kathryn Makl, Reid Murphy, Serena Parrish, Kashvi Ramani and Cailin Russell.
THE DESIGNERS
Designs for "A Christmas Carol" include Scenic Designer Lee Savage's striking iron work, which evokes London's Covent Garden marketplace. The cast is outfitted in Alejo Vietti's festive Victorian costumes. The design team also includes Lighting Design by Rui Rita, Original Music and Sound Design by Josh Schmidt, Choreography by Shea Sullivan, Wig Design by Charles G. LaPointe, Choral Direction by Jay Crowder and Dialects by Rachel Hirshorn-Johnston.
SPECIAL PERFORMANCES AND EVENTS
Audio-described performances of A Christmas Carol are November 28, 2017, at 7:30 p.m. and December 16, 2017, at 2 p.m. A captioned performance is scheduled December 9, 2017, at 2 p.m. A sign-interpreted performance is December 14, 2017, at 7:30 p.m.
"A Christmas Carol" 500th Performance
Ford's Theatre celebrates the 500th performance of the current Michael Wilson adaptation of "A Christmas Carol" on December 9, 2017, during the 2:00 p.m. matinee. This adaptation made its Ford's debut November 23, 2009. The Ford's tradition of presenting "A Christmas Carol" began in 1979. Ford's celebrated 35 years of presenting the Dickens holiday classic during last year's 2016-2017 season. For more information on the history of presenting "A Christmas Carol" at Ford's Theatre, visit our Google Arts and Culture exhibit at https://www.google.com/culturalinstitute/beta/exhibit/PgKyg0fPfuzFKw.
Free Tickets to First Performance
In an effort to broaden access to our theatre programming, Ford's Theatre Partners with TodayTix to give out free tickets for the first performance of each mainstage production in our theatrical season. One-hundred and fifty tickets for the November 16 performance will be available via the TodayTix app lottery beginning November 9. The TodayTix app is available in Apple App Store, the Google Play or Amazon AppStore. Visit www.fords.org/free for lottery entry details.
Since 2009, the company of "A Christmas Carol" has devoted time and energy to raising money for Washington charities dedicated to eradicating homelessness, hunger and poverty. Their efforts coupled with our audience's generous support have raised more than $639,000 for local charities including N Street Village, Bread for the City, Covenant House Washington, Martha's Table, Miriam's Kitchen and So Others Might Eat. This year's Washington charity recipient will be announced by Nov. 16.
Ford's Theatre Society
One of the most visited sites in the nation's capital, Ford's Theatre reopened its doors in 1968, more than a hundred years after the assassination of President Abraham Lincoln. Operated through a partnership between Ford's Theatre Society and the National Park Service, Ford's Theatre is the premier destination in the nation's capital to explore and celebrate Abraham Lincoln's ideals and leadership principles: courage, integrity, tolerance, equality and creative expression.
Ford's Theatre Society was founded under the guidance of executive producer Frankie Hewitt, who, during her 35-year tenure, established Ford's as a living, Working Theatre producing performances that highlighted the diversity of the American experience. Since the arrival of Paul R. Tetreault as Director, critics and the theatregoing public have recognized Ford's for the superior quality of its artistic programming. With works from the Tony nominated "Come From Away" and nationally acclaimed "Big River" to the world premieres of "Meet John Doe," "The Heavens Are Hung In Black," "Liberty Smith," "Necessary Sacrifices," "The Widow Lincoln" and "The Guard," Ford's Theatre is making its mark on the American theatre landscape. In the past decade, the mission of Ford's Theatre Society expanded to include education as a central pillar. This expansion led to the creation and construction of the Center for Education and Leadership, which opened in February 2012. Currently, under the leadership of Board of Trustees Chairman Eric A. Spiegel, the Society is building Ford's Theatre into a national destination for exploring Lincoln's ideas and leadership principles and finding new ways to bring Lincoln's legacy to life for the 21st-century learner.
For more information on Ford's Theatre and the Ford's Theatre Society, please visit www.fords.org.