Full Cast And Creative Team Announced For THE HEIRESS At Arena Stage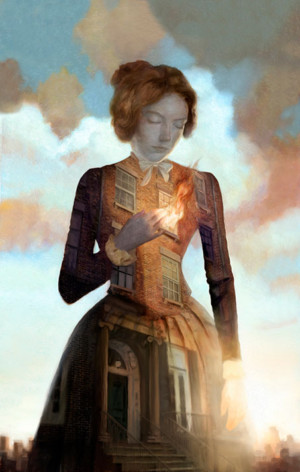 Arena Stage at the Mead Center for American Theater announces the full company for Ruth and Augustus Goetz's melodrama, The Heiress, suggested by the Henry James novel, Washington Square. After growing up subjected to her father's disinterest and strong resentment, a young woman in the 1850s discovers what love is in her journey towards independence, growth and strength, without an impactful female role model in her life. Directed by Deputy Artistic Director Seema Sueko, The Heiress runs February 8 - March 10, 2019 in the Fichandler Stage.

"The Heiress is going to be something that our classic Arena Stage audiences will love," shares Artistic Director Molly Smith. "It's the story of a plain looking, exceedingly wealthy woman in New York City in the 1850s, and the journey she takes to become a full human being. It is a real potboiler of a play - and a mystery play - especially exciting because it's going to be created in the round, directed by Arena's Deputy Artistic Director Seema Sueko."

"What does it mean to become your own person? Today, as we grapple with the minefields of love, abuse and power, this story about a young woman in 1850, learning the dicey game of love and money and making her own choice, is the empowerment that we all need," proclaims Sueko. "I am excited to dive into this thriller of the heart and to collaborate with our brilliant all-female, multi-racial design team and exquisite cast."

Making their Arena Stage debuts, Laura C. Harris (Studio Theatre's Kings, Signature Theatre's The Flick) portrays the quiet and private Catherine Sloper and Jonathan David Martin (Broadway's War Horse, 59E59 Theaters' Ndebele Funeral) takes on the young and daring Morris Townsend, who may or may not win her heart.

Also making their Arena debuts are Janet Hayatshahi (Tentacular Performance Group's Launching Ships, Sledgehammer Theatre's A Dream Play) as Elizabeth Almond and Nathan Whitmer (The Old Globe's Measure for Measure and Love Labors Lost) as Arthur Townsend.

Making their return to Arena Stage are Lise Bruneau (Arena's Watch on the Rhine and Legacy of Light) as Mrs. Montgomery, Lorene Chesley (Arena's Smart People, Merrimack Repertory Theatre's The Villains' Supper Club) as Marian Almond, Nancy Robinette (Arena's Ah, Wilderness!, Broadway's The Curious Incident of the Dog in the Night-time) as Lavinia Penniman, Kimberly Schraf (Arena's Ah, Wilderness!, Ford's Theatre's Death of a Salesman) as Maria and James Whalen (Arena's The Little Foxes, Round House Theatre's Small Mouth Sounds) as Dr. Austin Sloper.

In addition to Sueko, the creative team includes Set Designer Mikiko Suzuki MacAdams, Costume Designer Ivania Stack, Lighting Designer Sherrice Mojgani, Original Music and Sound Design by Emma M. Wilk, Wig Designer Anne Nesmith, Voice and Text Coach Jan Gist, Casting Director Victor Vazquez, Stage Manager Susan R. White, Replacement Stage Manager Joseph Smelser, Assistant Stage Manager Marne Anderson and Production Assistant Dayne Sundman.

Seema Sueko (Director) joined the Arena Stage staff in July 2016 as deputy artistic director and has since directed The Price and Smart People at Arena. She previously served as associate artistic director at The Pasadena Playhouse and executive artistic director of Mo`olelo Performing Arts Company. Her directing and acting credits include Denver Center, The Pasadena Playhouse, People's Light, The Old Globe, San Diego Repertory, Yale Repertory, 5th Avenue Theatre and Native Voices, among others. As a playwright, she received commissions from Mixed Blood Theatre and Center Stage. Her work has been recognized by the California State Assembly, NAACP San Diego, Chicago Jeff Awards, American Theatre Wing and American Theatre magazine. Seema developed the Consensus Organizing for Theater methodology, has done research on the neuroscience of acting, and serves on the Diversity Committee of the Stage Directors and Choreographers Society.

Ruth and Augustus Goetz (Playwrights) collaborated on many Broadway plays, such as Franklin Street (1940); One Man Show (1945); The Heiress (1947), which was loosely suggested by Henry James' novel Washington Square; The Immoralist (1954), an adaptation from the novel by Andre Gide; and The Hidden River (1957), an adaptation of a novel by Storm Jameson. The Goetzes also collaborated on the following films: The Heiress (Academy Award, 1949), Sister Carrie (1950), Rhapsody, Trapeze and Stagestruck. Mrs. Goetz is the sole author of two plays: Sweet Love Remembered (1959), written after her husband's death in 1957, and Madly in Love (1963). The Goetzes were active members of the Dramatists Guild. Their daughter, Judy Firth Sanger, is a poet and frequent reference source for productions of The Heiress. Their granddaughter, Katie Firth, is an actress working in New York.

Cast Biographies (in alphabetical order)
Lise Bruneau (Mrs. Montgomery) is happy to return to Arena Stage after appearing in Watch on the Rhine, Mother Courage and Karen Zacarias' Legacy of Light. Recent credits include Broadway's The Cherry Orchard (Roundabout) and Sweat for A.C.T. San Francisco. D.C. appearances include Hamlet and Othello (Shakespeare Theatre Company), Broken Glass and Brighton Beach Memoirs (Theater J, Helen Hayes nomination) and This (Round House). For Denver Center, she was Hesione in Heartbreak House (Henry Award). As a director, she's helmed productions for MetroStage, Clarence Brown Theatre, the Riot Grrrls and Taffety Punk. Regionally, she has appeared at Cleveland Playhouse, The Globe, Seattle Repertory, The Wilma, Berkeley Repertory and many Shakespeare festivals. Lise trained at RADA and is proud to be a Taffety Punk.

Lorene Chesley (Marian Almond) is thrilled to be back at Arena Stage! A native of the Washington, D.C. metropolitan area, Lorene grew up studying ballet and tap, but quickly segued her love for performance into acting. Stage credits include Valerie Johnston in Smart People (Arena Stage), The Flame/Ms. Caliente in The Villians' Supper Club (Merrimack Repertory Theatre), Cassandra in The American Woman (Pasadena Playhouse) and Delilah in Memphis (La Jolla Playhouse). TV credits include Perception (TNT), Shameless (Showtime) and The Fosters (Freeform). This fall she released her first book The Perfectly Imperfect Christian (Amazon.com), praise! She studied theater at Temple University and earned an M.F.A. in acting at UCSD. Lorene would like to thank God for her many blessings, and her family and friends for their continual love and support!

Laura C. Harris (Catherine Sloper) is making her Arena Stage debut. Previous Washington, D.C. credits include Kings, Cloud 9, Time Stands Still, Bachelorette and Red Speedo at Studio Theatre; The Flick and Tender Napalm at Signature Theatre; NSFW, Seminar, Amadeus, Young Robin Hood and 26 Miles at Round House Theatre; Vicuna at Mosaic Theater; Awake and Sing! at Olney Theatre Center; Love and Information, Passion Play, World Builders and Amazons and Their Men with Forum Theatre; Our Class at Theatre J; The Winter's Tale and The School for Scandal at Folger Theatre; and An Experiment with an Air Pump with Potomac Theatre Project, along with extensive on-camera and voiceover work. Laura is a graduate of Middlebury College. www.lauracharris.com

Janet Hayatshahi (Elizabeth Almond) last appeared as Helen of Troy in Launching Ships with Tentacular Performance Group. She spent six seasons with San Diego's Sledgehammer Theatre, playing roles in A Dream Play, Macbeth, nu, [sic], Berzerkergäng, Richard III, Furious Blood and Phenomenal Acceleration. Other California theater credits include Master Class (Poway Center for Performing Arts); Remains (Mo'olelo Performing Arts Company); Taming of the Shrew and Macbeth (Central Coast Shakespeare); Beyond Therapy, Marvin's Room and Rules of Love (Centerpoint Theatre Group); and Myth Project V: Cowboys: American Heroes (Patricia Rincon Dance Collective). Chicago credits include Agamemnon (European Repertory Theatre) and Infernal Machine and Knights of the Round Table (Eclipse Theatre Company). BFA: Ithaca College; MFA: UC San Diego. Janet is currently an assistant professor of theater at Randolph-Macon College in Ashland, VA. www.hayatshahi.com

Jonathan David Martin (Morris Townsend) Arena Stage debut! Other credits include War Horse at Lincoln Center Theater (original Broadway cast). Off-Broadway productions at the National Black Theatre, 59E59 Theaters and Bushwick Starr; regionally at Theater Alliance, Two River Theater, Portland Center Stage, Shakespeare Santa Monica, Seattle Children's Theatre, Empty Space Theatre, NMA Physical Theatre Ensemble and Washington Ensemble Theater, where he was a founding co-artistic director. He is also the co-artistic director of NYC-based Smoke & Mirrors Collaborative whose original works include Olityelwe (59E59 Theaters, UK and South Africa tours), Point of Departure, Head in the Sand, The Alien Nation, #HashtagProject and Tangible Hope Project, a documentary series highlighting community change-makers across America. TV credits include Unforgettable and Believe. Annenberg Fellow for the Arts. MFA: NYU Graduate Acting.

Nancy Robinette (Lavinia Penniman) has appeared at Arena Stage in Ah Wilderness!; The Avenger's Comedie; Death of a Salesman; Well; You Nero; Blithe Spirit; The Women, Lovers and Executioners; For the Pleasure of Seeing Her Again; and Christmas Carol 1941. Most recently in Washington she was in Everything is Illuminated at Theatre J, John at Signature Theatre and Comedy of Errors at the Shakespeare Theatre, where she is an affiliated artist. Regionally she has appeared at Old Globe, Paper Mill, Williamstown, New York Theatre Workshop, Roundabout, Key West Waterfront and McCarter theaters. She appeared on Broadway in The Curious Incident of the Dog in the Nighttime. TV credits include Louie and Homicide. Films credits include Serial Mom, Soldier Jack, Three Christs, The Hunley and The Day Lincoln Was Shot. Last year she received The Helen Hayes Tribute.

Kimberly Schraf (Maria) is delighted to return to Arena Stage, where she also appeared in Ah, Wilderness! and The Women. Other D.C. appearances include Death of a Salesman and The Laramie Project at Ford's Theatre; Vicuña and the American Epilogue and Oh, God at Mosaic; Measure for Pleasure and The Gigli Concert at Woolly Mammoth; Angels in America and Show Boat at Signature; Skylight, Frozen and all four of The Apple Family Plays at Studio; and Our Town and A Prayer for Owen Meany at Round House. As co-director of the Honors Conservatory at the Theatre Lab, she prepares adult actors for professional theater work, and as a Steering Committee member of Actors Arena, she helps to program workshops and roundtable discussions to enrich and deepen the acting craft of seasoned professionals.

James Whalen (Dr. Austin Sloper) last appeared at Arena as William Marshall in The Little Foxes. His most recent D.C. area appearances include Small Mouth Sounds (Round House Theatre) and True West (Rep Stage). He has also performed locally with The Kennedy Center, Olney Theatre Center, Everyman Theatre, Mosaic Theatre, Shakespeare Theatre Company and Theatre J. Regionally he played Dracula at Actors Theatre of Louisville. Some of his favorite TV and film credits include House of Cards, VEEP, I Love You But I Lied, Money Matters and A Beautiful Mind.

Nathan Whitmer (Arthur Townsend) is proud to be making his Arena Stage and Washington, D.C. debut! In New York he worked Off-Broadway with both Marvell Repertory Theatre and Titan Theatre Company. Regional credits include Love's Labor's Lost, Macbeth and The Comedy of Errors (The Old Globe Theatre); A Christmas Carol, ACE and Reckless (Cincinnati Playhouse in the Park); Robert in Company (Heritage Theatre Festival in Charlottesville, VA); Texas Shakespeare Festival; Fairbanks Shakespeare Festival; and over 20 productions with Barter Theatre in Abingdon, VA, where he was a resident company member. Nathan lives with his wife, actor Emelie Faith Thompson, and their young daughter, Violet, in northern Virginia. MFA: The Old Globe/USD; BFA: Ohio University. Instagram: @actornate www.nathanwhitmer.com


The Heiress is generously sponsored by Barbara and Arthur Bushkin, Daniel Korengold and Martha Dippell and Ourisman Automotive of Virginia and Ilene and Steven Rosenthal.

Post-Show Conversations
Connect with our shows beyond the performance at a post-show conversation with artists and staff - February 20, February 26 and March 6 following the noon performance; March 5 following the 7:30 p.m. performance and March 7 following the 8:00 p.m. performance.