Full Cast And Creative Team Announced For KLEPTOCRACY At Arena Stage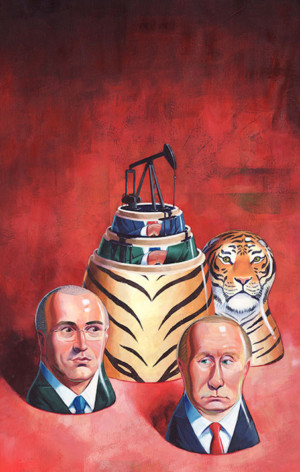 Arena Stage at the Mead Center for American Theater announces the full company for the world premiere of Kenneth Lin's timely cautionary tale of capitalism run amok, Kleptocracy. Inspired by the power struggle between the richest of the Oligarchs and an ambitious Vladimir Putin after the collapse of the Soviet Union, Lin (House of Cards) explores U.S. - Russia relations then and now. Directed by Jackson Gay, and by special arrangement with Robert Ahrens, Mickey Liddell and Michael Mills, Kleptocracy runs January 18 - February 24, 2019 in the Kreeger Theater.

"Kleptocracy is the most dangerous play at Arena Stage this season," shares Artistic Director Molly Smith. "Dangerous because playwright Kenneth Lin has taken us right into the heart of greed, manipulation and the rise of the wealthy and Putin in Russia in the '90s and '00s. It's a fascinating prism through which to examine our relationship with Russia in the United States right now."
Making their Arena Stage debuts, Max Woertendyke (Broadway's A View From the Bridge, The Public Theatre's Illyria) portrays Mikhail Khodorkovsky, the leader of the Oligarchs, and Christopher Geary (Geffen Playhouse's These Paper Bullets!) plays a young, ladder-climbing Vladimir Putin.

Also making their Arena debuts are John Austin (Constellation Theatre's Melancholy Play) as Valentin/Master of the Universe/Armed Soldier/Guard, Brontë England-Nelson (Broadway's Three Tall Women) as Inna Khodorkovsky and Alex Piper (Shakespeare Theatre Company's Henry IV Part I and Part II) as Platon Lebedev/Master of the Universe/Armed Soldier. Returning to Arena are Elliott Bales (Arena's The Great Society, Studio Theatre's Kings) as Petukhov/Prison Guard, Candy Buckley (Arena's All the King's Men, Broadway's Cabaret) as White House Official, Joseph Carlson (Arena's Sovereignty, Off-Broadway's uncle tom: deconstructed) as Leonid Nevzlin/Master of the Universe/Armed Soldier/Kuchma and Andrew Weems (Arena's What the Butler Saw, You Can't Take It With You) as Boris Berezovsky/Yuri Schmidt/Armed Soldier/Security Guard.

"As a child growing up during the last of the Cold War, Russia, ever-present in our national consciousness, was always the ultimate, dangerous other - the funhouse reflection of everything that happens if you don't buy into standard Western mores of politics, economics and philosophy. But, what you see in the funhouse mirror is still your own reflection," explains Lin. "A work of fiction inspired by actual events, Kleptocracy tells the tragedy of how the West and Eurasia were nearly reconciled in the 1990s and the early aughts, but ultimately failed. The wake of that tragedy is the world in which we currently reside."

He continues, "I cannot think of a theater and a city that are better to receive the first incarnation of this play than Arena Stage and Washington, D.C. Politics has been a central character in so much of my creative life. I am thrilled that it's all finally coming together in Kleptocracy."

"Kenneth has written a thrilling and surprising new play inspired by real events that revisits this particular time in history with striking imagery and theatricality, but also vividly conjures our current times," adds Gay. "These complicated and compelling characters are facing the largest possible stakes at a time when the direction our world would take was being decided in an epic power play on the global stage."

In addition to Gay, the creative team includes Set Designer Misha Kachman; Costume Designer Jessica Ford; Lighting Designer Masha Tsimring; Original Music and Sound Design by Broken Chord; Hair, Wig and Make-Up Designer Dave Bova; Fight Director Lewis Shaw; Voice and Dialect Coach Zach Campion; Casting Directors Victor Vazquez and Geoff Josselson; Stage Manager Christi B Spann and Assistant Stage Manager Mimi Joyce.

Kenneth Lin (Playwright) is an award-winning playwright whose plays Warrior Class; Pancakes, Pancakes!; Po Boy Tango; said Saïd; Agency*; Genius in Love and The Lynching of a White Man In Rural, CA have been performed throughout the world. He is a member of the theater/music/film collective New Neighborhood. Upcoming theatrical works include Farewell My Concubine with composer Jason Robert Brown (Cinematic Productions), Life On Paper (Jackalope Theatre Company) and The Adventures of Huckleberry Finn with music by Stew and the Negro Problem. Television credits include The First (Hulu), House of Cards (Netflix, Emmy nomination, Best Dramatic Series), Warrior (HBO/Cinemax), and Sweetbitter (Starz). Feature film credits include Abacus (dir. Justin Lin). Awards/honors include winner of the Kendeda Graduate Playwriting Competition, Princess Grace Award, L. Arnold Weissberger Award, Cole Porter Prize, Edgerton New Play Prize and Fulbright Scholarship. Education: Yale School of Drama

Jackson Gay (Director)'s recent productions include Make Believe by Bess Wohl (Hartford Stage); Woman in Mind by Alan Ayckbourn; Transfers by Lucy Thurber (New York Stage & Film and MCC, Off-Broadway Alliance Best New Play Award 2018); Christina Anderson's the ripple, the wave that carried me home (Ground Floor Berkeley Rep); Invictus Mingus by Frank Harts (New Neighborhood/Dorset Theatre); The Cake by Bekah Brunstetter and Lover Beloved by Suzanne Vega and Duncan Sheik (Alley Theatre); Lisa Lampanelli's Stuffed (Westside Theatre); Mat Smart's Kill Local (La Jolla Playhouse); Chekhov's Three Sisters (Studio Theatre/New Neighborhood); Shakespeare's Much Ado adapted with Ken Lin (Cal Shakes); These Paper Bullets! by Rolin Jones with music by Billie Joe Armstrong (New Neighborhood, Atlantic, Geffen, Yale Rep - Critics Pick Time Out NY, Best Production and Adaptation LA Sage Awards, Best of 2015 Time Out Los Angeles, Connecticut Critics Circle Award Best Production and Best Director); Silverman's The Moors and Elevada by Sheila Callaghan (Yale Rep); Thurber's The Insurgents (LAByrinth Theatre Company); 3C by David Adjmi and Thurber's Where We're Born (Rattlestick); Thurber's Scarcity and Jones' The Jammer (Atlantic); Jones' The Intelligent Design of Jenny Chow (Atlantic and Yale Rep, Connecticut Critics Circle Award Outstanding Production of a Play); A Little Journey (Mint Theater, Drama Desk nomination Outstanding Revival of a Play). MFA: Yale School of Drama
Cast Biographies (in alphabetical order)
John Austin (Valentin/Master of the Universe/Armed Soldier/Guard) is thrilled to make his Arena Stage debut. D.C. credits include Frank in Melancholy Play (Constellation Theatre) and Lysander in A Midsummer Night's Dream (Prince George's Shakespeare). With National Players (Olney Theatre Center), John toured America as Montano in Othello, the Mad Hatter in Alice in Wonderland and Gatsby in The Great Gatsby. In Austin, Texas, John originated the role of Young Zeus in Zeus in Therapy (Tutto Theatre Company), for which he won the B. Iden Payne Award for Outstanding Young Performer. Training includes a BFA in Acting, Summa Cum Laude, from Boston University, and a Certificate in Classical Acting from L.A.M.D.A. The Bette Davis Foundation awarded John the Bette Davis Prize for excellence in the acting profession. Upcoming productions include Oslo (Round House Theatre). Instagram: @johnaustintx http://www.johnaustinactor.com/

Elliott Bales (Petukhov/Prison Guard) returns to Arena Stage, having appeared previously in The Great Society. Elliott works as a theater and film actor based out of Arlington, VA. Theater credits include Kings (Studio Theater), A Midsummer Night's Dream (Folger Theatre), Occupied Territories and The Wonderful World of Dissocia (Theater Alliance), Harvey (1st Stage), Not Enuf Lifetimes (The Welders), Romeo and Juliet (Unexpected Stage) and White Christmas (Little Theater on the Square). Elliott's film credits include Wireless, The Sultan and the Saint and The Coming Storm, and TV credits include Legends and Lies: Patriots, The Sultan and the Saint and House of Horrors: Kidnapped. He is a graduate of Abilene Christian University and the National War College. Elliott retired from the U.S. Army after 26 years of service.

Candy Buckley (White House Official) last appeared at Arena Stage as Sadie in All the King's Men for which she received a Helen Hayes nomination. Her Broadway credits include Sam Mendes-directed Cabaret, Thoroughly Modern Millie, After the Fall, Scandalous and Ring Round the Moon. Off-Broadway, Candy again worked with Mendes in Wise Guys; with Hal Prince in Petrified Prince (Drama Desk nom.); with Phyllida Lloyd in an all-female Taming of the Shrew; with daughter/writer Erin Buckley in Older Lady; and with playwright Max Baker in Hal + Bee. She recently premiered regionally in Rob Askins' The Squirrels and Mat Smart's Kill Local. On TV she can be seen in The Americans, Treme, Blue Bloods, Gossip Girl and Criminal Intent, and in the film Bachelorette. She holds the Princess Grace Statuette for Outstanding Achievement in Theater.

Joseph Carlson (Leonid Nevzlin/Master of the Universe/Armed Soldier/Kuchma) returns to Arena Stage after appearing in Sovereignty as President Andrew Jackson. Off-Broadway credits include uncle tom: de-constructed with The Conciliation Project, a social justice theater company where he has been an ensemble member, director, and facilitator for over 10 years, helping to develop plays for the purpose of opening dialogue about racism and intersectional oppression in America in order to repair its damaging legacy. Selected D.C. credits include Nat Turner in Jerusalem (Forum Theatre), Iokanaan in Salome (Scena Theatre), The Night Alive (Round House Theatre), Macbeth in Voodoo Macbeth (American Century Theater), Antony in Antony and Cleopatra (Brave Spirits Theatre), and Colossal (HH nominations, Outstanding Lead Actor and Ensemble) at Olney Theater. Select regional credits include Stanley Kowalski in A Streetcar Named Desire (Richmond Theater Critics Award nomination, Best Actor in a Play) at Firehouse Theater, Tom Joad in The Grapes of Wrath (VA Rep.), Mutual Philanthropy (New Jersey Rep.) and Dancing at Lughnasa (Tantrum Theatre). Joe has been seen on television in Turn, The American West, and Frontiersmen, and on screen in Spielberg's Lincoln. Joe holds a BFA in Performance and an MFA in Acting Directing Pedagogy specializing in the application of Ritual Poetic Drama within the African Continuum from Virginia Commonwealth University, where he is the 2018 recipient of the 10 Under 10 Alumni Award.

Brontë England-Nelson (Inna Khodorkovsky)'s Broadway credits include Three Tall Women (The Golden). Other New York credits include Acolyte (59E59), Workshops of Martyrs (La MaMa) and Rocket Park (The Public, Emerging Writers Group Spotlight Series). She's worked regionally at Shakespeare Santa Cruz, Hudson Shakespeare Co. and the Yale Repertory Theater. BA UC Santa Cruz; MFA Yale School of Drama.

Christopher Geary (Vladimir Putin) has been seen in These Paper Bullets! (Yale Rep, Geffen Playhouse, Atlantic Theater); Cymbeline, Imogen Says Nothing (Yale Rep); Buyer and Cellar (Triad Stage); Design For Living, The Cat and the Canary (Berkshire Theater Group); and Losing Tom Pecinka (Ice Factory). Christopher is a member of New Neighborhood, a theater, TV and music company. BA: Fordham. MFA: Yale School of Drama. Many thanks to Bret Adams Ltd. and my family. Instagram: @christopheregeary

Alex Piper (Platon Lebedev/Master of the Universe/Armed Soldier) is thrilled to be making his Arena Stage debut. D.C. theatre credits include As You Like It and Sense & Sensibility (Folger Theatre); Henry IV Part I, Henry IV Part II and As You Like It (Shakespeare Theatre Company); and acting fellow at Shakespeare Theatre Company for the 2013-2014 season. Awards include The Kennedy Center American College Theatre Festival National Finalist. Education: MFA, The University of Southern Mississippi. He is also an affiliated teaching artist at Shakespeare Theatre Company. Website: http://alexpiper59.wix.com/piper

Andrew Weems (Boris Berezovsky/Yuri Schmidt/Armed Soldier/Security Guard)'s Arena Stage credits include A Perfect Ganesh, What the Butler Saw and You Can't Take It With You. He recently appeared at Shakespeare Theatre Company in Twelfth Night and As You Like It. Favorite Broadway and Off-Broadway credits include Julie Taymor's The Green Bird, The Heart is a Lonely Hunter and Bach at Leipzig (NYTW); Troilus and Cressida directed by Sir Peter Hall and Cymbeline and Pericles directed by Bartlett Sher (Theatre for a New Audience); A Man's a Man (Classic Stage Company) and Manahatta (The Public). Regional credits include The Guthrie, Center Stage, The Alley, The Old Globe and others. Andrew is the author/performer of two solo plays, Namaste Man (Intiman Theater, Boise Contemporary Theater, Two River) and I Really Want to Know You (BCT, Fourth Street Theater).

Max Woertendyke (Mikhail Khodorkovsky)'s New York credits include the Broadway production of Ivo van Hove's A View From the Bridge, the world premiere of Richard Nelson's Illyria and Romeo & Juliet (the latter two at The Public Theater). Regional credits include Nick in The Invisible Hand (Cleveland Play House), the regional premiere of Oslo (Pioneer) and Frankenstein (Denver Center for the Performing Arts). Max can be seen on screen in Netflix's Longmire and in the upcoming film Down the Barrel. He is in the process of producing his first feature film - an action thriller entitled i-95. Max is a graduate of McGill University and The Juilliard School of Drama.