Cast Complete for The Second City's TWIST YOUR DICKENS at Kennedy Center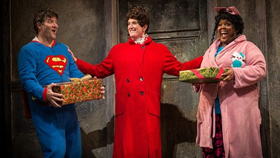 The John F. Kennedy Center for the Performing Arts has announced the full casting for the return of The Second City's irreverent and interactive seasonal satire, Twist Your Dickens. Second City alumni Carisa Barreca and Paul Jurewicz and local favorite Eric M. Messner join returning cast members Aaron Bliden, Anne Bowles, John Lescault, and Tia Shearer.
Written by former The Colbert Report writers Peter Gwinn and Bobby Mort, the production returns to the Kennedy Center's Theater Lab, December 5-31, following last year's acclaimed, sold-out run. Other successful engagements in major U.S. cities have included Los Angeles, Chicago, and Portland. This year's engagement features new direction by Frank Caiti (MADtv), who originated the role of Ghost of Christmas Past in Los Angeles and at the Kennedy Center in 2016.
In this wicked parody of Charles Dickens's A Christmas Carol, Scrooge, Tiny Tim, three ridiculous ghosts, and a cast of The Second City's funniest members take the Theater Lab by storm with daring improv and new surprises. Holiday hilarity ensues as a timeless tale is told through the legendary group's trademark improvisation and sketch performance.
Twist Your Dickens features lighting design by Brittany Shemuga, costume design by Ivania Stack, scenic design by Tom Buderwitz, sound design by Reid May, and properties design by Patti Kalil.
Twist Your Dickens runs Tuesday, December 5-Sunday, December 31, 2017 in the Theater Lab. Tickets, beginning at $49, are now available at the Kennedy Center Box Office, by calling (202) 467-4600, or through the Kennedy Center website at www.kennedy-center.org.
Since opening its doors 1959, The Second City has grown to become the world's premier Comedy Club, theater, and school of improvisation, entertaining 1 million theater-goers a year around the globe. Alumni of The Second City's resident stages, touring companies, and theatrical divisions include some of the biggest names in entertainment, and in addition to the sold-out shows playing nightly on resident stages in Chicago and Toronto, the comedy empire has staged productions with a wide range of illustrious creative partners and theater companies including the Lyric Opera of Chicago, Hubbard Street Dance Chicago, Goodman Theatre, Center Theater Group Los Angeles, Portland Center Stage, Toronto Symphony Orchestra, La Jolla Playhouse, Woolly Mammoth Theatre Company, and even the Chicago Bulls. After its 2016 record-breaking run with Twist Your Dickens, The Second City is thrilled to return to The John F. Kennedy Center for the Performing Arts.
ABOUT THE ARTISTS:
CARISA BARRECA (Ghost of Christmas Present/Ensemble) is an alumnus of The Second City where she wrote and performed in three critically acclaimed revues. She had the honor of performing at Lyric Opera with Patrick Stewart and Renee Fleming in The Second City's Guide to the Opera, at the Kennedy Center in Unelectable You, and at the Goodman Theater in Twist Your Dickens. She wrote and performed in Hubbard Street and Second City's collaboration Art Of Falling and most recently she was thrilled to write, AD, and perform in She The People, The Second City's first all-female show. Currently she can be seen in PopTVs show Hot Date as Sue. Happy holidays to everyone and warm thanks to this cast, Kevin, and Dr. Watson. Follow her @Cinderisa.
Aaron Bliden (Bob Cratchit/Ensemble) is returning for a second year of Twist after having appeared with the Second City in Spoiler Alert: Everybody Dies and America All Better at Woolly Mammoth. D.C./Baltimore Credits: Endgame (Center Stage); Lobby Hero, Old Wicked Songs, Trevor, Hunchback Variations (1st Stage); The Cerulean Time Capsule, Mockingbird (Kennedy Center TYA); Wonderland: Alice's Rock and Roll Adventure (Imagination Stage); Threepenny Opera (Signature); Romeo and Juliet (Folger); Rabbit Hole (Olney); Yentl (Theater J); Minnie the Moocher (Pointless Theatre); Become What You Are (Flying V); The Illusion (Forum). Film/TV: Mercy Street (PBS), Turn (AMC), The Sultan and The Saint (PBS). Founding member: Pointless Theatre, Flying V. Bliden holds two B.A.s from UMD College Park.
Anne Bowles (Mrs. Cratchit/Ensemble) is thrilled to return again with Twist Your Dickens at the Kennedy Center. Broadway credits: Inherit the Wind with Christopher Plummer and Brian Dennehy, Collected Stories with Linda Lavin and Sarah Paulson (u/s Lisa), reasons to be pretty (u/s Steph and Carly). Regional credits: The Last Schwartz (Theater J), Picnic (Baltimore Centerstage), Steel Magnolias, The Heiress (Pioneer Theatre), Fat Pig, This is How It Goes (Studio Theatre), Of Mice and Men (Cincinnati Playhouse/St. Louis Rep), Rosencrantz and Guildenstern are Dead (Shakespeare Theatre of New Jersey), Columbinus (Roundhouse Theatre), The Matchmaker (Fords Theatre), Elizabeth the Queen (Folger Theatre), The Laramie Project, and Monster (Olney Theatre). Television credits include: Turn (AMC), House of Cards (Netflix), and The Good Wife (CBS). B.A. Catholic University. Bowles would like to thank her husband Dan and her family for their constant support and love.
PAUL JUREWICZ (Ghost of Christmas Past/ Ensemble) is over the moon to be a part of this production! An alumnus of The Second City mainstage in Chicago, he now bides his time in Los Angeles with his whip-smart, devastatingly beautiful, live-in lover Stephanie, growing habaneros and occasionally working. He can be seen in the upcoming season of the Netflix show Love and the soon to be released Paul Feig movie Starter. He loves his ma and the Annoyance Theater.
John Lescault (Scrooge) is delighted to be returning to Twist Your Dickens. Other Kennedy Center credits include: Beethoven and Dvorak with the NSO, Defiant Requiem; Sancho Panca, Le Deserteur (Opera Lafayette). International credits: Defiant Requiem in Prague and A Midsummer Night's Dream in Macau, China. New York credits: Le Deserteur at Lincoln Center. Regional credits: Native Gardens and A Prayer for Owen Meany (Cincinnati Playhouse). Washington, D.C. credits: Measure for Measure, Henry V, Coriolanus, Richard II, Edward II, Don Carlos, Tamburlaine, The Winter's Tale, (Shakespeare Theatre); A Midsummer Night's Dream, Romeo and Juliet, Macbeth, The School for Scandal (Folger Theatre); The Music Man, Our War (Arena Stage); Our Town, A Christmas Carol (Ford's Theatre); Brother Russia, 'Art', The Lieutenant of Inishmore, Crave, Angels in America, (Signature Theatre); The Lyons, Fahrenheit 451, The Talented Mr. Ripley, The Diary of Anne Frank, Wintertime, Heartbreak House, Our Town (Round House); From Prague, Yankee Tavern (CATF); The Psychic Life of Savages, Heaven (Woolly Mammoth); Principia Scriptoriae, Common Pursuit (Studio Theatre); Hannah and Martin, The Disputation (Theatre J). Film/TV: Hounds of Dixie, Beautiful Something, Lincoln, The Duel, The Day Lincoln Was Shot, The Arc, and Unsolved Mysteries.
Eric M. Messner (Marley/Ensemble) has been working in the D.C. area for several years now. Notable appearances include: Arena Stage: The Book Club Play (Rob); Hub Theatre: Birds of a Feather (Birder), John and Beatrice (John); Theatre J: G-d's Honest Truth (Josh); Stonington Opera House: Julius Caesar (Caesar); Everyman Theatre: Time Stands Still (Jamie) and Wait until Dark (Mike); Olney Theatre Center: Is He Dead? (Agamemnon Buckner); Imagination Stage: Jack and Phil, Slayers of Giants, Inc. (Bill/Giant). National Tour: Much Ado About Nothing (Benedick) with National Players. International Tour: Death of a Salesman (Howard) with Keegan Theatre. Television: Veep, The Wire, The Men Who Built America. Messner can also be heard as the voice of Rocket Raccoon and Thor for Marvel Comics's audio-book series with Graphic Audio. Training: B.F.A., UMBC.
Tia Shearer (Tiny Tim/Ensemble) is a D.C. area-based artist known for her physical character work and self-narrating young son. Shearer was recently seen in Philip Dawkins's The Happiest Place on Earth at the Hub Theatre, a solo performance encompassing 30 different characters. Other credits include the Kennedy Center TYA; Center Stage; Imagination Stage; Taffety Punk's Riot Grrrls. Shearer is a company member at The Hub, Flying V, and Arts on the Horizon (theater for ages 0-6). She is on faculty at the National Conservatory of Dramatic Arts and is a new member of Only Make Believe, bringing theater to children in hospitals and care facilities.