BWW Review: SUBMISSION at Scena Theatre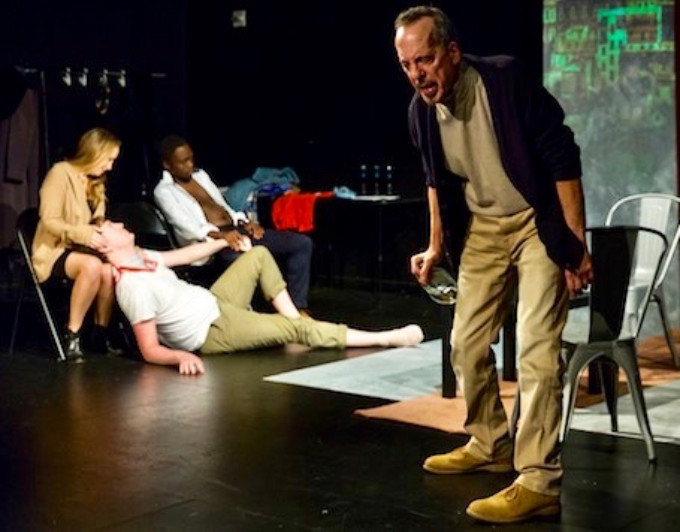 Our current climate of "fake news" seems a million miles away from the 2015 terrorist attacks in Paris, which began at the offices of satirical magazine, Charlie Hebdo, and the outcry of "Je Suis Charlie" that followed. In an eerie coincidence, on the day the attacks began, the weekly's cover featured a caricature of the French author and poet, Michel Houellebecq. Houellebecq, no stranger to controversy, had just released his sixth novel, Soumission (Submission). It is this work that forms the basis of Scena Theatre Artistic Director Robert McNamara's adaptation, now playing at the Atlas Performing Arts Center through February 10.
Submission opens on François (played by Ron Litman with exquisite and nuanced ordinariness), a middle-aged academic who enjoys presidential elections second only to World Cup and apathetically moves from one female student conquest to another. As with most anti-heroes, he is bored and, despite his self-delusions, utterly unremarkable outside of his small literary niche of expertise. The year is 2022, which in 2015, must have seemed a lifetime away, but here in 2019, it is dangerously close at hand.
Houellebecq masterfully interweaves real-life and fantasy, imagining a political showdown between far-right National Front leader Marine Le Pen (the versatile Stacy Whittle) and the fictitious Mohammad Ben Abbes (a youthful and charming Greg Ongao), leader of the Muslim Brotherhood. It is a lot to cram into a ninety minute adaption, but McNamara does an admirable job. Through François, we get snippets of the political drama - election irregularities, legal challenges, and strange bedfellows. The cast of characters involved rivals a college football roster, including François' colleague, Lampereur (an Oscar Wilde-esque David Johnson), who embodies the life of decadence with a relish that François cannot muster. The actors pull double-, triple-, and more duty in service to the wide-ranging story, accomplished mainly through on-stage costume changes, screen projections, and voice-overs.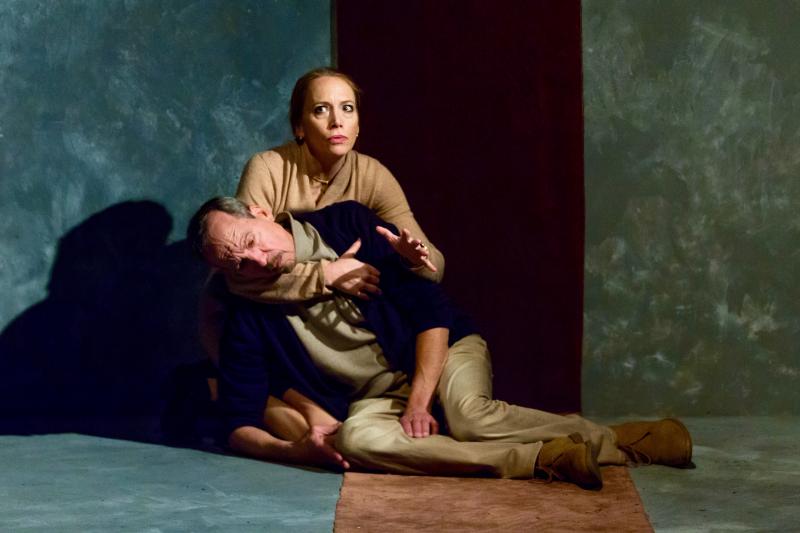 But, at the end of the day, this isn't a story of politics, of Islamophobia, of the academy. It is the story of François, so brilliant in his analysis of all things Joris-Karl Huysmans, but so simple and easily malleable in his own life. He grieves the slow, eventual loss of his Jewish lover, Myriam (Whittle) after she follows her family to Israel in the wake of the Muslim Brotherhood's victory, and yet does nothing to protect or keep her. His parents both pass away; their deaths making little impression upon him. Like Jean des Esseintes, the subject of his hero Huysmans' novel, À Rebours, François is caught between suicide and God. He travels to the shrine of Our Lady of Rocamadour. Is it a fever dream or a spiritual revelation that he experiences while there?
Whatever he experienced in Rocamadour, François returns to a much-changed Paris and a generous retirement settlement from the Sorbonne, which now has an all-Islamic teaching staff. Women have left the workforce and are now wearing the veil. Polygamy becomes de rigueur. Robert Rediger (Kim Curtis with a disquieting dystopian demeanor), now President of the Sorbonne, appeals to François' vanity by asking him to edit a volume on Huysmans and rejoin the faculty (with three wives included in the salary offer), contingent of course on his conversion to Islam.
McNamara's adaptation concludes with a less than ambiguous image of Litman as François wearing a taqiyah and praying in Arabic. What seems like a second chance for François is merely the opportunity to continue his obsessions with women and Huysmans. The regime and the scenery have changed; François has not.
The US premiere of Submission, adapted and directed by Robert McNamara, and featuring David Johnson, Ron Litman, Stacy Whittle, Kim Curtis, Greg Ongao, and Colin Davies, runs through February 10 at the Atlas Performing Arts Center. Run time is approximately 90 minutes, with no intermission. For more information and to purchase tickets, visit scenatheatre.org.

Related Articles View More Washington, DC

Stories

Shows