Sarah Murphy
Originally from Rochester, New York, Sarah Murphy moved to the Washington DC area in 2017 and eagerly dived into the local theatre community. A graduate of The College at Brockport, Sarah holds a Master of Public Administration degree in nonprofit and arts management. Her particular passion is the role theatre can play in examining and addressing issues of social injustice. She previously worked as the Communications Director for a national historic house museum and is currently completing a fellowship in cultural heritage leadership. Sarah is a dual citizen of Ireland and the US.
MOST POPULAR ARTICLES
LAST 365 DAYS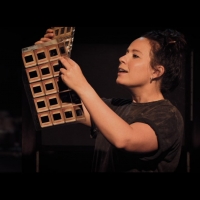 BWW Review: 2.5 MINUTE RIDE at Studio Theatre
Posted: May. 7, 2021


BWW Feature: INSIDE THE GPO at Solas Nua
Posted: Mar. 29, 2021


BWW Review: SIDE-WALKS at Solas Nua
Posted: Aug. 12, 2021


BWW Review: SIDE-WALKS at Solas Nua

August 12, 2021

Written by Jeremy Keith Hunter, a DC-based multidisciplinary artist, and John King, a theatre-maker from Dublin, Side-Walks is a "visual short story about finding yourself after a year of isolation" and is the culmination of a pandemic-long collaboration between the two playwrights and Solas Nua.
---
BWW Review: 2.5 MINUTE RIDE at Studio Theatre

May 7, 2021

Without a doubt, this production is one of the most successful adaptations to the virtual theatre space, going beyond just a filmed version of a live play and embracing this new medium in a truly moving way.
---
BWW Feature: INSIDE THE GPO at Solas Nua

March 29, 2021

DC is a city steeped in national myth, so perhaps it is most fitting that now, in the midst of our own battle for self-determination and statehood, Solas Nua brings us Fishamble's production of 'Inside the GPO', an intimate look at Ireland's 1916 Easter Rising...but as with every myth, one must peel back the layers to really get to the good stuff
---
BWW Feature: DIGITAL WORLD PREMIERE at Solas Nua

October 1, 2020

Solas Nua has commissioned a series of digital plays from African-American playwright Jeremy Keith Hunter and Irish playwright John King. Their first collaboration asks us to consider how language, specifically GIFs and emojis, can be used to forge connection is our digital world.
---
BEING HERE: A DIGITAL THEATRE EXPERIENCE at Solas Nua

May 2, 2020

Exploring the digital landscape of theatre, Solas Nua is commissioning a new play to capture the self isolation that people around the world are experiencing during the COVID 19 pandemic. Audiences can tune into the production to enjoy a live performance of a play specifically written for the online platform. The performance will feature optional, mild audience interaction. 
---
BWW Feature: THE SMUGGLER at Solas Nua

September 9, 2019

The Smuggler, which won the Best Playwright Award at the 1st Irish Festival of New York in January, is a 9000 word rhyme-poem by Irish-American playwright, Ronán Noone. Originally from County Galway and now settled in Boston, Noone brings a journalistic eye to the modern immigrant experience and ruminates on the impossibility of the 'American Dream'.
---
BWW Review: TREASURE ISLAND at Synetic Theater

July 24, 2019

Synetic Theater brings its unique spin to the high seas with an inclusive and immersive adaptation of Robert Louis Stevenson's Treasure Island. The production features a stellar cast, many of whom are making their Synetic debuts.
---
BWW Review: STARCROSSED: THE TRAGEDY OF MERCUTIO AND TYBALT at Capital Fringe

July 22, 2019

Is there a more over-done piece than Shakespeare's Romeo and Juliet? Enter author Rachel Garnet. Garnet's Starcrossed: The Tragedy of Mercutio and Tybalt turns the familiar tale on its head.
---
BWW Review: AIR MAIL / PAR AVION at Capital Fringe

July 17, 2019

Part of the adventure of any Fringe show is how best to utilize a space that was not necessarily built as a performance venue and there are plenty of approaches to creating an immersive experience for your audience. One of my personal favorites is live music. In Air Mail / Par Avion, the mood for this devised musical is immediately set as you enter the space to the sounds of a jam session. The five-person band clearly enjoys playing together and their fun is infectious.
---
BWW Review: PASSING at Capital Fringe

July 16, 2019

Some events in history are too large in scope for us to properly grasp and process them. It is in small, personal stories that we are able to gain a greater understanding of just what has occurred and how it may echo through time. Time and time again, we return to the individual narratives, the threads that make up the unfathomable, to anchor us.
---
BWW Review: BODY. at Capital Fringe

July 16, 2019

Body. is the kind of kinetic theatre experience that Fringe was created to showcase. An ensemble of eight using movement and spoken word to encounter all of the things we don't want to talk about: body image, gender, race, toxic masculinity, the menstrual cycle, masturbation...
---
BWW Review: REWIRING EDEN at Capital Fringe Festival

July 15, 2019

Resurrecting and redefining the misunderstood women of myth and history is not breaking ground for a Fringe Festival in the #MeToo era, but Rewiring Eden manages to make its mark with a thoughtful enough conceit - what if all of those women had the opportunity to meet one another?
---
BWW Review: FRESHH Inc.'s HERSTORY: LOVE FOREVER, HIP HOP at KENNEDY CENTER HIP HOP CULTURE

June 20, 2019

Inspired by Common's 1994 'I Used to Love H.E.R.', director and playwright Goldie E. Patrick has brought together a dynamic cast of five to tell the story of the role of women in Hip Hop. What unfolds is a love letter to HER and to all women who have shaped and influenced Hip Hop.
---
BWW Review: RICHARD III at Synetic Theater

May 20, 2019

Shakespeare's Richard III has been no stranger to DC theatre goers this season. In true Synetic fashion, their current production turns a well known tale on its...crown.
---
BWW Review: THE MEMBER OF THE WEDDING at 1st Stage

May 17, 2019

Carson McCullers' The Member of the Wedding centers around several steamy post-World War II Southern days as seen through the eyes of twelve-year-old Frankie Addams. Frankie, or F. Jasmine as she requests we call her, is on the cusp...of what she does not know.
---
BWW Review: BECKETT TRIO, PART 2 at Scena Theatre

April 12, 2019

In Scena Theatre's Beckett Trio, Part 2 identity and story are up for debate. Most importantly, the audience is left to wonder about the relationships involved in each piece.
---
BWW Review: P.Y.G. OR THE MIS-EDUMACATION OF DORIAN BELLE at Studio Theatre

April 10, 2019

Even if you're not familiar with George Bernard Shaw's Pygmalion, you're most likely familiar with Lerner and Loewe's adaption, My Fair Lady. At the core of both is the classic question of how much can we really change our stripes? Tearrance Arvelle Chisholm gives us a modern take here with his world premiere of P.Y.G. or The Mis-Edumacation of Dorian Belle.
---
BWW Review: SILENT at Solas Nua

March 8, 2019

There's "beauty in the dark" Tino McGoldrig tells us and in 'Silent' that darkness has many, many layers. You see, Tino (named after silent film icon Rudolph Valentino) "once had splendid things", but has lost it all...
---
BWW Review: VANITY FAIR at Shakespeare Theatre Company

March 5, 2019

Mean Girls, Big Little Lies, Heathers, Broad City, Thelma and Louise, Parks and Recreation, Sex and the City…These are some of the better known vehicles for female friendship that inhabit our pop culture universe. Paling in comparison to the numerous portrayals of male friendships and "bromances", too often these relationships center on competition or jealousy, on getting the guy. Very few take a deeper, more comprehensive dive into the complexity of female companionship. Even fewer are the product of female authors, directors, playwrights, etc.
---
BWW Feature: SILENT at Solas Nua

February 26, 2019

Tino, short for Valentino (as in Rudolph), 'once had splendid things', but has lost it all and is now living on the streets of Dublin. Taking inspiration from the historical Valentino, Kinevane brings us into an intimate world of love and loss, of regret and of hope.
---