Review: SING TO ME NOW at Rorschach Theatre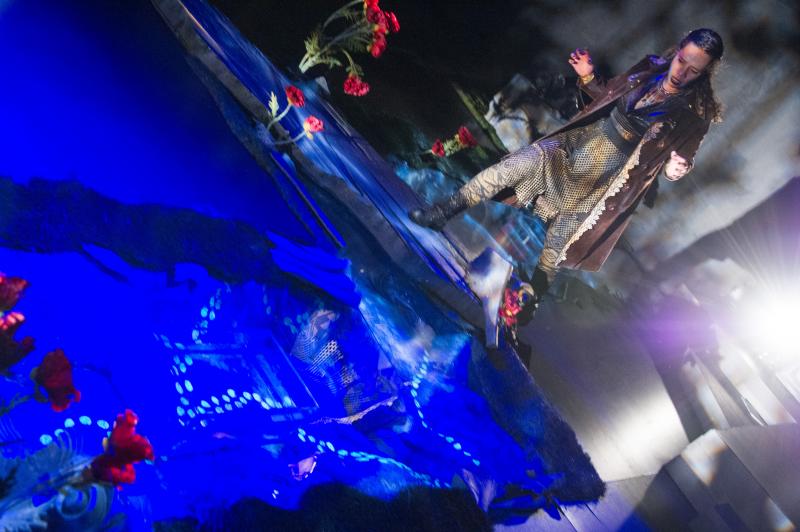 Sing to Me Now, produced by Rorschach Theatre, is a beautifully rendered and promising new work, carefully balancing weight and humor, performed by a steady and engaging cast.
Director Jenny McConnell Frederick capably brings out the best in the world premiere work by Iris Dauterman. Sing to Me Now was first developed thorough Rorschach's inaugural Magic in Rough Spaces New Play Lab last April, and is now more fully-and beautifully-realized.
Rorschach is especially interested in plays that are epic in scope but intimate in their exploration of human psychology, those with elements of magic realism. That's a mighty ambitious literary ambition and Sing to Me Now delivers. Like a lot of new works, this would benefit from some needed trimming to tighten up the runtime that currently clocks in over two hours. But it is fascinating to be part of the process and Sing to Me Now deserves a healthy afterlife with productions at other theatres in other communities.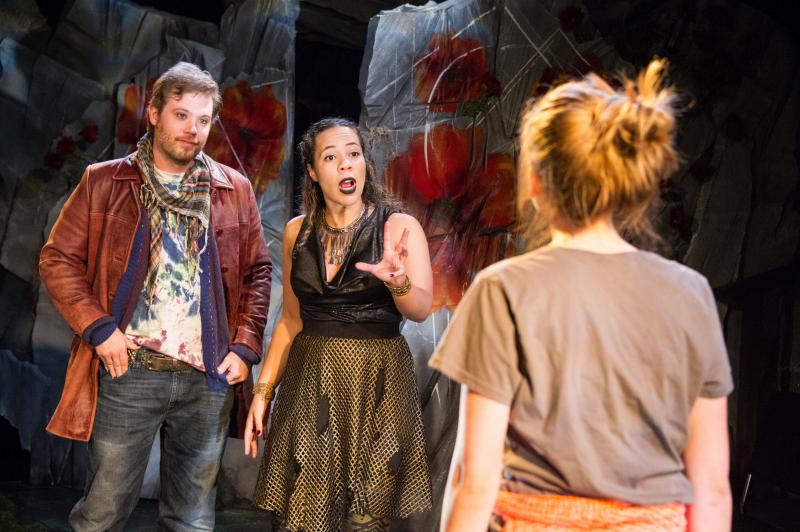 Sing to Me Now introduces us to Calliope, the muse of eloquence and epic poetry (Chloe Mikala), the last surviving muse. Once one of nine muse sisters, the inspiration of literature, science, and the arts, Callie is the only one remaining to answer all of humanities pleas for inspiration. Now alone and overwhelmed, Calliope resorts to recycling lost ideas and forgotten dreams. Callie is frazzled, drowning in the demands of a world desperate for inspiration and the next greatest thing. In desperate need of sleep and new perspective, Callie knows she can't do it all. She consults her best friend Morpheus (Erik Harrison as the god of dreams), her mother Mnemosyne (Cam Magee as the god of memory) and, as any goddess deserves, she decides to hire an intern. She is shocked when she receives an answer from a human girl, dubbed Yankee (Tori Boutin), who comes to Callie's aid, shakes things up, and forces Callie to look deeper into the loss of her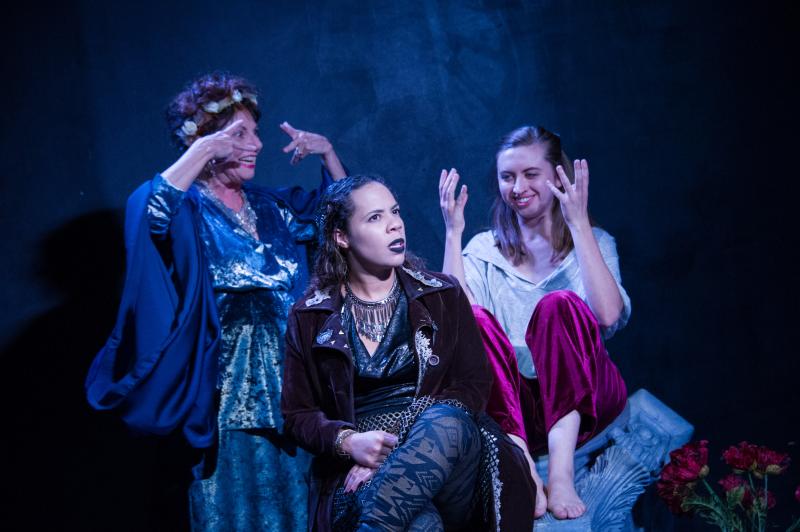 sisters and what it means for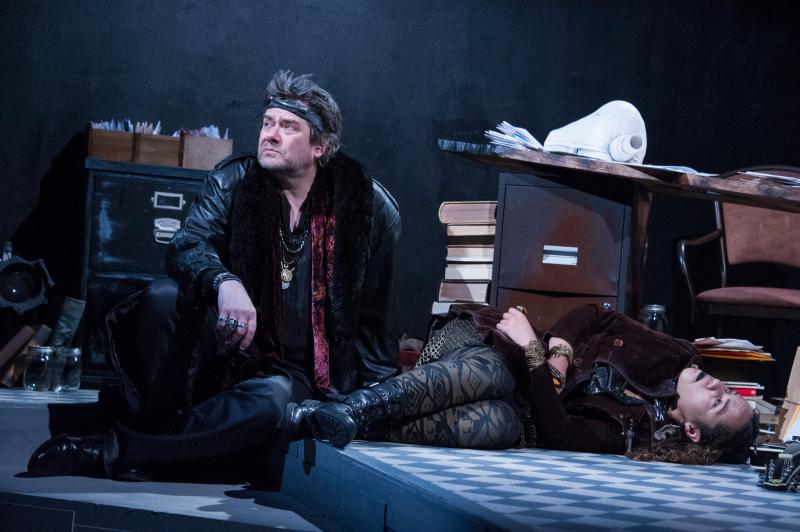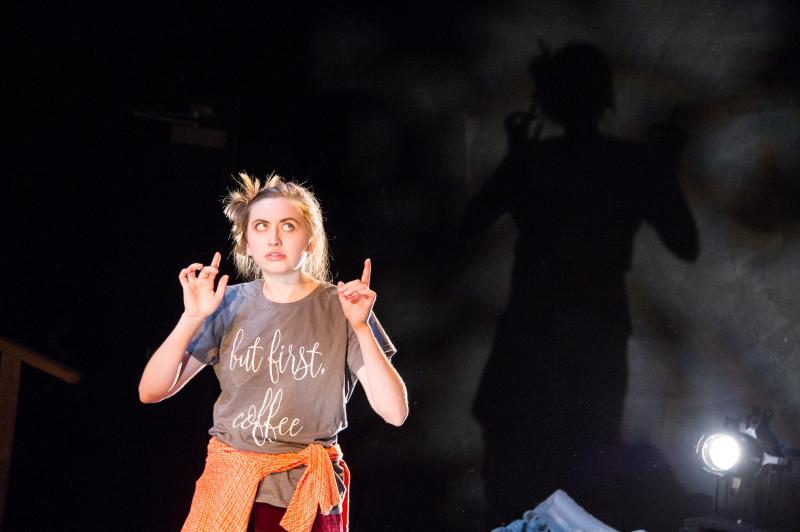 humanity.
Director Jenny McConnell Frederick assembled a well-matched, strong, and likeable cast. Tori Boutin as Yankee, and double-cast as Thalia, shows a Nancy Drew intrepidness, full of nativity, spirit, and can-do spunk. She is a strong counterbalance to Chloe Mikala's Callie. Calliope is weary and lonely. Missing her sisters and scarred by the millennia of poor human choices, Callie feels obligated to continue, but is unsure she can. Mikala brings us a muse who is strong yet vulnerable, determined but drained. Luckily, Callie has an ally and friend in Morpheus, played winningly by Erik Harrison. Callie can trust Mo, even when he is attracted to mere mortal Yankee. Callie's mother, Mnemosyne, the personification of memory, is played with a Mrs. Roper-esque ditziness by Cam Magee. One never knows where in the continuum Mnemosyne begins or ends a conversation. Adding a certain gravitas and dread is Ian Armstrong as Hades. Armstrong brings the air of Keith Richards to the god of the underworld. While he is constricted by certain rules, Hades respects Callie's mission.
Rorschach Theatre chooses stories that allow for innovative design as well as visceral performances. The designers treat productions as installations that surround the audience with the world of a play. Here, Swedian Lie's set is a wonder. A stream, a "little runoff" of some of the five rivers of Hades, bisects the stage. Actors dip jars of water from the brook. The audience is seated on either side. Callie's muddled office, strewn with papers and even the occasional Dada masterpiece, shows us the disorder and chaos of the last remaining muse. Mo's cave, strewn with the poppies of remembrance, offer a nod to the referenced Great War. The Gates of Hell Is a beautiful and functional Deco-inspired elevator grate.
Gordon Nimmo-Smith's sound mixes edgy music from a range of eras. Are we ahead or behind the times? Are we in need of new inspiration or catching up? The layers of the sound merge well with the other design elements. Similarly, Sarah Tundermann's lighting merges the whimsical mason jars of dreams with sun-dappled meadows or fluorescent office lights. Debra Kim Sivigny's costumes merge an ancient Grecian aesthetic with a modern sensibility.
Washington is lucky to be the birthplace of many world premieres. Sing to Me Now, is a strong and intriguing new work. And, luck for us, the talented ensemble at Rorschach Theatre, matches a strong cast and gorgeous design to bring out the best in the work. Hopefully Sing to Me Now will continue to be strengthened and developed in future productions.
Runtime: Approximately 2:15 with one intermission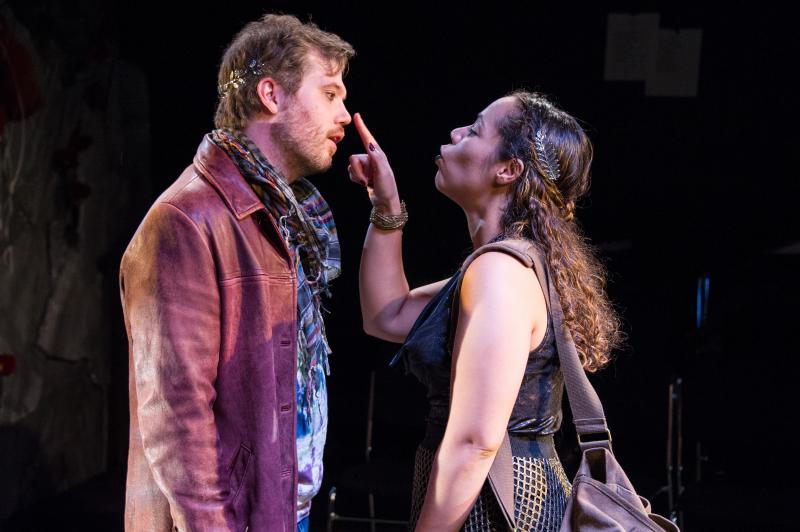 SING TO ME NOW by Iris Dauterman is produced by Rorschach Theatre at the Atlas Performing Arts Center, 1333 H Street NE, Washington, DC 20002. The production runs through November 18 with performances Thursdays, Fridays, and Saturdays at 8:00 pm, Sundays at 3:00 pm, and an Industry Night performance on Monday, November 12 at 8:00 pm. For tickets or further information visit the company's website.
Photo Credit: C. Stanley Photography. Top: Chloe Mikala. Next: Erik Harrison, Chloe Mikala and Tori Boutin. Center: Cam Magee, Chloe Mikala and Tori Boutin. Next: Ian Armstrong and Chloe Mikala. Bottom left: Tori Boutin. Bottom: Erik Harrison and Chloe Mikala.