BWW Review: MAMMA MIA Proves A Super Trouper in Regional Premiere at Riverside Center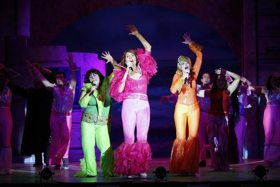 The view looks pretty good from a pair of platform shoes. Heck, even on an idyllic, Greek island resort there's not a moment of stress and strain that can't be cured by breaking into the hits of Sweden's number one pop group, ABBA.
Come on, folks, that's really the boiler plate on which the mega-hit musical MAMMA MIA! is forged. Sure, there's more it than that, but if you want to get your groove back to the tune of "Dancing Queen," "Waterloo," or "Take A Chance on Me" - along with a boatload of other ABBA tunes - get thee to Riverside Center and - to quote one of the lyrics - " you'll be having the time of your life."
Located just south of the metropolitan DMV area (off of I-95), Riverside has grabbed MAMMA MIA! ahead of tons of other professional theatres, so they are rightly boasting a regional premiere for this production, running through March 4. From what I could tell during my visit, audiences are responding favorably and want to get their ABBA fix - along with a Greek-inspired menu that had me shouting "Opa!"
Producing artistic director Patrick A'Hearn continues his strong leadership at Riverside, casting a strong group of performers and setting them in a gorgeous, Broadway-quality setting that really gives the audience their money's worth. I would say Riverside will exceed expectations if you have not ventured there before, and this company certainly pops the old cliches usually aimed at dinner theatre. The food quality has improved by leaps and bounds over the years - no bland, buffet fare here. Food reviews are not really my thing, but I think you can trust the menu choices and other options to fill you up before the show.
For anyone who missed the Broadway run, countless tours or film version, the premise of MAMMA MIA is simple and effective. Twenty-something Sophie Sheridan is about to get married on the picturesque Greek island she call home. Raised by single-mom Donna, Sophie knows her dad might be one her mom's former beaus from 21 years before. The three men arrive, along with Sophie's best gal pals, and Donna's former disco-rock-group back-up singers. Would you believe all their songs happen to be the hits of ABBA? So are the character-driven songs that spin out like an ABBA greatest hits album. Catherine Johnson's libretto only occasionally creaks when the characters break into song; for the most part, the tunes work pretty well. Poignant and simple "I Have a Dream" becomes Sophie's sweet "I want-" song to open the show. "Money, Money, Money" introduces Donna as a workaholic, independent woman just making ends meet running her boutique hotel. Donna's shock and awe at seeing her three old boyfriends is the perfect time for the title song. When Donna and her former singers - they were Donna and the Dynamos back in the 1970s - relive their disco diva days, the ABBA tunes are the most at home. "Dancing Queen," "Super Trouper," and "Waterloo" are just a sample of the tunes most audience members will know and love.
Leading the Riverside MAMMA MIA company is Betsy Padamonsky as Donna, a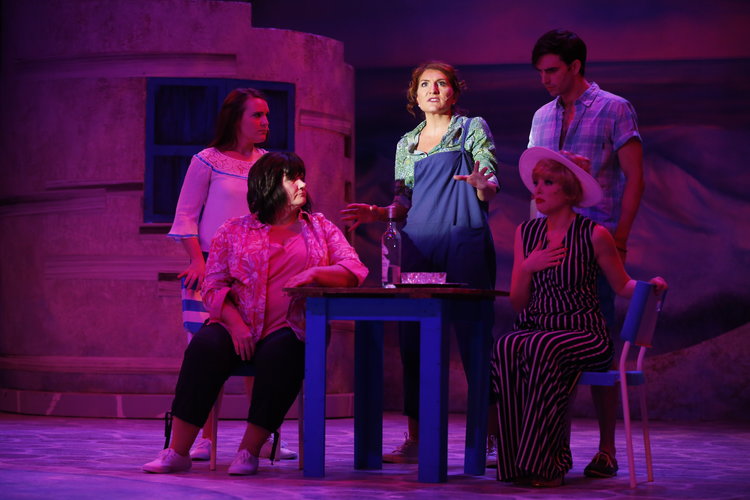 strong performer, fresh off the show's final national tour. Her voice handles the heavy song load with style and power, especially in her power ballad moment in Act 2, "The Winner Takes it All." She shares an easy chemistry with the gentlemen playing her former lovers, and has a warmth playing the mother-daughter scenes with Makenzie Mercer Pusey as Sophie. Pusey effortlessly charms as the bride-to-be, and does justice to her singing and dancing demands from start to finish.
Holding their own and making equally strong impressions as Donna's best friends, Grey Garrett is the haughty Tanya, and Andrea Kahane is a hoot as the free-spirited Rosie. Together, they make a strong trio, and mine their scenes for the comedy and pathos inherent in old friends supporting each other.Garrett gets a cougar song, of sorts, when she reacts to the attention of the island's young bartender, Pepper, which uses the ABBA hit "Does Your Mother Know." Rosie's big moment comes when she lets her proverbial hair down to vamp one of the mature gents and warbles "Take a Chance on Me."
Making up the male side of the cast, Kevin Perry, Gabe Belyeu, and Alan Hoffman take on the roles of Sam, Bill, and Harry, respectively. Each one acquits himself as well as the script and songs allow. As Sophie's fiancé Sky, Luke Monday strikes a dashing figure.
The stage is bathed in the atmospheric lighting design Michael Jarett which enhances the muted, sun-drenched Greek, island villa designed by D.T. Willis, a perfect setting for the action. My one minor quibble is the sound design, specifically the levels of the actors' microphones is often so loud as to distort the balance. I hope as the show racks up performances, the sound operator is able to listen more carefully and adjust.
MAMMA MIA has much to offer - romance, comedy, tender family moments, all surrounded in the warm blanket of the ABBA songbook, primarily written by Benny Andersson and Bjorn Ulvaeus, Sweden's favorite musical sons. And Riverside's cast are super troupers for sure.
Follow Jeff Walker on Twitter - @jeffwalker66
MAMMA MIA runs January 10 to March 4, 2018
Music & Lyrics by Benny Andersson and Bjorn Ulvaneus - Some songs by Stig Anderson - Book by Catherine Johnson (original conception by Judy Cramer)
Directed and choreographed by Penny Ayn Maas
Riverside Center for the Performing Arts -
95 Riverside Parkway, Fredericksburg, VA 22406
Running time: 2 hours, with one intermission
Tickets & Information: (540) 370-4300 boxoffice@riversidedt.com
Or go to Riverside Center

Photo Credit: Suzanne Carr-Rossi