Click Here for More Articles on REGIONAL - WASHINGTON, DC
BWW Review: HEDWIG AND THE ANGRY INCH Rocks the Kennedy Center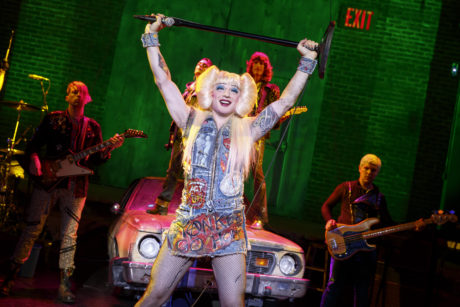 Euan Morton is, to date, probably best known for his Tony Award-nominated performance as Boy George in Taboo. Following his run as Hedwig in John Cameron Mitchell (book) and Stephen Trask's (music, lyrics, and orchestrations) Hedwig and the Angry Inch - now playing Kennedy Center - that may very well change. The national touring production, modeled after the 2014 Broadway production and directed with care by Michael Mayer, gives Mr. Morton an opportunity to deliver what (in my opinion) is his best performance to date. I would even go as far to say it's the best performance by a male in a musical that I've seen all year - whether here in DC or on Broadway. Simply put, get thee to the Kennedy Center to experience it for yourself.
The hard-hitting rock musical introduces us to the genderqueer glam rockstar Hedwig (Euan Morton) pretty quickly. Although she's happy to be performing in front of us with her killer band "The Angry Inch" (Justin Craig, Matt Duncan, Peter Yanowitz, and Tim Mislock) - incidentally on the set (magnificently designed by Julian Crouch) of a musical called The Hurt Locker, which closed at intermission - she's a bit on edge. The much more famous Rockstar Tommy Gnosis is playing at an adjoining venue in his comeback tour. She can hear the crowd go crazy every time she or her husband/backup singer Yitzhak (Hannah Corneau) opens the door. At one point in the not so distant past, Hedwig and Tommy were in a car having oral sex. Tommy was high and crashed the car into a school bus full of kids.
She's determined to share her own story through word and song, but in order to really understand who she is now, we need to first go back to East Berlin where Hedwig lived before moving to the United States. A description of her difficult childhood, made worse by the political situation in Germany at the time, sets the stage for the tale of woe turned bright - at least for a moment. Hedwig meets an American military officer stationed in Germany, which provides an opportunity for her to move to the United States with him. There's no happy ever after though. A botched gender reassignment surgery and moments of intense heartbreak are just some of the experiences that she shares with us, her club audience. The pain and turmoil haven't ended though. There's the whole Tommy situation, and things with Yitzhak aren't exactly perfect - as illustrated by the moments of tension and mean-spirited competition that occur during the club act.
Mitchell's story, inspired by people in his own life, is successful in so far as while there are moments of glam and showiness, he introduces us to the true person behind the outrageous clothes. While it's by no means the best book written for a musical (there are some contrived moments, and its tone is all over the place), the book - as well as the consistently strong rock score (with "The Origins of Love" and "Midnight Radio" being the two songs that have the strongest combined set of music and lyrics) - gives the performer in the title role a lot to work with, both emotionally a physically. Morton, takes every opportunity one might imagine and completely throws himself into the role, aided by Mike Potter's showy wigs and makeup and Arianne Phillips' grand 'glam rock' costumes. His strong tenor allows the songs to soar (although a band vs. performer sound balance issue in the opening number was a bit of a disappointment) and he uses them to take on us on Hedwig's journey rather than just an opportunity to show off his sensational voice. Whether it's an angry rock number like "Angry Inch," or some of the tender and stripped-down ballads at the end of the show, he delivers them with perfection.
It's not an easy task to match Mr. Morton, but Hannah Corneau manages to do so. A strong singer and actress in her own right, she has a noticeable skill of giving us a taste of who Yitzhak is and what he experiences being with Hedwig without giving too much. Morton and Corneau are a tremendous pair that work exceptionally well together. Add in the band members and you have a musical production where all of the players work together as one to deliver a tremendous product and a wholly electric and thrilling musical evening for the audience. The music, the lights (Kevin Adams), and especially the performances really rock.
Running Time: Two hours with no intermission.
HEDWIG AND THE ANGRY INCH plays Kennedy Center - 2700 F Street NW in Washington, DC - through July 2, 2018. For tickets, call the box office at 202-467-4600 or purchase them online.