BWW Review: Brave and Memorable SOLDIER POET at Theatre Prometheus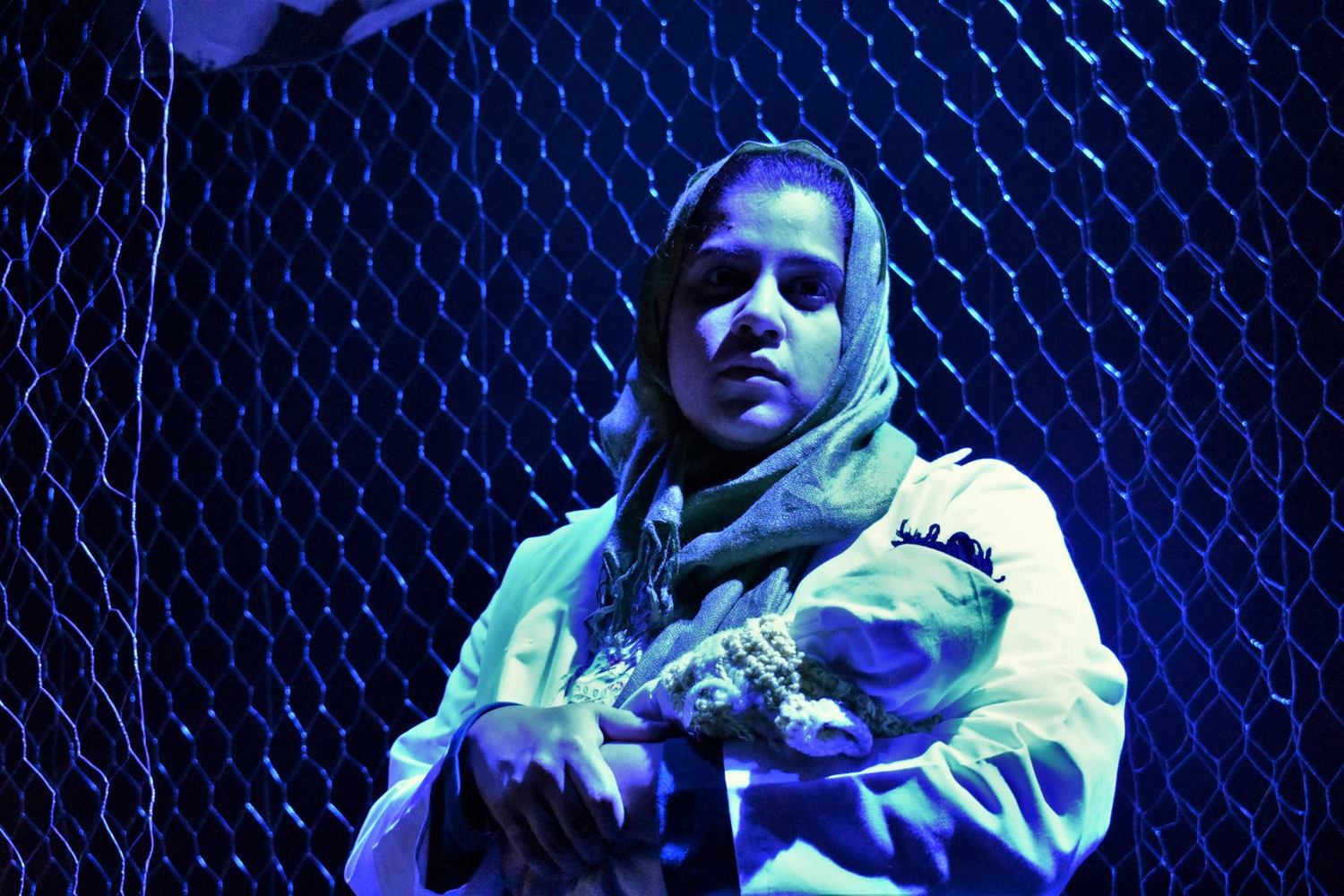 Bravery. Choosing the unexpected. Analyzing your mission. Forging connection. Adapting and evolving. This describes not only the characters' path in SOLDIER POET, but also Theatre Prometheus' approach in choosing to produce the world premiere work. The theater company should be applauded for staging SOLDIER POET, a moving and thought-provoking new work set amid the fall of Aleppo and the turmoil of the Syrian civil war.
As Aleppo crumbles, confusion reigns and options narrow. Two young and untested American Army Rangers rescue an injured Syrian woman about to give birth. In transporting her to a nearby hospital, the soldiers lose contact with their unit and question their certainty in the choice they made to help the Syrian civilian. At the hospital, a nurse with an unwavering sense of duty is committed to save the woman and her baby, safeguarding them as she does the lives of her infant patients even as her hospital is bombed.
The cornerstone of the play is Nurse Qamar Alabed, who refuses to leave the hospital and the innocent infants entirely dependent upon her to live. Fatima Razi as Qamar is strong, focused, and adamant. Razi shows us a side that is also tired, desperate, and vulnerable. Called upon to act in both English and Arabic, Razi is accomplished and sure. She is an actress to watch.
Dina Soltan as Fatemah, the young woman rescued from a bombed and crumbling building just as the pangs of labor intensify, is also solid and captivating in her role. Her connection to Nurse Qamar draws us in. She is also willing to befriend the Americans even when alliances and prospects are constantly shifting.
Keanu Ross-Cabrera as soldier Brett Connor and Nora Spellane as Ranger Frances "Ben" Franklin are less sure and more questioning as life in Syria slips out of control. They are young outsiders probing their motivation and searching their objective. Perhaps because the text dictates the soldiers' ambiguity, these two actors seem less sure in their portrayal, although Ross-Cabrera and Spellane give the audience plenty to ponder with their delivery of raw, dazed, and overwhelmed young soldiers striving to do the right thing.
The production is staged in Anacostia Arts Center's intimate black box theater where actors are sometimes mere inches from the audience. With SOLDIER POET there is a close and honest connection among the actors and with the audience - in this small space it simply cannot be faked. To be in such proximity, it successfully raises the emotional stakes.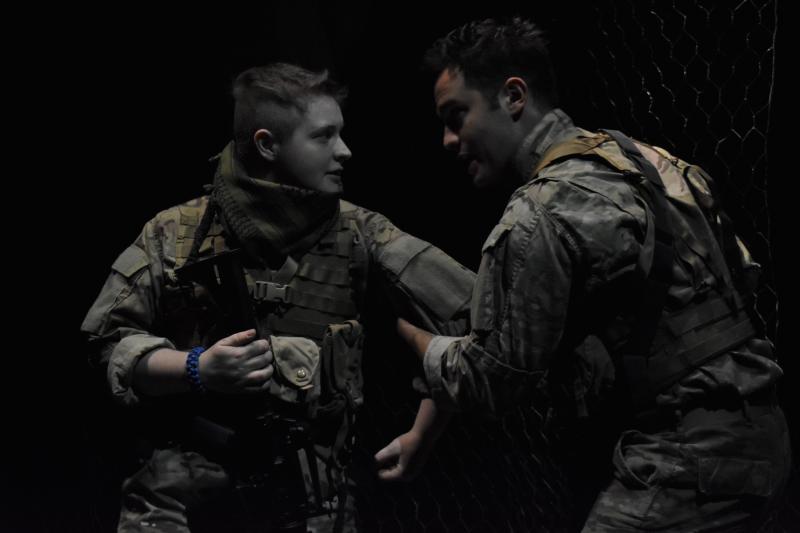 Yannick Godts' thoughtful and spare lighting and scenic design is extremely effective. Chicken wire and partial panels delineate the space and remind us of the skeletal remains of the incessantly bombed buildings. One panel allows supertitles to be projected, providing English translations of Arabic dialogue. Tosin Olufolabi's sound design layers sound from baby cries, to staticky songs on the radio, to muffled bombs - the insistent cacophony of a city under siege. Costume Designer Kristina Martin has an eye for detail in the uniforms and streetwear at this Syrian crossroad of cultures.
Theatre Prometheus is the first company to produce this meaningful work by Darcy Parker Bruce, a professor of playwrighting at Eastern Connecticut State University. Sarah Pultz served as dramaturg as SOLDIER POET was developed by the company.
SOLDIER POET, skillfully directed by Lauren Patton, is a compelling work, richly rendered. Theatre Prometheus is a young theater company with its roots in DC's fringe festival. It has produced both reimagined classics and contemporary work. For the company to invest in producing an unknown title during a crowded holiday season is a bold choice. Theatre Prometheus might not have the bank account and resources of more established DC theaters, but here that hardly matters. SOLDIER POET is memorable, highly professional, and beautifully produced.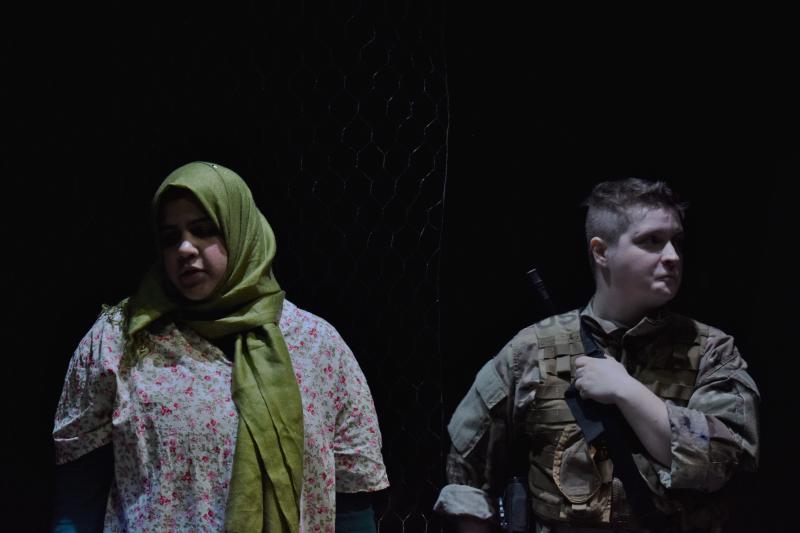 Theatre Prometheus produces the work at the Anacostia Arts Center, a beautiful multi-arts venue that also boasts a café, bookstore, and boutiques. At the foot of the 11th Street Bridge and in the shadow of the Big Chair, the venue is served by metro rail and bus; street parking and paid lots are available. With the Anacostia Playhouse, home to Theatre Alliance, just down the street, the few block area is dense with great opportunities to explore strong and interesting theater.
In an intimate theater space with fresh and compelling actors, a persuasive script, and inspired scenic design, SOLDIER POET aptly and successfully reminds us of our shared responsibilities and human connections.
Runtime: 1:30 with one 15 minute intermission
SOLDIER POET by Darcy Parker Bruce runs through December 21 with performances on Saturday at 4 pm and 8 pm, Sunday at 3:30 pm, and Tuesday, Wednesday and Thursday at 8 pm. The production is at the Anacostia Arts Center, 1231 Good Hope Road SE, Washington, DC 20020. For tickets or more information, see the Theatre Prometheus website.
Photo credit: Patrick Gallagher Landes. Top: Fatima Razi as Qamar, Next: Dina Soltan as Fatemah. Center: Nora Spellane (L) and Keanu Ross-Cabrera (R). Bottom: Fatima Razi (L) and Nora Spellane (R).
Related Articles View More Washington, DC

Stories

Shows
Pam came to Washington for the politics but instead found a home in its cultural community. For more than 20 years, Pam worked behind the (read more...)