Click Here for More Articles on REGIONAL - DC Metro Area Virginia
BWW Review: BILLY ELLIOT THE MUSICAL at Signature Theatre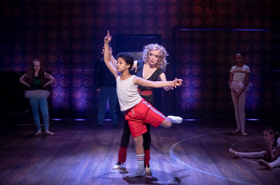 For something completely different this holiday season, you might want to consider Signature Theatre's latest offering. Billy Elliot the Musical is not your standard holiday fare by any means. Sure, there are big production numbers, but the story features important underlying themes of labor tensions, economic inequality, and acceptance. In other words, this show follows my philosophy that theater is meant to educate as well as entertain. The production also features some pretty incredible ballet and tap choreography with a cast that performs it beautifully.
Lee Hall's story is set in Northeast, England. It's 1984 and the coal mine workers are on the verge of striking in response to the National Coal Board's plan to shut multiple mines, which would result in the loss of many jobs. We meet the Elliot family, which has multiple generations working in the mines. There's Dad (Chris Genebach) who will do pretty much anything, including scab to provide for his family after his wife passed away. You also have his always angry son Tony (Sean Watkinson) who is union all the way. Then there is the other son Billy (Owen Tabaka at my performance. The role is split with Liam Reford). Their feisty grandma (Catherine Flye) also lives with the family.
Though money is tight, Billy is taking boxing lessons from George (Dan Manning) to please his father. He doesn't really enjoy it. A chance encounter with Mrs. Wilkinson (Nancy Anderson), who teaches a ballet class immediately following the boxing class, allows Billy to discover his love and talent for dance. Mrs. Wilkinson takes an interest in him and offers additional lessons to prepare him for an audition at a prestigious ballet school. Conflict emerges because Billy's father is none too keen on the thought of having a son who does ballet, let alone audition for the school. That is more than enough set up for now. Don't want to give too much "Electricity" away.
Billy Elliot rises and falls on two things in particular. First is the choreography. Matthew Gardiner and his team (Kelly Crandall D'Amboise and Mark Orsborn) don't disappoint. The Swan Lake number that features Billy and his older self (Grant Richards) is one of the centerpieces of the whole production. Another strong moment is the act one closer, "Angry Dance.". It is here where we see how dance can allow one to express a full range of emotions.
Secondly if you don't have a strong Billy in a production of Billy Elliot, you're dead before you get started. Owen Tabaka is a triple threat. His acting is very strong, he has a beautiful singing voice and above all, he is a fantastic dancer. Basically this kid is a star!
Other top performances include Nancy Anderson as the hard assed, but ultimately caring dance teacher Mrs. Wilkinson. Her two big features "Shine" and "Born to Boogie" are definitely two highlights of the production.
Sean Watkinson as the brooding Tony is also one of my top stand outs. This character could have been played way over-the-top, but Watkinson as directed by Gardiner finds the right balance. The performance is totally genuine and not the least bit forced.
Jacob Thomas Anderson, portraying Billy's friend Michael, makes a strong showing with his rendition of "Expressing Yourself". You really see the friendship between the two boys. At least in this production, you are also left wondering if they are more than just friends.
The corps of Ballet Girls rotates with each performance, but I would like to acknowledge the ones I saw. The very talented ladies were Anya Katherine Jones, Simone Struab- Clark, Dulcie Pham, Molly Rose Meredith, and Maya Stumpf. I also very much enjoyed Olivia McMahan as Mrs. Wilkinson's slightly snarky daughter, Debbie. The role is split with Vivian Poe.
For those of you that have seen this show previously on Broadway or on tour, you probably remember the set and how the Elliot house appeared out of the stage floor. Signature Theatre simply cannot recreate that reveal. There isn't the physical space to do so. There is no need to worry though as scenic designer Jason Sherwood's more minimal approach gives us the same effect of a working class home with just a few pieces of furniture and a ladder for Billy to get to his bedroom.
In any show that features a labor dispute and family drama there are bound to be moments of tension, which necessitates some realistic stage fighting. There are many here and as usual, the god of the fight Casey Kaleba makes everything look real and authentic while keeping the actors safe at every turn.
One other thing to look out for would be the spot on accents. Billy Elliot is very specific with what region of England is represented so if the accents are off it's a bad thing. Assistant Director/Dialect Coach Rex Daugherty's work is excellent here and captures the sound perfectly.
As we all know Signature Theatre is known for stripping down large scale musicals to their core for a more intimate experience. Here Signature's Associate Artistic Director Matthew Gardiner brings out the best in Lee Hall's book and lets the story breathe. He also allows Hall (Lyrics) and Sir Elton John's music to really let loose. When you strip out a large production on some shows there isn't much left. Gardiner proves with Billy Elliot that there is plenty here for the audience to digest.
Musically, the production utilizes Martin Koch's smaller orchestration for nine players instead of his Tony Award-winning (tie with Next to Normal) seventeen-piece version. While Musical Director Tom Vendafreddo's orchestra sounds great, I do feel that with only two reed players (instead of four) and one trumpet (instead of three) there is a lack of the audible size the score requires. The players do, however, deserve acknowledgement so here we go. We have Tom Vendafreddo (Conductor/ Key 1), Brandon Adams (Key 2), Ed Walters and Scott Van Domelen (Reeds), Amy Smith (Horn), Chris Walker (Trumpet), Jim Roberts (multiple Guitars) Max Murray (Bass), and freshly retired Marine Band member David Murray (Drums).
Billy Elliot at Signature Theatre has something for everyone this holiday theatergoing season. With great dance, a kid who you will be hearing plenty from in the future, an extremely talented cast and production team, and labor unrest, what more do you need?
Running Time: Two hours and 30 minutes with one intermission.
Billy Elliot the Musical runs through January 6, 2019 at Signature Theatre, which is located at 4200 Campbell Ave. in Arlington, Virginia. For tickets, click here.