Click Here for More Articles on DC - Theatre Life
BWW Interview: Theatre Life with Andrew Walker White
Today's subject, Andrew Walker White, is currently living his theatre life onstage at Quotidian Theatre Company in Bethesda, MD. in the title role of Hobson in Hobson's Choice. The production runs through March 11th.
Mr. White 's theatrical career is as varied as they come. Back in the day he performed with Woolly Mammoth Theatre Company in The Choir, sharing the stage with veteran actor Rick Foucheux. He also has the distinction of working with the "legendary" Bart Whiteman, founder of Source Theatre, on 14th Street before it was a trendy area. Years later he would return to the stage, this time at Capital Fringe, with a one man version of the long poem Enoch Arden and as part of the ensemble of Legal Tender.
If you want an interesting read, you might want to consider checking out his book, Performing Orthodox Ritual in Byzantium. The book deals with the origins of Byzantine ritual - the rites of the early Greek Orthodox Church - and its unique relationship with traditional theatre. If it is good enough to be in the Byzantines library then you should also consider it for your Kindle or bookshelf.
Offstage, he can be found teaching theatre to the unsuspecting youth of America at various area colleges. He also writes for several theatre publications including the one you are reading right now.
Andrew Walker White is truly living his theatre life to the fullest both on and off stage. He is a prime example of an artist that makes the most of everything that he does. Check out his performance in Hobson's Choice at Quotidian Theatre Company if you can.
As a child, was performing something you were always interested in doing?
I was raised by classical musicians and grew up with the expectation that I'd become a pianist or guitarist. The piano teacher rapped my knuckles so I quit, and all my guitar teachers went into construction (hey, it pays), so I ended up auditioning for a show in Middle School. That pretty much got me hooked.
Did you go to school for theatre?
No - I went to St. John's College in Annapolis, the "Great Books" school, where theatre was extracurricular. I had the chance to study at a number of joints in Washington - Arena, Studio, Source - all of which was rewarding. The rest of my education has come from simply doing shows.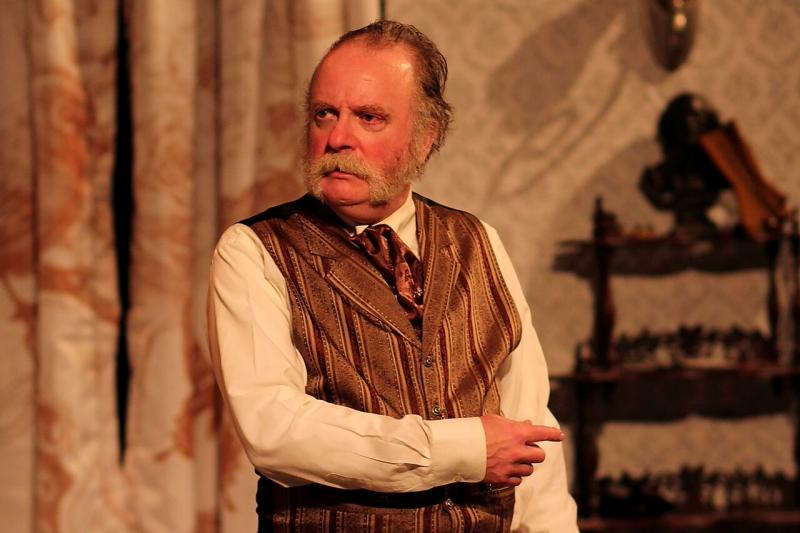 After being away from performing for a few years, why did you choose Hobson's Choice for your return to the stage?
I worked with Stephanie Mumford in a production of The Cherry Orchard back in the 90's and had such a wonderful time. I had always looked forward to working for Quotidian Theatre when the dust settled. It's been a long time - in the interim I've got a Ph.D. and raised a son who's now in college - but I'm finally comfortable venturing out onto the boards again. I got invited to audition for David Dubov-Flinn's production, and I thought the role of Hobson would be perfect. I leave it to everyone else to decide whether it was a good match or not!
Can you please tell us a little something about the play and the title character that you portray?
The expression "Hobson's Choice" is proverbial in England, and it basically means you've got one choice and it's no choice at all. I play the title character, Henry Hobson, who stands for every old-fashioned chauvinist pig you've ever met. My goal is to keep my daughters at home running my boot shop-but they have ideas of their own, and all get married at lightning speed.
The play is set in the Victorian era, but the trick to the show is that it was written at the height of World War I by a son of Salford, near Manchester, one of the most radical regions in the United Kingdom. The playwright wrote the play between sorties for the Royal Air Force, and unlike the movie, the play is about women's suffrage and empowerment.
Hobson's Choice was written over 100 years ago. Why do you feel it is still relevant to today's audiences?
Because it is a man writing about the grit and determination of women, and the invaluable role women play in men's lives. The central character, Maggie (Hobson's daughter) takes a talented bootmaker under her wing and together they carve out a thriving business.
You created a one man version of the long poem Enoch Arden at Capital Fringe a few years ago. What was it about that material that made you think it was suitable for the stage?
A few years ago, I moved to the Midwest to be with my wife; I was suddenly alone and rootless, and I picked up the poem in a coffee shop in Urbana, Illinois. The story is of a man who finds himself marooned for years on an island, wondering whether he'll ever get home - and what he'll find if and when he gets home. I instantly bonded with Enoch, the central character, and knew it had great potential for the stage. (Tom Hanks' Cast Away is based on Enoch Arden, by the way).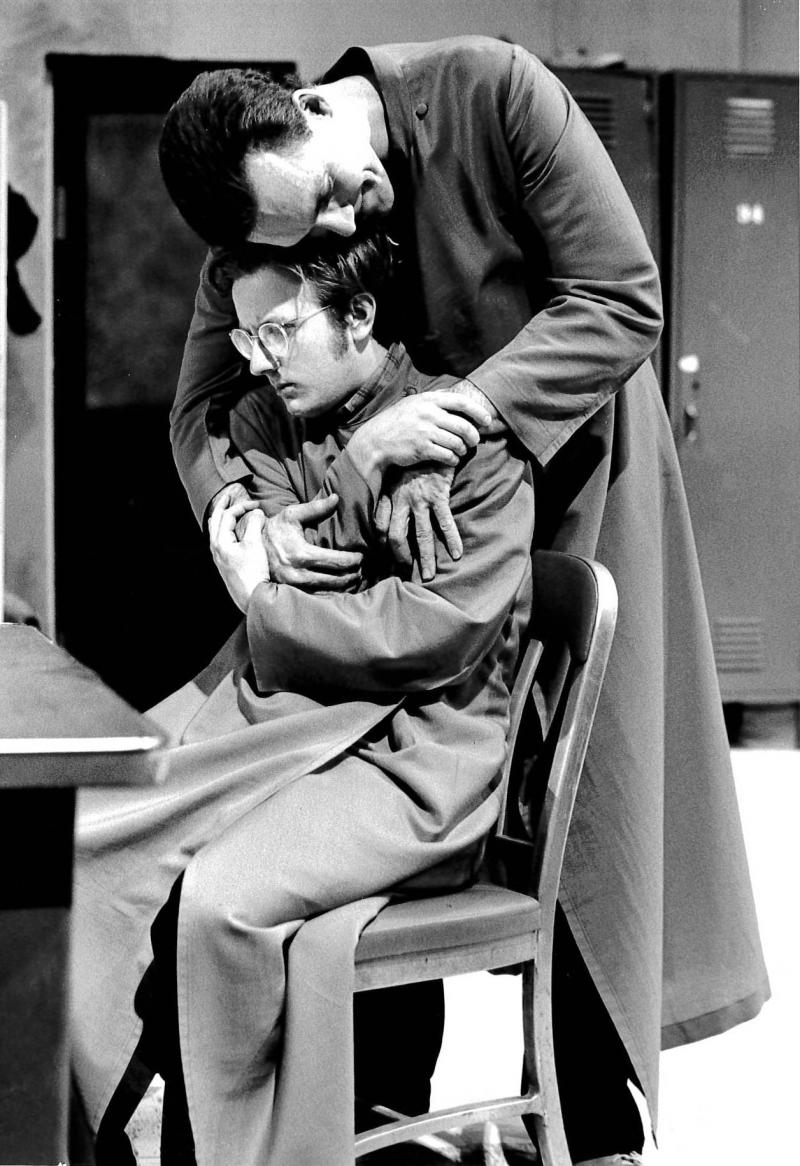 You were working in DC theatre when 14th Street was, shall we say, an "interesting place" to be. What do you recall as being your strangest experience working at Source Theatre with Bart Whiteman and on 14th Street in general?
There were many, where on earth do I start? All of us who started there vividly recall that this was the "Riot District" which originally went up in flames 50 years ago, when Rev. Dr. Martin Luther King, Jr. was assassinated. Well into the 1980's this was a depressed area, prostitutes on the street and alcoholics in the stoop; so as an actor stepping into the backstage area you had to watch out for the needles and rubbers, while your audience (which, miraculously, always showed up!) had to run the gauntlet of winos and their empty bottles on the sidewalk in front.
Bart Whiteman was a whirlwind of a man with a visceral, passionate commitment to theatre. He also had a temper to him, which I had occasion to witness whenever a critic panned his latest production. His idea was that unless you had 14-15 projects in the works at the same time, you weren't really committed. It was insane, but he was always there to create a space where you could do whatever you wanted.
When not performing, you teach theatre in various places. Do you find you have to work harder now than ever before to get young people interested in the classics?
When I teach general humanities courses, to people who aren't theatre majors, drama can be a hard sell-but then again, literature in general is hard sell for that crowd. Shakespeare's language is a lot more remote to general audiences than we realize, and I've gotten incredible heat from scholars for suggesting that we should find a way to modernize Shakespeare without sacrificing the original pentameter.
Theatre majors, on the other hand, love the idea of Shakespeare but could use some pointers. I always start with the Prefaces of Harley Granville Barker, one of Sir John Gielgud's mentors. (Gielgud was kind enough to reply to a letter I wrote him-British actors actually know how to read and write - and he gave me a bunch of suggestions for further reading on the Bard).
After Hobson's Choice closes, where will we be able to find you?
Teaching for two departments at George Mason University (Theater, and History & Art History), presenting a paper at the Museum of the Bible's first international conference, and plotting a revival of Enoch Arden - I'm not done with him yet, and hope to find the right venue to give Tennyson his due.
Special thanks to Woolly Mammoth Theatre Company's Marketing and Communications Coordinator Mikala Stubley for her assistance with finding the vintage photo used in this interview.
Theatre Life logo designed by Kevin Laughon.
Related Articles