Interview: Commencing in Shirlington, Signature Theatre's THE SCOTTSBORO BOYS Shows an All Too Real Account of A Shameful Time in Our History Part 2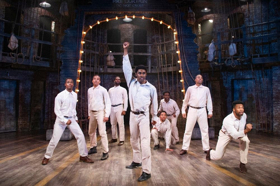 Last week, I introduced you to ten performers in Signature Theatre's current production of Kander and Ebb's final, complete collaboration, The Scottsboro Boys, which runs through July 1st. This included eight of the nine gentlemen who play the African American men who were falsely accused of raping two Caucasian women, as well as two others who play the minstrel characters known as Mr. Bones and Mr. Tambo.
In part one, you learned a little bit about how each actor got into performing and their familiarity with the Scottsboro Boys' case before starting rehearsals for the show. Part two is going to focus on the show itself.
I am urging all of you to go see what, in my opinion anyhow, might be one of the most important musicals ever written. It does what theater is supposed to do, entertain as well as educate and get the audience talking about important issues long after you "Go Back Home." With all that is happening now in America, the show is as relevant as ever. Ok, time for me to get out of your way and hand it over to these talented young men.
What was your initial response after reading the script for the first time?
Lamont Walker II (Haywood Patterson): I thought most overwhelmingly about the power of truth and honesty and the importance of a justified rebellion.
Joseph Monroe Webb (Olen Montgomery): My initial response was: 1) This isn't an easy story to tell, and 2) I knew I was going to have to make sure I took special care of my well-being (emotionally and psychologically) during this run, in ways that I normally wouldn't feel the need to do.
C.K. Edwards (Roy Wright)- I saw the Broadway production during previews and that 90 minutes was the longest I'd ever spent thinking about the nine Boys up to that point. It shook me to see many of my colleagues and friends in that light. Afterward, I discussed it with my then fiancée, and searched Google and YouTube for documentaries and any more easily available content on the Boys.
So (eight years later), I either forgot or still didn't really take the time to grasp what had happened, but I still wasn't prepared for actually reading the script. That made it so much more personal for me. Now, I would be putting myself into the shoes of one of these BOYS, Roy Wright, and - while I understand the theme (a recurring theme in our history) - I had never known his or any of their names because the title had always grouped them together.
It is recorded that Roy was twelve-years-old in 1931, the year he was rounded up with his brother and seven other strangers and falsely accused of raping two white women simultaneously. If there is one thing I truly abhor, it is the idea of getting accused of a crime I did not commit and this script was quick to remind me.
Aramie Payton (Eugene Williams): I liked the fact that the script doesn't apologize. I think if we continue to treat repression and racism with delicacy, it will continue to be acceptable. It left me with questions, and I was certain it would do the same for the audience - and that excites me, because that means the hard talks will happen!
Andre Hinds (Willie Roberson): I felt a sense of sadness at first because of what these Boys had to go through. but then I started to feel so proud as a young black man who gets the special opportunity to work on this show. It's nothing but humbleness flowing through my heart.
Darrell Purcell Jr. (Clarence Norris): I was so conflicted. I was so happy this story was being told, but I was afraid that the "minstrel" aspect of it would detract from the story overall. Thankfully, my fears have subsided. What we are doing with this story is exactly how I'd like it to be told.
DeWitt Fleming, Jr. (Ozie Powell): My initial response was to take offense. After reading it again certain things began to pop out and I began to understand what the writers were doing.
Jonathan Adriel (Andy Wright): Initially, this is what is happening in 2018 - just with different names and hash tags.
Stephen Scott Wormley (Mr. Bones): After reading the script the first time, I was a bit overwhelmed. Throughout the show, my character represents most of the characters who are violent, unjust, and sometimes nasty to the Boys. I was overwhelmed with the charge of bringing these characters to life, and what my personal journey would be doing this to my brothers. However, the feeling of pride in the beauty of the beautiful black men whose story we have a responsibility to tell would overrides that and make me WANT to bring these characters to life.
Chaz Alexander Coffin (Mr. Tambo): I felt an overwhelming responsibility to give appropriate voice to these boys and this story. It is beyond evident that these young men were not justly tried or treated. I feel that [Director] Joe Calarco's concept for this production allows Mr. Tambo, Mr. Bones, and The Lady to give the audience a perspective outside of the nine young men unjustly convicted that will add multiple moving layers to the story and show.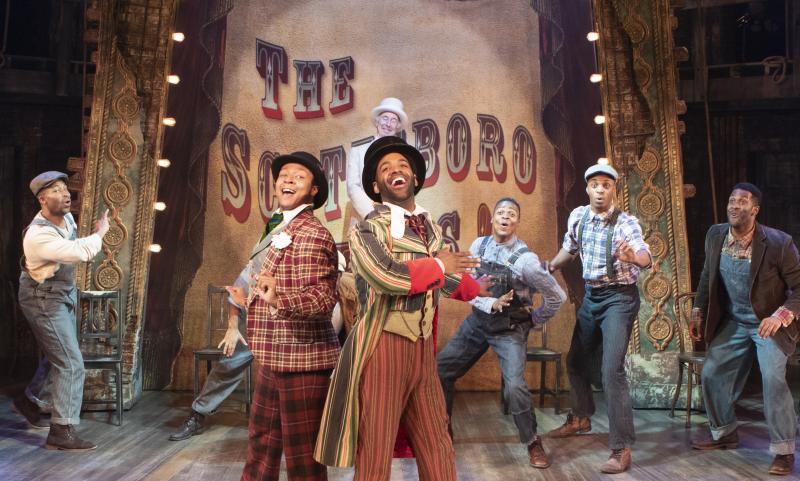 The Scottsboro Boys is a very relevant musical for many reasons. What makes the show so important and what are some of the biggest reasons audiences should go see it?
Lamont Walker II: I think the show is important because it's not just a story about these nine Boys. It's also commenting on the story of the many nameless Americans who faced - and continue to face - this kind of racial injustice at the hands of the criminal justice system on a daily basis. It's Trayvon Martin, Mike Brown, and Sandra Bland's story too. We must continue to shed light on stories like this one.
Joseph Monroe Webb: The show is phenomenal! I'm grateful that the creative team has found a way to tell the story without the voices/experiences of the nine boys being lost.
The Scottsboro Boys is important because it is American History. Stories that resemble the nine Scottsboro Boys (the unfortunate aspects of African American history) are often only spoken of during black history programs or on the campuses of Historically Black Colleges and Universities. Being able to bring this story to a theater audience who may not be familiar (or would never know) the history of the Scottsboro Boys, shows the vital role American theater plays in telling stories and sparking conversation that can invoke change.
C.K. Edwards: I mean, who knew this show would be so relevant in 2018? We all tend to grow up with slightly different filters through which to see the world, so it wouldn't surprise me if it's relevance still went over some heads.
Since I don't know where to begin, I'll start with the two words floating around in my head right now. Truth and empathy. Many people get triggered when we "try" to discuss the racial tensions we continue to have in America, but I think it's because many are afraid of the truth and what it really means. This show challenges us to "Make Friends with the Truth" and act accordingly. I think that alone could increase our propensity for empathizing with others and starting the right conversations. Much like the latest video dropped by Childish Gambino, this musical will dazzle you (Jared Grimes - choreography) and elicit a range of emotions (Joe Calarco - Direction), including JOY. However, if you leave the theater ONLY talking about how much you love Kander and Ebb's score, then you will have fallen into the same lovely trap as many before us. Here are the names of the Boys again: Olen Montgomery, Charlie Weems, Eugene Williams, Willie Roberson, Ozie Powell, Andy Wright, Roy Wright, Clarence Norris, and Haywood Patterson.
Aramie Payton: To me, this show is important because it unapologetically comments on the framework of American society. America is truly in a state of emergency for political, social, racial, economic, and health reasons. Even though this is a thrilling show, the content is very serious and very urgent. It's a bold reminder that we need to make even more drastic changes, or we'll be looking back on what is nearing 100 more years of stagnancy.
Andre Hinds: What people tend to forget the most is that history definitely repeats itself. African Americans continue to be wrongly accused and prosecuted in this country. These nine Boys are part of a long list of black names that have been beaten and murdered. This show will hopefully make society aware of what's going on in their own backyard. Their story needs to be told.
Darrell Purcell Jr.: The show is important because it really puts the mirror to America's face when it comes to how we address racial inequality. This show humanizes black men in ways that I feel the media (in general) doesn't always do. This show allows us to look at the outcome of a system rooted in the oppression and marginalization of a group of people, while also teaching us how to avoid similar mistakes in the future. One of the biggest reasons that I think that audiences should see this show is simply so that we continue to support and remember these young men whose lives were ruined by a system stacked against them. This is still happening in America today and those that have tragically lost their lives deserve to be remembered.
DeWitt Fleming, Jr.: Any story that educates its audience about a crucial time period in history is important. I think it is also important because it reminds audiences of the injustice African American men - human beings - have had to endure and continue to endure today, with the more obvious injustice being police brutality, which is very prevalent in the play. We have a talented group of performers on stage who are celebrated for their talents, but the fact of the matter is, when we walk off of that stage, we are at risk of police brutality at any moment simply because of the color of our skin. It is important for audiences to see this show to ensure that these Boys did not spend most of their lives in jail in vain. The injustice to African American men in this country has to end. This play is a great example of why theater was created - to educate the masses and help promote change to make the world a better place.
Jonathan Adriel: I am a black male in the United States. There is still so much work that needs to be done. The uncomfortableness that will occur during the audience's visit should spark further education that will hopefully start and continue the change that HAS to happen.
Stephen Scott Wormley: This show is extremely important because most audience members who are not African American will sit down and be told a story they have never heard. They will connect with characters, feel for the boys and this unjust situation, and see what this country has done to young black men. And THEN they will go home, turn on the news, and have a hard moment of realization that not a thing has changed. And THAT will evoke a response - good or bad, a response. As for audience members who are African American, they will endure a bit of trauma, BUT, they will be reminded of our endurance, how we persevere, and how despite all that has and will be done to us, there is beauty in our story!
Chaz Alexander Coffin: Theater can be used as a mirror to society, and there is no question that this show holds up a huge mirror to its audience. This show is hard to watch, and it should be. If you're comfortable watching this story unfold, then that's a problem. This show should be seen because not only does it educate, but it starts a conversation. After learning the story, it gets you thinking and hopefully buzzing. It should start something inside of you that makes you want to change the world for the generations to come because honestly, change is possible. It's happening now.
Here is the video trailer for Signature Theatre's production of The Scottsboro Boys.
Special thanks to Signature Theatre's Deputy Director, Creative Content and Publicity James Gardiner for his assistance in coordinating this interview.