Interview: Commencing In Shirlington, Signature Theatre's THE SCOTTSBORO BOYS Shows an All Too Real Account of a Shameful Time in Our History – Part 1
I always say the best kind of theater educates as well as entertains. If you walk out of the theater a little uncomfortable about what you just saw then a piece like The Scottsboro Boys has done its job in full. The final complete collaboration of Broadway's legendary writing team of John Kander and Fred Ebb tells the story of nine young African American men falsely accused of raping two young Caucasian women in the 1930s. Signature Theatre is currently presenting this groundbreaking musical now through July 1st.
Today, you are going to meet eight of the nine actors (one was not available to participate) who portray the Scottsboro Boys in the Signature production, as well as two other actors who play a multitude of actors under the names of Mr. Tambo and Mr. Bones. Collectively they have appeared on Broadway, in regional theatres across the country (including Signature Theatre), in dance productions, and on film and television. In other words, they have reached every medium of the entertainment industry. You may see their full bios by clicking here.
I should mention that this interview is a little different than what you'd find in my Theatre Life column - largely because of the sheer number of interviewees. I do not provide an in-depth profile of each artist and each was asked to answer a more limited set of questions than is standard. Today, the interviewees will discuss how they got their start in performing and their knowledge of the Scottsboro Boys case going in to the production. Next week, be on the lookout for Part 2 featuring additional questions.
In any case, if you missed The Scottsboro Boys when it played on Broadway, I highly urge you to get to Signature Theatre and see what Director Joe Calarco and team have in store for you. In my opinion, it is one of the most important musicals you'll ever see. With that, I'm going to get out of your way and let you meet these very talented gentlemen.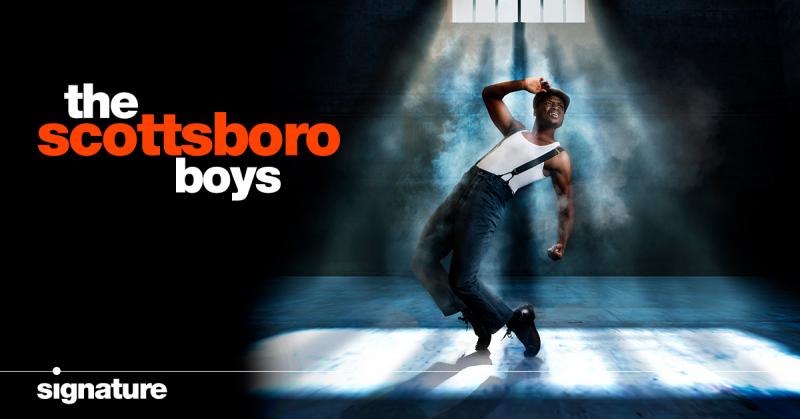 How did each of you get into performing?
Lamont Walker II (Haywood Patterson): I started doing theater in elementary school. Then I left it for a bit and picked it back up during high school. I joined a community theater group known as the Hurrah Players in Norfolk, VA.
Joseph Monroe Webb (Olen Montgomery): At age 5, my mother noticed me singing and dancing to Michael Jackson and Prince around the house. She encouraged me to channel that energy into dance/theater classes and performances.
C.K. Edwards (Roy Wright): I used to play the violin. As a sophomore in high school, I was playing in the pit for one of my high school's productions - I believe it wasPeter and the Wolf - looked onstage and thought, "I would like to do what they are doing!"
Aramie Payton (Eugene Williams) - One Halloween, my twin and I came in full costume to school and weren't allowed to attend. We were forced to go to work with my father - and he was doing a musical. The show was amazing and after seeing it, I immediately got into every type of performing I could at school, church, and my after-school program. This was 3rd grade.
Andre Hinds (Willie Roberson): My cousin Courtney got me to audition for a one-act play my sophomore year in high school. I don't even remember the name of the play, but I do remember playing the piano and singing "Tea for Two," and it's been love ever since.
Darrell Purcell Jr (Clarence Norris): I started performing in church. When I was younger I joined my church choir, praise and worship team, and step team. I made sure to be a part of all of the church plays as well! I technically wasn't allowed to be on the praise dance team because I wasn't old enough. But I kept coming to rehearsals and learning the routines anyway so they finally just let me join! I got the bug early!
DeWitt Fleming Jr. (Ozie Powell): Short answer, in junior high my sister dared me to be the dancing Santa in the Christmas show at school. I did it and loved it. I then joined the drama club and later went to Duke Ellington School of the Arts and Marymount Manhattan College in NYC for acting.
Jonathan Adriel (Andy Wright): As a preachers kid it's a must to sing in the choir, but as a very hyperactive child my mother put me into gymnastics and tap dancing. And I just felt in love.
Chaz Alexander Coffin (Mr. Tambo): I've always loved to dance. I started performing about halfway through high school. I was extremely blessed to be ushered into an amazing theater program early on in my sophomore year and it changed my life forever.
Stephen Scott Wormley (Mr. Bones) - At a very, VERY young age, my talent for singing became pretty apparent when all the adult choirs in my church found themselves having this youngster join and sing most of the solos. I started singing with the Washington Performing Arts Society, where I began my training. Through them I started to dance in a separate ensemble with the resident choreographer, and slowly began to act through the training programs and some plays. From there, the bug did its biting, and here we are!
Growing up were any of you familiar with the Scottsboro Boys case?
Lamont Walker II: I was unfamiliar with the case growing up, but I did learn a lot about the case and the musical while I was in college.
Joseph Monroe Webb: As a child my father would introduce me to parts of American history that I wasn't being taught in grade school. While I wasn't privy to the story of the Scottsboro Boys the particulars surrounding the Scottsboro Boys and America's judicial system is all too familiar even today.
C.K. Edwards: Honestly, I was somewhat "familiar" with the given name Scottsboro Boys. While I can even remember pinpointing the city on an atlas I loved studying from my mom's car when I was a kid on road trips, I couldn't have told you the boys' name. I wasn't privy to the magnitude of the case, the legislative storm that would follow, and how close it came to not even being front page news. The fact that there even was "Ah" case to read about is a marvel in itself! I'm grateful for what changes to our justice system came from the years of injustice Andy, Charlie, Clarence, Eugene, Haywood, Olen, Ozie, Roy, and Willie endured. There is still room to grow, I imagine.
Aramie Payton: Being from Chicago, I was far more familiar with Emmett Till than this story. I learned about the Scottsboro Boys in high school when I was finally able to deep dive into African-American history. Its historical significance was lessened then, so it is refreshing to learn and acknowledge that this jumpstarted the Civil Rights movement.
Andre Hinds:
Not at all. I didn't know about the story or the case until I was cast in this show. I felt terrible for not knowing this history until now.
Darrell Purcell Jr: My mom made sure that I was raised with a clear understanding of America's violent history of racial injustice. My first time hearing about the Scottsboro boys was when I was doing a black history month project in middle school and my mother suggested I do mine on the Scottsboro Boys. I ended up doing it on Emmett Till, but I definitely learned a lot about the Scottsboro Boys in the process.
DeWitt Fleming Jr.: I'm pretty sure I learned about them at some point growing up in DC. My parents and teachers were very adamant about us learning African American history. There were so many stories we learned about similar cases and injustices to African American men. Their intention was to prepare us for certain parts of society and individuals who still carry that old mentality.
Jonathan Adriel: I was not familiar with the case growing up.
Chaz Alexander Coffin: It is crazy to think, but no. I was actually not aware of this case at all.
Stephen Scott Wormley: I remember learning about it briefly in school, but definitely not in depth, just an overview.
Special thanks to Signature Theatre's Deputy Director, Creative Content and Publicity James Gardiner for his assistance in coordinating this interview.