Arena Stage Announces Full Cast for TWO TRAINS RUNNING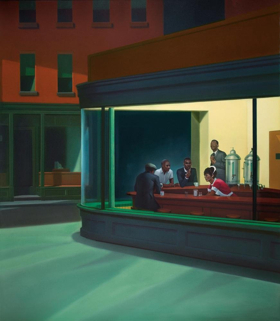 Arena Stage at the Mead Center for American Theater announces the full company for August Wilson's quintessential epic drama Two Trains Running. Confronted with a rapidly changing world in the wake of the death of Dr. Martin Luther King, Jr. and the looming demolition of Memphis Lee's diner, Memphis and his regular customers struggle to maintain their solidarity and sense of pride. Hailed by the New York Times as "Mr. Wilson's most adventurous and honest attempt to reveal the intimate heart of history," Two Trains Running, under the direction of Juliette Carrillo, is a co-production with Seattle Repertory Theatre and runs March 30-April 29, 2018 on the Fichandler Stage.
Reprising their roles from the celebrated Seattle Repertory production hailed by The Seattle Times as "powerful...deeply resonant" are Eugene Lee (Broadway's Gem of the Ocean and Arena Stage's every tongue confess) as Memphis Lee, Carlton Byrd (Woolly Mammoth's Antebellum) as Sterling, William Hall Jr. (Seattle Shakespeare Company's Othello) as West, Reginald Andre Jackson (Seattle Repertory's Well) as Wolf, Nicole Lewis (Broadway's Hair) as Risa, Frank Riley III (Arena Stage's A Raisin in the Sun) as Hambone and David Emerson Toney (Broadway's Juan Darién and Arena Stage's The Piano Lesson) as Holloway.
"The powerful work of August Wilson has a real home in the Fichandler. This is a co-production with our sister theater Seattle Rep, and the wonderful Juliette Carrillo will move the production from their proscenium space into our signature space in the round," says Smith. "Especially with August Wilson, having the community experience of seeing your fellow audience members increases the power of his words. Having Juliette return to Arena as she cuts her teeth, as an inaugural member of the Allen Lee Hughes Fellowship program, is truly exciting."
"As the Black Lives Matter movement has brought the concerns of the African American community into the center of public eye in recent times, this 1992 play (set in 1969) has become startlingly current," shares Carrillo. "Wilson's genius everyday poetry illuminates the emergence of personal dignity and self-worth during the one of the most turbulent eras in our country. As a Latinx female director, it has been a great honor and privilege to partner with this artistic team to bring these very human stories to light at a time when the struggles of the civil rights movement continue to resonate."
Arena Stage has a celebrated history of prominently featuring August Wilson's work. Most recently in 2015, Arena produced King Hedley II, and his other works including Gem of the Ocean, The Piano Lesson, Ma Rainey's Black Bottom, Fences and Joe Turner's Come and Gone have been seen at Arena Stage.
August Wilson (Playwright)'s plays include Gem of the Ocean, Joe Turner's Come and Gone, Ma Rainey's Black Bottom, The Piano Lesson (Pulitzer Prize winner), Seven Guitars, Fences (Pulitzer Prize winner, Tony Award winner), Two Trains Running, Jitney (Olivier Award winner), King Hedley II and Radio Golf. In 2003, he made his stage debut in his one-man show, How I Learned What I Learned. He received an Emmy Award nomination for his screenplay for The Piano Lesson. Other works include The Janitor, Recycle, The Coldest Day of the Year, Malcolm X, The Homecoming and the musical satire Black Bart and the Sacred Hills. Other awards include eight New York Drama Critics Circle Awards, Rockefeller and Guggenheim Fellowships in Playwriting, a Whiting Writers Award, 2003 Heinz Award, 1999 National Humanities Medal and induction into the Theater Hall of Fame.
Juliette Carrillo (Director) is a graduate of the Yale School of Drama and has directed critically-acclaimed premieres and revival productions in theaters across the country including Oregon Shakespeare Festival, Mark Taper Forum, South Coast Repertory, Yale Repertory, Denver Center and Seattle Repertory. As a member of the Cornerstone Theater ensemble, she has developed work for and with various communities such as the Los Angeles River community, the addiction and recovery community, the Hindu community and seniors and their caregivers. She was an artistic associate and Director of the Hispanic Playwright's Project at South Coast Repertory for seven years, developing work with writers such as Nilo Cruz, Octavio Solis, José Rivera and Karen Zacarías. She is on faculty at University of California, Irvine. www.juliettecarrillo.com
Cast Biographies
Carlton Byrd (Sterling) is honored to be making his Arena Stage debut! Select theater credits include Sunset Baby (Theater Works), Bad Apples (ACT Theatre), Antebellum (Woolly Mammoth Theatre Company), Romeo & Juliet and Ain't Supposed to Die a Natural Death (Classical Theatre of Harlem), and The Bacchae. TV credits include Castle, Major Crimes, Blue Bloods and Law & Order: SVU. Film credits include Life of a King, Woodlawn and Holding Patterns. Graduate of New York University's Tisch School of the Arts and The Maggie Flannigan Studio. Ron Howard Foundation Scholarship recipient. Hebrews 12:1.
William Hall Jr. (West) make his Arena Stage debut. Seattle Repertory credits include Another Part of the Forest, I'm Not Rappaport, Gem of the Ocean and Birdie Blue. He is proud to have been a co-founding member of the nationally acclaimed Group Theatre where he appeared in many productions including Sejwiz Banji is Dead and Buffalo Soldiers. Recent productions include To Kill a Mockingbird (Intiman Theatre), Othello (Seattle Shakespeare Company), Cry the Beloved Country and Bud, Not Buddy (Book-It Repertory Theatre), Wine in the Wilderness (ACT Theatre) and Death of a Salesman (Langston Hughes).
Reginald Andre Jackson (Wolf) makes his Arena Stage debut. He has appeared at Seattle Repertory in Well, The Great Society, Inspecting Carol, Ma Rainey's Black Bottom, Romeo & Juliet and The Cider House Rules, Part Two. He has also worked with The Shakespeare Theatre Company, Intiman, Lake Tahoe Shakespeare Festival, ACT Theatre, Artists Repertory Theatre, ArtsWest, and Seattle Shakespeare Company, among others. As a playwright, he is the recipient of the American Alliance of Theatre & Education's Distinguished Play Award for his adaptation of Christopher Paul Curtis' novel Bud, Not Buddy.
Eugene Lee (Memphis Lee) returns to Arena Stage after appearing in every tongue confess and Guess Who's Coming to Dinner. He appeared on Broadway in Gem of the Ocean and is a "Wilsonian Warrior," having performed in all but two of Mr. Wilson's plays. Off-Broadway credits include A Soldier's Play, Home, Manhattan Made Me, Nightline, Eyes of the American and The Redeemer (Negro Ensemble Company). Regional credits include stop. reset (Goodman); How I Learned What I Learned (True Colors, Round House, Pittsburgh Public Theater, Huntington); the Kennedy Center's August Wilson's 20th Century; and others. Film/TV credits include Wolf, Coach Carter, The Lying Game, American Crime, The White Shadow, Good Times, NYPD Blue and The Guiding Light. Eugene is an artist-in-residence at Texas State University and Artistic Director for the Texas State Black and Latino Playwrights Conference. eugeneleeonline.com
Nicole Lewis (Risa) makes her Arena Stage debut! Broadway credits include Hair (Tony Award Best Revival), Rent (Joanne) and Lennon. Off-Broadway credits include Sense and Sensibility (Bedlam), Measure for Measure and Macbeth (The Public); Murder Ballad and Boy Gets Girl (MTC). Regional credits include The Merry Wives of Windsor (Two River Theater); Disgraced (Arizona Theatre Company); Good People (Geva Theater/Indiana Repertory); Race (Philadelphia Theatre Company); All My Sons (Intiman Theatre); A Civil War Christmas (Center Stage); The Tempest (Williamstown Theatre Festival). Film/TV credits include The Blacklist, Mozart in the Jungle, Odd Mom Out, Law & Order: SVU Blue Bloods, London Betty, Across the Universe and The Comedian. B.A. Yale University, M.F.A. American Conservatory Theater. Many thanks to Seattle Repertory, Arena Stage, Juliette, Constanza, Michelle Shay, Heather Simms, Julia Berman and the Leach/Lewis families. NicoleLewisNYC.com
Frank Riley
III (Hambone) is a native of Richmond, VA and currently lives in the D.C. metropolitan area. He returns to
Arena Stage
after appearing in A Raisin in the Sun. Other area credits include To Kill a Mockingbird as Rev. Sykes in Alexandria, VA; Cinderella The New Musical in Alexandria, VA; Dead Man Walking at the Kennedy Center; and Yet I Stank in Alexandria, VA. He appeared in the Amazon TV series DailyBread and will be in an episode of For My Man, which airs on TV One. A former pro wrestler in the local circuit of VA and NC in the early 90s and a single father of two sons, Frank is several months retired from the Alexandria, VA Police Department.
David Emerson Toney (Holloway) returns to Arena Stage after appearing in four decades of stage productions, including such roles as Doaker in August Wilson's The Piano Lesson, Roy Wilkens in Robert Schenkkan's All the Way and Lonnie in Zora Neale Hurston's Polk County. Broadway credits include of A Free Man of Color and Julie Taymor's Tony Award nominated musical Juan Darién. Regionally he was seen as Alonzo in The Tempest and Lucio in Measure for Measure (Folger Theatre); Army in the Persians and Othello (Shakespeare Theatre Company); Jacques in As You Like It (Utah Shakespeare Festival); Splash Hatch on the "E" Going Down (Yale Repertory); and The Fool in King Lear. David is an Assistant Professor of Acting at Virginia Commonwealth University.
The creative team for Two Trains Running includes Set Designer Misha Kachman; Costume Designer Ivania Stack; Lighting Designer Sherrice Mojgani; Composer and Sound Designer David R. Molina; Casting Directors Kaytlin McIntyre (Seattle Repertory), Victor Vazquez (Arena Stage), Lauren Port, CSA (New York, Caparelliotis Casting); Stage Manager Cristine Anne Reynolds; and Assistant Stage Manager Marne Anderson.
Two Trains Running is generously sponsored by PNC Financial Services Group. Additional support is provided by JMA Solutions.
TICKETS: Tickets for Two Trains Running are $50-99, subject to change and based on availability, plus applicable fees. For information on savings programs such as pay-your-age tickets, student discounts, Southwest Nights and hero's discounts, visit arenastage.org/shows-tickets/single-tickets/savings-programs.
Tickets may be purchased online at arenastage.org by phone at 202-488-3300 or at the Sales Office at 1101 Sixth St., SW, D.C.
More Hot Stories For You