Click Here for More Articles on Women in Theatre
BWW REVIEW: Fabulist Theatre's OUR TIME: AN EMPOWERMENT CABARET Shines Bright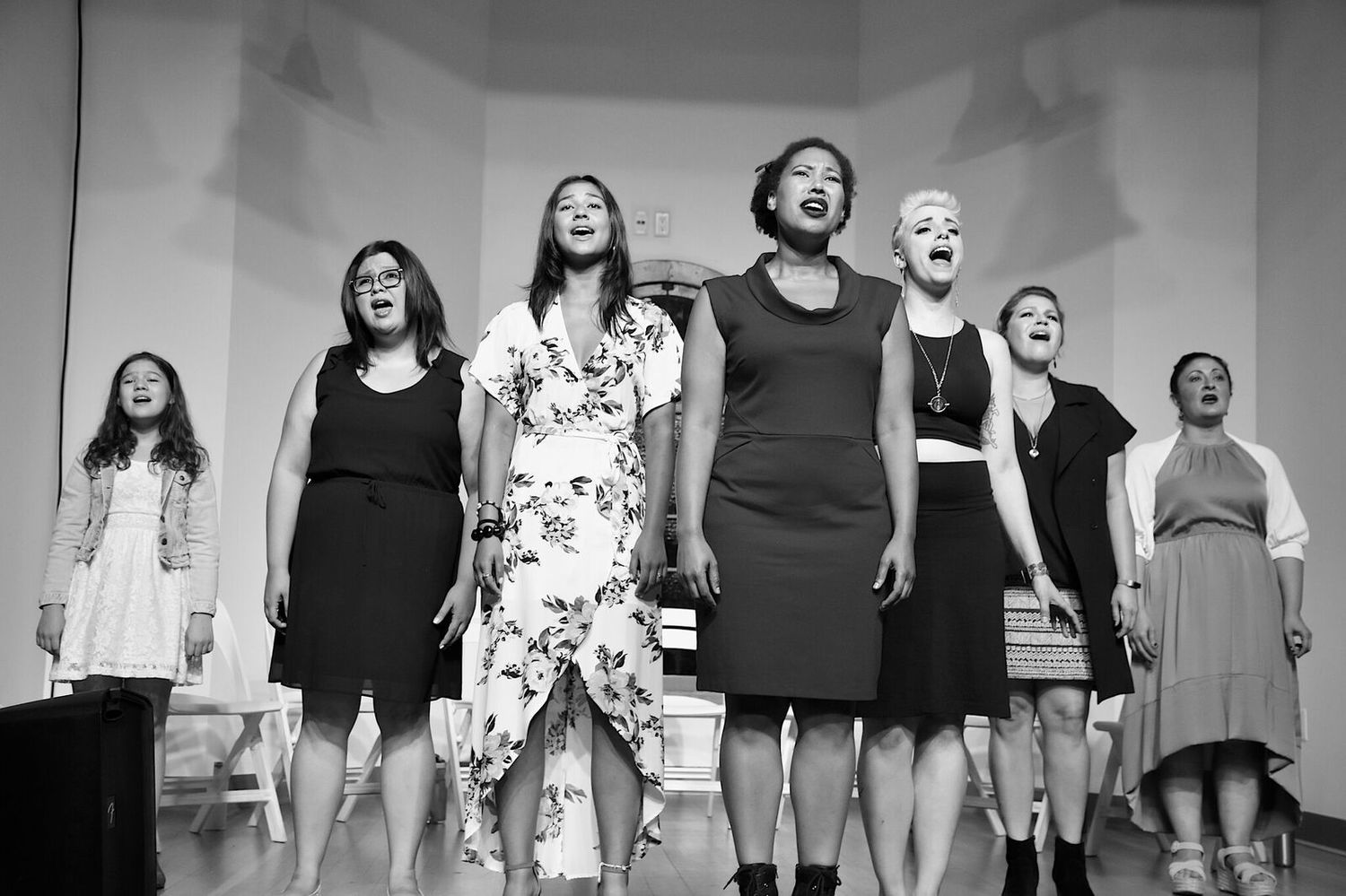 What do you get when you combine many talented women with phenomenal voices with inspiring stories and songs from many beloved Broadway musicals? You get a truly amazing show, which is exactly what Fabulist Theatre presented with OUR TIME: AN EMPOWERMENT CABARET. Performed at the Kitsilano Neighbourhood House Hall in Vancouver, I did not know what to expect from this show as it was unlike anything I have attended in the past. Overall, I was pleasantly surprised with the show and enjoyed every single minute of it. With a very minimalist stage setup in the venue paired with a changing coloured lighting display, the voices and stories of the performers were able to stand out in this compelling production.
Featuring the talents of Brianna Clark (Once On This Island - Fabulist, Vancouver Showstoppers), Cecilly Day (Hairspray - TUTS), Jamie MacLean (Matilda - National Tour, Fun Home - Arts Club), Mandana Namazi (Sunday In The Park With George - United Players), Regi Nevada (Little Shop Of Horrors - Vagabond Players, Songs For A New World - Fabulist), Chelsea Rose Tucker (Les Filles Du Roi - Urban Ink/Fugue), and Sasja Smolders (Geekenders) with music directed by Kate MacColl (Composer of This Is Now), I was completely blown away by the talent of these incredible women. Each performer told their personal stories about their lives and brought their emotions to life with songs. The combination of both storytelling and singing brought so much truth and passion to the night that you could really feel the female empowerment in the room. Songs from Broadway musicals such as Fun Home, Grease, Ragtime, Matilda, Hairspray, Waitress, First Date and If/Then were featured in the show along with songs sung by powerful female icons such as Alicia Keys, Carole King, and Whitney Houston.
Each performer's story was both truly inspiring and interesting to hear. From topics such as overcoming insecurities, seeking acceptance, or life experiences, each story was unique and meaningful. In addition to the stories, I thoroughly enjoyed each and every song that was sung in the show. The voices of each woman in the production were of such a high caliber and each performer had such an amazing stage presence. Chelsea Rose who sang both "Safer" from the musical First Date and "Always Starting Over" from the musical If/Then gave a show stopping performance. Her powerhouse voice gave me the chills, leaving me completely speechless after she sang both of her songs. Another notable performance included Jamie MacLean singing "Ring of Keys" from the musical Fun Home and "Naughty" from Matilda the musical. As I have seen her as Young Alison in the Vancouver Arts Club production of Fun Home, it was great seeing her sing outside of a musical/play setting. MacLean's voice is filled with youthful exuberance while her stage presence and overall performance outlined her maturity on stage.
Furthermore, an empowering organization called Dress For Success was highlighted in the show. As they are an international non-profit organization who assist women with achieving success in the work force by providing things such as support, counselling, and proper formal clothing allowing them to thrive. As they have helped over one million women over the last 21 years in 150 cities in 30 countries, Dress For Success have proven themselves to be a very beneficial and life-changing organization. To learn more about what they do visit https://dressforsuccess.org/.
OUR TIME: AN EMPOWERMENT CABARET was an amazing show that featured women with outstanding voices. If you get a chance to catch their last show on August 19th at 8pm, I would highly recommend stopping by to see it. Growing up, I wish I saw more shows like OUR TIME that featured songs sung by strong female leads from Broadway musicals or empowering female icons. This show is so inspiring and magical that I hope lots of people have the opportunity to witness it!
OUR TIME: AN EMPOWERMENT CABARET is playing at the Kitsilano Neighborhood House Hall in Vancouver from August 17th to 19th at 8pm. General Admission tickets can be purchased online at https://theourtimecabaret.brownpapertickets.com/ or at the door for $25.
Photo Credit: Tina Clelland, 2018
Related Articles