Dale Vicker & Alex Reid Announced for UK Premiere of DIE, MOMMIE, DIE! at The Kings Arms, Salford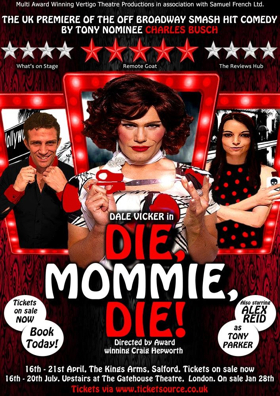 The devilishly delicious actor/MMA fighter/TV personality Alex Reid is joining the UK Premiere cast of the Off-Broadway Charles Busch comedy/melodrama Die, Mommie, Die!, produced by the multi-award-winning Manchester-based Vertigo Theatre Productions.
Reid plays the Hollywood lothario Tony Parker, who has a BIG secret. He will be joining Dale Vicker, who returns to his role as the fallen star Angela Arden - a role he received rave reviews for. The cast also features Emma Morgan (Noir) as Bootsie, Anna Hickling (Porno Chic) as Edith, Benjamin Gray (Fake News) as Lance, with more cast to be announced.
Directed by award-winning Craig Hepworth, Die, Mommie, Die! takes us to 1960s Hollywood to meet fallen star Angela Arden and her dysfunctional family. Angela is trapped in a hateful marriage to film producer Sol Sussman, bored with her life, so she finds herself a little plaything, the Hollywood wannabe Tony Parker.
Now, Angela needs Sol out of the way so comes up with a murderous plan; unfortunately for her, her family won't make things easy. Between her bratty daddy's-girl daughter, her sweet but strange son, and her alcoholic, love-struck maid, Angela has her work cut out for her, but this is a gal who will rise to any occasion......even murder!
Die, Mommie, Die! is a loving parody of the 'Hag Horror' movies of the 60s that usually stared ageing actresses like Bette Davis, Joan Crawford and Lana Turner in movies like Whatever Happened to Baby Jane, Dead Ringer, Hush Hush Sweet Charlotte to name but a few.
So get ready, because Mommie Dearest is ready for her close-up.....and she demands your attention.
Written by legendary Broadway and Off-Broadway writer/performer Charles Busch (The Divine Sister, Vampire Legends of Sodom, Psycho Beach Party and the Tony-nominated Tale of the Allergist's Wife) and directed by award-winning writer/director Craig Hepworth (Porno Chic, Fake News, Last Dance, Noir). The show will open at The Kings Arms, Salford on April 16th - 21st and move to Upstairs at The Gatehouse Theatre, London from July 16th - 20th.
Tickets are on sale now for the Salford dates for only £15, limited availability left so bock today. London tickets on sale early February.
Die, Mommie, Die! - Website