B Begins Tonight at the Royal Court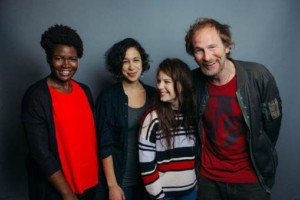 Aimee-Ffion Edwards, Paul Kaye, Sarah Niles and Danusia Samal have been cast in B by Guillermo Calderón translated by William Gregory and directed by Royal Court Associate Director (International) Sam Pritchard.
It will run in the Royal Court Jerwood Theatre Downstairs tonight 28 September 2017 - Saturday 21 October 2017 in nightly rep alongside Victory Condition. B is presented as part of International Playwrights: a Genesis Foundation Project. There are two press nights on Saturday 30 September 7pm and Monday 2 October 7pm.
With design by Chloe Lamford, lighting by Lizzie Powell, sound by Gareth Fry and composition by Teho Teardo.
"But don't say that word."
"What word?"
"The word that starts with B."
Alejandra and Marcela are planting bombs in the middle of the night.
They don't want violence. They just want to be heard. Prison's not much of a threat when most of your friends are inside.
But José Miguel is from another generation, and he's committed to change by any means possible.
'We used to kill kings. We used to kill millionaires. And now all we do is make threats on the Internet. That's why I'm offering you the chance to start a war.'
Acclaimed Chilean playwright Guillermo Calderón makes his Royal Court debut with the world premiere of his play B, written on a residency with the International Department.
ABOUT THE ARTISTS:
Guillermo Calderón (Writer)
Theatre includes: Mateluna (HAU, Berlin/Mario Matos Teatro Municipal, Lisbon/Santiago A Mil); Kiss (Düsseldorfer Schauspielhaus/Canadian Stage Company); Escuela (MCA Chicago & the Chicago Humanities Festival/Under the Radar /Fringe Arts/Yale Rep); Neva (The Public, NYC/TCG conference with RADAR L.A); Quake (Düsseldorfer Schauspielhaus, Germany); Villa, Discurso (Santiago A Mil/Tour/Redcat, LA); Diciembre (Santiago, Chile/Tour/ Under the Radar).
Film includes: Violeta Went To Heaven (Co-writer), Neruda, The Club.
Awards include: World Cinema Jury Prize for Drama, International Federation of Film Critics Prize for Best Film (Violeta Went To Heaven); Silver Bear at Berlin International Film Festival, Silver Plaque at Chicago International Film Festival, Mar del Plata Film Festival Best Screenplay, Fenix Film Award for Best Screenplay, Platino Awards for Iberoamerican Cinema Best Screenplay (The Club).
Guillermo Calderón is a screenwriter, playwright and theatre director. His plays have toured extensively through South America, North America, and Europe.
William Gregory (Translator)
For the Royal Court: CUBA Real, PIIGS.
Theatre includes: Springtime (Finborough Theatre); Chamaco, Weathered (HOME, Manchester); Numbers (Rutgers-NJIT, New Jersey); Villa, Discurso (MAC, Belfast); I'd Rather Goya Robbed Me of my Sleep Than Some Other Arsehole (Gate).
William trained originally as an actor and began translating plays in 2003. Since then he has translated over 100 plays by writers from Spain, Argentina, Chile and Mexico. He has worked for the Royal Court as an adviser on Spanish language plays on the International Residency and on projects in Cuba, Mexico and Chile.
Sam Pritchard (Director)
Theatre includes: Pygmalion (Headlong/West Yorkshire Playhouse/Nuffield & National Tour); There Has Possibly Been An Incident (Royal Exchange, Manchester/Soho/Edinburgh Festival Fringe/Theatertreffen, Berlin); Fireface (Young Vic); Galka Motalka (Royal Exchange, Manchester).
Sam was the winner of the JMK Award for Directors in 2012. Sam is the Associate Director (International) at the Royal Court.
Aimee-Ffion Edwards
For the Royal Court: The Twits, Jerusalem
Other theatre includes: Trelawny of the Wells, The Recruiting Officer (Donmar); Fireface (Young Vic); Jerusalem (west end & Broadway), Shitmix (West End).
Television includes: Troy: Fall of a City, Loaded, Peaky Blinders, Aberfan: The Green Hollow, Death in Paradise, Detectorists, Bugsplat, Wolf Hall, Under Milk Wood, Flack, Inside No9, A Poet in New York, Walking & Talking, Luther, Little Crackers - Better Than Christmas, Behind Human, Law & Order, Casualty, Skins, Y Pris. Radio includes: Home Front, Plantagenet
For the Royal Court: How to Hold Your Breath.
Theatre includes: What If Women Ruled The World? (MIF); The Two Noble Kinsmen, The Rover (RSC); The Odyssey: Missing Presumed Dead (ETT/Liverpool Everyman); The House That Will Not Stand (Tricycle); Circles (Birmingham Rep/Tricycle); Billy the Girl (Clean Break/Soho); The Birthday Party (Royal Exchange, Manchester); 1001 Nights, Liar Liar (Unicorn); After The Rainfall (Curious Directive).
Television includes: Tyrant, Boom! Radio includes: The Rage, The Skriker, The Odyssey: Missing Presumed Dead, Dr Who: Aquitane. Film includes: Ghost in the Shell, Do You Want to Try Again?
Theatre includes: The Suicide, Our Country's Good (National); Matilda the Musical (RSC/West End); Dinner (West End).
Television includes: Zapped, The Dali & the Cooper, Terry Pratchett: Back in Black, Game of Thrones, Three Girls, Drunk History, The Rebel, Murder in Successville, Chewing Gum, Fungus the Bogeyman, Inside No. 9, Doctor Who, Humans, Suntrap, The Interceptor, In Deep, Jonathan Strange & Mr Norrell, Ripper Street, The Whale, Friday Night Dinner, Lilyhammer, Hey Diddly Dee, Common Ground, Not Going Out, Stella, Shameless, My So Called Life Sentence, Being Human, Candy Cabs, Inspector George Gently, Lucky Fred, A Child's Christmas in Wales, Mongrels, Skins, Katy Brand's Big Ass Show, Midsomer Murders, PA's, 39 i pó?, Strutter, Kingdom, Gunrush, Tonightly, The Site, Massive, Pulling, Hotel Babylon, Angelo's, EastEnders, Chop Socky Chooks, Modern Toss, Pickles: The Dog Who Won The World Cup, Hustle, Miss Marple: The Sittaford Mystery, Down to Earth, Waking the Dead, Two Thousand Acres of Sky, Perfect World, Citizen Kaye, Spaced Coming Soon, You Are Here, Seven Sins: Wrath, Shooting Stars, The Sunday Show, Anyone for Pennis, Pennis Pops Out.
Film includes: Anna & the Apocalypse, The Brothers Grimsby, The Comedian's Guide to Survival, Tomorrow, Pan, The Ghoul, Dracula Untold, The Funeral, Blackwood, Pieces, Pusher, Eight Minutes Idle, Anuvahood, Eating Dust, The Infidel, Malice in Wonderland, Murder in Mind, The Big I Am, Cass, Waz, Phobias, Spectropia, Matchpoint, Life is a Buffet, It's All Gone Pete Tong, Spivs, Agent Cody Banks 2: Destination London, Blackball, Dennis Pennis R.I.P.
For the Royal Court: The Sewing Group, Father Comes Home From The Wars (Parts 1, 2 & 3), Truth & Reconciliation.
Theatre includes: Boy (Almeida); The Crucible (Old Vic); Anthony & Cleopatra (RSC/Off Broadway); Table, Mrs Affleck (National); A Question of Freedom (Feelgood); The Long Road (Curve, Leicester); The Quiet Little Englishman (Zho Visual); Play Size (ATC/Young Vic); Bones (Bush); The Bogus Woman, The Lion the Witch & the Wardrobe, To Kill a Mockingbird (Haymarket, Leicester); Entarete Musik (Amazonia Theatre Company); Lowdown High Notes (Red Ladder); Black Love (Black Arts Development Project); Caucasian Chalk Circle (Manchester Library).
Television includes: Marley's Ghosts, Lucky Man, Don't Take My Baby, Catastrophe, Spotless, Death in Paradise, Waterloo Road, Being Human, Thorne: Sleepyhead, Beautiful People, Mister Eleven, Doctor Who, Peep Show, Touch of Frost.
Film includes: Still, Austenland, Cuban Fury, Now Is Good, London Boulevard, Games Men Play, Happy-Go-Lucky.
IF YOU GO:
International Playwrights: A Genesis Foundation Project
B
Written by Guillermo Calderón
Translated by William Gregory
Directed by Sam Pritchard
Jerwood Theatre Downstairs, Royal Court Theatre, Sloane Square, SW1W 8AS
Thursday 28 September 2017 - Saturday 21 October 2017
7.00pm Performances 28,29 & 30 September, 02,10,11,12, 13, 17 & 21 October
9.00pm Performances 14,16,18,19 & 20 October
2.30pm Performances 12 & 21 October
Captioned Performance Friday 20 October, 9pm
Press Nights Saturday 30 September, 7pm or Monday 2 October, 7pm (embargoed until 10pm Monday 2 October)
Age Guidance 14+
Standard Tickets £12 - £38 (Mondays all seats £12 available from 9am online on the day of performance). Get Band A seats at Band B prices when you book a ticket for both B and Victory Condition in one transaction
First Look Tickets** £12 -£28 (28 - 29 September)
Concessions* £5 off top two prices (available in advance for previews and all matinees)
Under 26s £15 (available across all performances for individual bookers, Bands B and C only)
Access £15 (plus a companion at the same rate)
*ID required. All discounts subject to availability.
At the Royal Court no piece of work we premiere has ever been seen before and the first few performances in front of an audience are the final part of a long creative process that starts with the playwright. We need the audiences' feedback to complete this and have decided to open up the first three previews in a new way, at a reduced price, to make this an integral part of the process. As a result we will be inviting online feedback from audience members who attend First Look performances so they can share what they think with the artistic team, therefore influencing the final piece.
Tickets: Ways to Save:
Mondays** - all tickets £12. Available on the day of the performance from 9am online. A limited number are available in advance, subject to availability, to Friends and Supporters.
Concessions* - £5 off, available for all performances before Press Night and all matinees.
Under 25 - £15, available for all performances before Press Night and all matinees.
First Look Tickets - be part of the development of the work in our early reduced-price previews.
Standing Tickets - a limited number of 10p standing tickets may be available, in person at the Box Office an hour before each performance. Please call to check availability.
** The Royal Court's focus has always been, and continues to be, developing and nurturing the boldest, brightest and best playwrights. We're constantly balancing making the income needed to invest in the writers, alongside keeping accessible price points for audiences. From March 2017, all tickets for Monday performances will be £12. This minimal increase on Monday tickets will ensure we can continue to make new and challenging work.
---
Established by John Studzinski in 2001, the Genesis Foundation works in partnership with the leaders of prestigious UK arts organisations such as the Royal Court, The Sixteen, The Young Vic and LAMDA. Its largest funding commitment is to programmes that support directors, playwrights, actors and musicians in the early stages of their professional lives.
The Genesis Foundation has supported the Royal Court's International Playwrights Programme for almost 20 years, funding workshops and rehearsed readings in diverse countries as well as residencies and productions at the Royal Court. The Foundation's support enables the Royal Court to find and develop the next generation of professional playwrights, providing a springboard for young writers to greater public and critical attention. For more information, visit www.genesisfoundation.org.uk
Victory Condition is part of the Royal Court's Jerwood New Playwrights programme, supported by Jerwood Charitable Foundation.
Jerwood New Playwrights is a longstanding partnership between Jerwood Charitable Foundation and the Royal Court. Each year, Jerwood New Playwrights supports the production of two new works by emerging writers, all of whom are in the first 10 years of their career. The Royal Court carefully identifies playwrights whose careers would benefit from the challenge and profile of being fully produced either in the Jerwood Downstairs or Jerwood Upstairs Theatres at the Royal Court.
Jerwood Charitable Foundation supports the Jerwood New Playwrights programme and is dedicated to imaginative and responsible revenue funding of the arts, supporting emerging artists to develop and grow at important stages in their careers. The aim of its funding is to allow artists and arts organisations to thrive; to continue to develop their skills, imagination and creativity with integrity. It works with artists across art forms, from dance and theatre to literature, music and the visual arts. For more information visit www.jerwoodcharitablefoundation.org.
Pictured: Sarah Niles, Danusia Samal, Aimee-Ffion Edwards and Paul Kaye

Related Articles View More UK Regional

Stories

Shows
More Hot Stories For You