Baroque Theatre Announces New Adaptation of THE THREE MUSKETEERS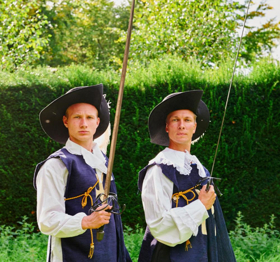 Baroque Theatre Company, a leading independent touring company, are delighted to announce a brand new production of THE THREE MUSKETEERS based on the original classic novel by Alexandre Dumas.
Adapted by upcoming playwright Ivan Wilkinson THE THREE MUSKETEERS will tour to fifteen venues across England. This new production will receive its premiere at The Garage, in Baroque Theatre's hometown of Norwich, on 28th September 2017 and will culminate in a final performance at The Cotswold Playhouse, Gloucester on 7th January 2018.
THE THREE MUSKETEERS is a fast-paced swashbuckling play brimming with energy and skillfull storytelling, featuring a talented professional cast, sumptious costumes, inventive stagecraft and witty dialogue.
Suitable for families, it tells the story of the handsome young man D'Artagnan who leaves home to join the King's Musketeers in Paris. There he meets Musketeers Porthos, Athos and Aramis and discovers life is not always simple and love never is.
THE THREE MUSKETEERS stars Burton-Upon-Trent born Phil Reeve (D'Artagnan) credits include The Golden Monkey in His Dark Materials, Birmingham Old Rep; Surrey-born Josephine Kook-Clark (Constance/Milady) who makes her Baroque Theatre Company debut; Shrewsbury-born Ed Ellenby (Athos/Buckingham) whose credits include Horrible Histories at Birmingham Stage Company; London-born Charlotte Price (Rochefort) credits include Common the National Theatre co-production with Headlong; Bristol-born Ellis J. Wells (Porthos/Richelieu) credits include the lead role in Richard III (Windsor Globe); Duncan Woodruff (Aramis/King Louis) credits include Ratty in Image Musical Theatre's national tour of Wind in the Willows; Cromer-based Helen Fullerton (Planchet) who has just finished filming 'Wuthering Heights a new gothic feature film adaptation and Kent-born Claire Bibby (Queen Anne/Treville) Founder and Producer of Baroque Theatre Company.
THE THREE MUSKETEERS is adapted and Directed by Northumberland born actor Ivan Wilkinson. Ivan has worked as a professional actor since the age of 17 but has only recently turned to writing and directing. His first stage adaptation was 'Kidnapped' by Robert Louis Stevenson for Sell A Door theatre company which toured nationally in 2014. He followed this up with an original play, 'Glamour Girl' for Quill and Inkling theatre company.
Ivan said "I am very excited to be directing The Three Musketeers, a story I have loved since I was young. We have a wonderfully talented cast and I am looking forward to working with everyone at Baroque again."
Claire Bibby, Baroque Theatre's Founder and Producer who is also in the play said "I'm delighted to have a great cast for this specially commissioned production of The Three Musketeers. I'm also very excited to be working with the talented actor, playwright and Director Ivan Wilkinson who I know will bring breathtaking, swashbuckling fight choreography to the stage."
THE THREE MUSKETEERS is produced by Claire Bibby, directed by Ivan Wilksinson, artistic director Adam Morley, set build by Matt Nunn, costume designer Suzanne Bell, stage manager Samson Robinson, technician Joe Nicholls, and is sponsored by Clarian Ltd.
THE THREE MUSKETEERS, ideal for ages 5 plus, tours across England from 28th September 2017-7th January 2018. Tickets on sale now.