BWW Previews: FAKE NEWS at The Kings Arms, Salford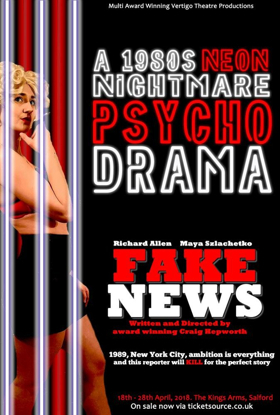 TRUE STORY - 'FAKE NEWS' to premiere in Salford, an Eighties-set Neon Nightmare Psychodrama.
Front page news: multi-award-winning writer/director Craig Hepworth and Vertigo Theatre Productions (Porno Chic, Last Dance, Noir, Watching Goldfish Suffocate, Ascension, M etc.) are set to unleash the killer new play Fake News at The Kings Arms, Salford, on April 18th - 28th.
It's 1989, New York City, and the economy is booming - everybody wants a piece of the American Dream. Benjamin Davenport II is the son of a legendary journalist, an ambitious young man he decides to follow in his father's footsteps.
After talking his way in to a job at the prestigious news publication The New York Chronicle, where his father used to work, it becomes clear that Benjamin is more interested in success than facts. Craving to be somebody and for his name to be known, respected and important leads to a series of factually untrue articles that for a time make him the toast of the town.
However, Benjamin is looking for that story that can put him at the centre of the action and have the whole nation gripped and he will go to great lengths to find it - even if that means killing for the lead story...
Fake News is a brand new satirical thriller set against a backdrop of neon and lights. This funny, tragic new play examines our fascination with the most exciting stories as opposed to the most important ones and looks at how ambition can rule and ultimately destroy us.
Featuring a cool Eighties soundtrack, Fake News is a fun night out with something to say, a lively, fast-paced exciting new play that is sure to get everybody talking.
Featuring a killer cast led by the critically acclaimed actor Richard Allen (Porno Chic, Last Dance, Ascension) and also featuring former Vertigo cast members including Joe Slack (The Great American 80s Soap Opera, Black Ice, Grange Hill), Anna Hickling (Noir), Benjamin Gray (Noir) as well as new actors to Vertigo including Brennan Campbell, Maya Szlachetko, Jenny Owen, Ryan Mulvey, Tricia Sammy Rose and one more to be announced.
Tickets on sale now are priced at £12 for the next four weeks with tickets going up to the regular price of £14 from March 12th. Book today via the link below to get your early bird tickets. Please note this production is not suitable for persons under 16, the play also contains strobe, laser lighting and smoke effects.
So, book to see Fake News today - you won't see anything else like it on the fringe scene. 'You can quote us on that!'
TICKETS - https://www.ticketsource.co.uk/vertigotheatreproductions