DEFINENAME Comes to Adana This Week
Performances run November 16-30, 2021.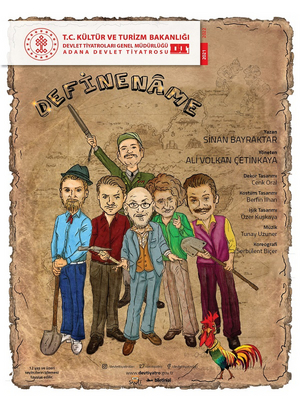 DEFİNENAME comes to Adana - Adana Sabancı Kültür Merkezi this week. Performances run November 16-30, 2021.
Büyük Oyunu 12+
2 Perde
Yazan Sinan BAYRAKTAR
Rejisör Ali Volkan ÇETİNKAYA
Hikaye 1974 yılı Çorlu'sunda geçer. Trakya'nın define merakı hikayeleri oyunumuzun temelini oluşturur. Oyunumuz, fakir ama insanlarının birbirine düşkün olduğu bir mahalle olan "Mehmet Pehlivan" sokağında geçer. Üç kafadar mahalle esnafının kokorece sarılı eski bir define haritası bulmasıyla başlayan olaylar, önce bütün mahalleyi sonrasında tüm Çorlu'yu etkisi altına alan define arama öyküsüne dönüşür. Bu öykü, yörenin kendine has konuşma üslubu ve hikayenin gidişatıyla eğlenceli, şarkılı, danslı bir hal alır.
Learn more at https://biletinial.com/tiyatro/definename-dt.