The National Ballet of Canada Posts Surplus for Ninth Consecutive Season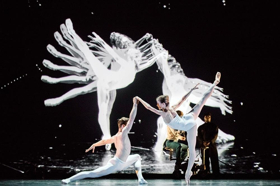 Karen Kain, Artistic Director of The National Ballet of Canada and Barry Hughson, Executive Director today announced the great artistic and financial success of the 2017/18 season, which resulted in an operating surplus for the ninth consecutive year. The Annual General Meeting was held today at 6:30 pm at The Walter Carsen Centre for The National Ballet of Canada in Toronto.
Cornell C. V. Wright, who assumed the role of Board Chair of The National Ballet of Canada last season, reported that the company revenues were $35,528,000 with expenses at $35,271,000 resulting in an operating surplus of $257,000.
"The achievements of the 2017/18 season reflect a deep commitment from our artists, staff, donors and volunteers to establishing the National Ballet as a site of Canadian cultural excellence at home and on the world stage," said Mr. Wright. "None of these incredible achievements would be possible without our donors. The spirit and dedication with which they get behind Artistic Director Karen Kain and support her vision of excellence are, by now, legendary. On behalf of the entire Board, I extend sincere thanks and admiration for your transformational partnership."
"Artistic achievement and global attention were at the centre of a remarkable year at The National Ballet of Canada. In addition, our team drove important initiatives including our participation in The Equity Project, a North American collaboration to bring more diversity to our field; a comprehensive review of workplace policies to ensure that we continue to foster a safe, healthy and productive culture for our artists, employees and volunteers; and greater emphasis on leveraging digital strategy and technology to engage more Canadians in our work," said Mr. Hughson. "The 2017/18 season brought Karen Kain's vision of artistic innovation and excellence to life here at home and around the world, supported by a team of professionals who are the best in the business."
The 2017/18 season continued successful fundraising for Soaring: The Campaign for The National Ballet of Canada, which will ensure the company's financial stability and artistic excellence into the future. Launched in November 2016, Soaring has raised $94 million to date with a $100 million goal.
The National Ballet presented 2,784 performances and outreach events in the 2017/18 season with a total attendance of 2,658,428. There were 79 performances at the Four Seasons Centre for the Performing Arts with 143,831 in attendance. The company held 2,688 community events reaching 344,740 people. The National Ballet's digital livestream initiatives reached an additional 2,313,688 viewers for a total engagement of 2,658,428. On tour, the National Ballet performed at the Théâtre des Champs Élysées in Paris, France, the Printworks in London, England, San Francisco's War Memorial Opera House and the National Arts Centre in Ottawa for a total of 17 performances and 26,664 audience members.
The National Ballet's two-year Choreographic Workshop culminated in January 2018 with two performances at the Betty Oliphant Theatre. Five Creations featured new works by selected choreographers from the National Ballet including Principal Dancer Elena Lobsanova, First Soloists Brendan Saye and Robert Stephen and independent choreographers Hanna Kiel and Alysa Pires. Over the past two seasons, the Choreographic Workshop, facilitated by Choreographic Associate Robert Binet, provided choreographers opportunities to develop their skills in a supported and flexible creative process.
New last season, the National Ballet launched See the Music, Hear the Dance. Led by Principal Conductor and Music Director David Briskin with The National Ballet of Canada Orchestra, the new series invited audience members to deepen their knowledge of the musical language of ballet prior to performances of The Sleeping Beauty and the summer mixed programme of Paz de la Jolla & The Man in Black & Cacti reaching a total of 674 attendees.
In honour of Canada's 150th anniversary, the National Ballet's Dance Mosaic welcomed 1,900 individuals from Toronto's dance community to attend a special, free performance of The Nutcracker on December 8, 2017, celebrating the diversity of dance.
YOU dance, the company's flagship education and youth outreach programme, reached 11,920 students in the Greater Toronto Area through workshops and performances. The company returned for a third residency in Regent Park that included 5 performances and 75 workshops. A performance of YOU dance was live streamed reaching 25,730 viewers across Canada, including all provinces and the Yukon, Nunavut and Northwest Territories. In addition to introducing the world of dance to young people, YOU dance gives Apprentices invaluable performance training. Currently, the National Ballet employs 27dancers who began their careers as RBC Apprentices, making up 40% of the company. Dance About, the National Ballet's in school programme, reached 2,100 students through 7 performances, making classical ballet more accessible to young people.
The National Ballet's Share the Magic programme continued to provide youth and families affected by illness, poverty and other socio-economic challenges free access to live ballet performances. Last season, Share the Magic brought the joy of dance to 3,200 audience members at no cost.
In Studio, the National Ballet's dance and fitness programme for adults and teens, provided 2,300 classes, workshops, dance intensives and master classes to 23,658 participants.
World Ballet Day returned for the fourth year on October 5, 2017 with a 22-hour continuous livestream via Facebook LIVE. The National Ballet once again collaborated with The Australian Ballet, The Bolshoi Ballet, The Royal Ballet and San Francisco Ballet to give viewers behind-the-scenes access into the world of ballet at five leading companies. The live broadcast attracted a total of 1,208,465 viewers worldwide.
"The 2017/18 season was an exciting year and personally it marked two milestones I have long wanted for the company. The National Ballet dancers performed on the stage of the Théâtre des Champs-Élysées in Paris and the legendary theatre director Robert Lepage co-created a new work for the company. It was a huge thrill to perform John Neumeier's transcendent Nijinsky in Paris, after an absence of 45 years, to glowing reviews from both audiences and critics. Robert Lepage, one of Canada's most internationally celebrated artists, collaborated with Principal Dancer and Choreographic Associate Guillaume Côté to create his first National Ballet work, Frame by Frame, in June. Frame by Frame was a brave and beautiful production, like nothing we have seen on our stage before. The company also returned to London to perform The Dreamers Ever Leave You by Choreographic Associate Robert Binet at the Printworks in London, England. This gorgeous work was enjoyed by UK audiences and it was wonderful to see our dancers perform alongside dancers from The Royal Ballet. The success of last season couldn't have been possible without the hard work and commitment of all the talented people who work at the National Ballet - I can't thank the dancers, musicians, artistic staff, production staff, administrative staff, volunteers, donors and board members enough for everything they do," said Ms. Kain.
The National Ballet celebrates charitable giving at every level and is grateful for the 3,867 community members who generously donated in 2017/18. In total, donors and volunteers raised $12,399,000 to support the company's priorities. Donors are recognized through special programmes including Producers' Circle, Dancers First, Patrons' Council and Friends' Corps, as well as our international affiliates American Friends of The National Ballet of Canada and the UK Friends of The National Ballet of Canada.
The National Ballet of Canada, Endowment Foundation saw another strong year in 2017/18 with growth of $5.8 million to a new all-time record of $74.6 million in fund balances at June 30, 2018. The Endowment Foundation made a grant of $3.2 million to the National Ballet in 2017/18.
Mr. Wright welcomed new board members Jen Lee Koss, Co-Founder BRIKA, Geneviève McKillop, Chair, Patrons' Council Committee, and Giorgio Galli and Jenna Savella, ex officio Dancer Representatives. Mr. Wright also acknowledged and thanked retiring board members Jane Darville, retiring Chair, Patrons' Council Committee, Bronwen Evans, Jerry Lozinski, Chair, Nemato Corporation/Terra Nova Steel and Greta Hodgkinson and Robert Stephen, ex officio Dancer Representatives.
Gold service pins are awarded yearly to employees of The National Ballet of Canada who have been with the company for 20 years. Ms. Kain awarded long service pins to Principal Character Artist Stephanie Hutchison, Construction Supervisor Sandy Middleton and Mark Rogers, Principal Oboe.
Violinists Sheldon Grabke and Xiao Grabke and Joanna Ivey, Senior Manager, Major Gifts were recognized for 25 years.
Christopher Read, Resident Cutter and Susan Howse, Assistant to Cutters were honoured for 30 years with the National Ballet.
Violinist Ron Mah and Oboist Karen Rotenberg marked 35 years of service.
Violinist Sonia Klimasko-Leheniuk, English Horn player Lesley Young and Orchestra Personnel Manager and Music Administrator Raymond Tizzard were celebrated for 40 years with the company.
The 2017/18 season marked the retirement of Principal Pianist Janis Neilson after 36 years and Mary Hurley, Costume Rental Coordinator, after 34 years with the National Ballet. After 14 years with the company, First Soloist Robert Stephen departed to join Gauthier Dance in Stuttgart, Germany. First Soloist Dylan Tedaldi, who joined the company in 2009, departed to dance with the Kibbutz Contemporary Dance Company in Kibbutz Ga'aton, Israel.
The National Ballet of Canada acknowledged The Volunteer Committee, The National Ballet of Canada for its continued dedication and support. Last season, the committee funded two new works: The Dreamers Ever Leave You and Paz de la Jolla. To date, the committee has paid for 53 new works through their vital Build-a-Ballet Fund.
Related Articles View More Toronto

Stories

Shows
More Hot Stories For You