Photo Flash: First Look at Tarragon and Theatre Smash's THE UGLY ONE
Tarragon Theatre, in co-production with Theatre Smash, presents the award-winning The Ugly One, a razor sharp satire about image, identity and getting ahead in today's superficial, consumerist culture by Marius von Mayenburg, one of Germany's hottest playwrights. This acclaimed production opens January 14 and runs to February 16, 2014 (with previews from January 8) in Tarragon's Extraspace. Scroll down for a first look at the production!
Theatre Smash's original production of The Ugly One was nominated for six Dora Awards and won for Outstanding Production and Outstanding Set Design in the Independent Theatre Division. It also made the Globe and Mail's "top 11 productions of 2011." The original creative team and cast reassemble for this powerful work directed by Theatre Smash Artistic Producer Ashlie Corcoran, a former Tarragon Urjo Kareda Emerging Artist Resident who recently directed Buddies in Bad Times' The Gay Heritage Project and was appointed Artistic Director of the Thousand Island Playhouse in Gananoque, ON in 2012.
The Ugly One catapults the audience with mesmerizing speed into a terrifying and narcissistic world obsessed with beauty, image and plastic surgery - where everyone is identically beautiful and identically detached from those around them.
Lette is a successful engineer who is also unspeakably ugly. His boss and wife confirm it: his face is "unacceptable." When a plastic surgeon restructures his face, Lette emerges from the operation an Adonis. His life changes overnight: his wife finds him irresistible, women lust after him and men want to be him. He becomes a star at his company, and he is fawned upon wherever he goes. But this dream life soon becomes a nightmare as Lette's surgeon begins to offer his face to anyone who will pay.
Using a precise paired-down form, four actors perform eight roles with no traditional scene breaks and no variation of costume or makeup or even character names: Jesse Aaron Dwyre (Tin Drum for Unspun Theatre, Great Expectations, Farther West for Soulpepper),
David Jansen
(Canadian Stage's The Winter's Tale, Mirvish's Cloud Nine, Shaw Festival's A Moon for the Misbegotten, Little Foxes), Hardee T. Lineham (Tarragon's True West - Dora nomination, White Biting Dog; Studio 180's Stuff Happens, Canadian Stage's Richard III - Dora Award, Theatre Passe Muraille's The Crackwalker) and
Naomi Wright
(Bloomsbury Collective's A Room of One's Own, Stratford Festival's Elektra, Bard on the Beach's Othello - Jesse nomination). Set and costume design is by Camellia Koo, lighting design is by Jason Hand and sound design is by John Gzowski. The stage manager is Natasha Bean-Smith.
Marius von Mayenburg is a playwright, translator, dramaturg and director. Currently one of the most widely produced German playwrights, his plays receive regular productions at the Schaubühne/Berlin, the Royal Court Theater/London, and at other major theaters around the world.
Tickets range from $21-$53 (inclusive of HST) and are available by calling Patron Services at 416-531-1827 or by visiting www.tarragontheatre.com.
Photo Credit: Bronwen Sharp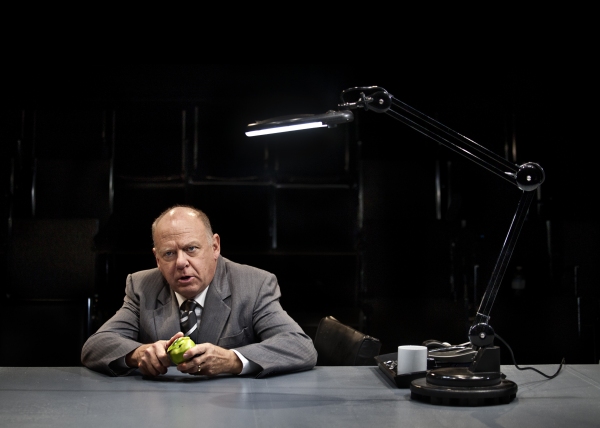 Hardee T. Lineham

Jesse Aaron Dwyre and Naomi Wright

Jesse Aaron Dwyre and Naomi Wright

Jesse Aaron Dwyre

Jesse Aaron Dwyre

David Jansen