BWW Review: NAPOLI MILIONARIA! At the Stratford Festival is a Beautiful and Heartbreaking Exploration of Humanity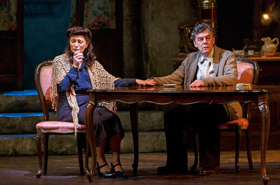 It is rare these days that I take my seat in a theatre to watch a play that I know almost nothing about. I was almost embarrassed to admit that fact about Eduardo De Filippo's NAPOLI MILIONARIA! Which is currently being performed in repertory at the Stratford Festival's Avon Theatre. Granted, the original was in Italian and this production, directed by the Festival's Artistic Director, Antoni Cimolino, is the world premiere of the new translation by John Murrell (from a literal translation by Donato Santeramo). It was still not until I was reading the program liner notes that I knew more about this production than the brief synopsis offered on the Stratford Festival website. To my delight, I think this only enriched my experience as an audience member. The universality in a story that was written about a very specific time and place is nothing short of beautiful, and the performances have left me thinking about the play long after the final curtain.
NAPOLI MILIONARIA! tells the story of a family, and members of their community during WWII Italy. It opens in 1942 when Italy has been involved in the war for just less than two years. The second Act takes place a year later when Southern Italy has been invaded and 'liberated' by American Allies. Tom McCamus portrays Gennaro, the family patriarch. He is a man of great moral character and a veteran of the First World War. He disagrees with the black-market business his wife Amalia (a fantastic Brigit Wilson) is running, but also understands that it is the only way his family is surviving the war. Amalia hides and sells coffee, and beans and everything else she can get her hands on, steadfast that she is doing what she needs to do for her family, and becoming a shrewd business woman in the process. Their children, Amedeo (Jonathan Sousa) and Maria Rosaria (Shruti Kothari) are actively involved in the 'family business' as well.
It is through these black-market dealings that we meet other characters such as Amalia's eventual business partner, Errico (Michael Blake), and Amedeo's eventual business partner Peppe "The Jack" (Emilio Vieira). Tom Rooney gives a powerful performance as Riccardo Spasiano, a man who at the beginning of the play, is the richest among the group, but falls on hard times as Amalia's wealth rises.
At one hilariously suspenseful moment near the end of Act I, we are also introduced to Brigadiere Ciappa, played to great effect by Andre Sills. Another stand out performance comes from Alexandra Lainfiesta, who plays Assunta-a delightfully histrionic young woman who is waiting for news on her husband, who appears to have been lost at war. In a funny scene where she earnestly asks Amalia if she is technically still a virgin, and expresses frustration that she cannot move on until she knows the fate of her husband, we see Amalia's own struggle mirrored back at her. This is because, as Act II opens, Gennaro is also lost at War, having been drafted to return some time over the interval.
When Gennaro does return, the emotional distance between him and everyone else is stunning. He has been through hell and yet his family, who are now very well off, are trying desperately to ignore the pain in the world around them and instead celebrate a birthday party. Days after seeing the play, I am still haunted by Tom McCamus' portrayal of a broken Gennaro sitting quietly, hunched over, seemingly becoming smaller and smaller as the party around him erupts. This image of people being willfully blind to the pain and suffering happening around them is heartbreaking but also incredibly relevant in the world we live in. In addition to exploring the impact of Post Traumatic Stress and the lack of understanding that loved ones often have regarding it, this play also explores the concept of morality and the idea of doing what needs to be done to survive. Essentially, it explores humanity.
In addition to beautiful performances, this play boasts a stunning set designed by Julie Fox. The entire play takes place in the family home, which changes considerably from one Act to the next to reflect the financial status of the family. A stone wall with rounded doors outlines the stage and the backdrop of a narrow street in Naples is seen only through the frequently open door to the family abode. As you take your seat at the beginning of the show and after each intermission, you will also hear authentic Italian music playing. These auditory and visual cues do a great deal to transport the audience to 1940's Naples. The direction and performances do the rest.
NAPOLI MILIONARIA! continues in Repertory until October 27th.
Photo Credit: David Hou
Based out of Stratford, Ontario, Lauren is an Occupational Therapist working in mental health by day and a BWW Contributor by night (or by matinee). (read more...)