BWW Review: LA TRAVIATA's Powerhouse Cast and Crew Provide a Timeless, Stunning Production of The Verdi Classic at the Canadian Opera Company
LA TRAVIATA shines in the Canadian Opera Company's revival of Arin Arbus's 2015 production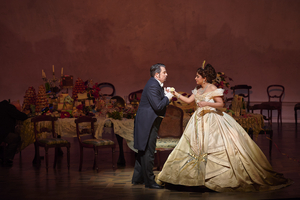 The Canadian Opera Company marked its return-to-stage after nearly two years with this all-around stunning production of one of Verdi's most well-known works. Clocking in at just shy of three hours, the four-act opera tells the tale of Parisian courtesan Violetta (Amina Edris, making her COC debut) and her lover Alfredo (Matthew Polenzani). While the story is innately about their tumultuous romance, the COC's production (a revival of director Arin Arbus's 2015 COC production) benefits from a well-rounded cast, musical (conducted by Johannes Debus) and creative team.
This production of LA TRAVIATA stays true to Verdi's original vision for the opera, in that it transports its audience back into the world of Paris' elite in the mid-1800s. Over the course of four acts, Violetta is introduced quietly, alone in her room save for her friend and staff Annina (Midori Marsh). We then watch her work her way through the room at an ornate, lavish party, where she meets Alfredo. Violetta struggles to accept love, which makes the tragedy of LA TRAVIATA that much more impactful - once she does have it within her reach, it's snatched away.
Edris is superb in the role of Violetta; she's got an incredible clarity to her voice, carrying her through the range of Violetta's demanding numbers seemingly with ease. Edris also brings great emotion to the role, and has a certain magnetism to what she does on stage - there were times where I stopped looking at the translations above screen simply because I was so caught up in her performance. As Alfredo, Polenzani is equally great. His tone is gorgeous alongside Edris's, and he commits fully to all aspects of Alfredo's character - watching him go from the tender man in act one, to a man fuelled by anger and jealousy is hard to watch, but only because he pulls it off so well. The pair are fantastic together, and really align their characters to make the highs and lows of Violetta and Alfredo's relationship seem real.
The cast is rounded out by a number of strong players. Marsh makes for a sweet, loyal Annina who seems to truly care for Violetta at her lowest. Alfredo's father, Giorgio Germont (Simone Piazzola) walks a thin line between likable and detestable. One moment, you believe he really does have his family's best interests at heart and the next you're questioning why you took his side - and this cycle repeats throughout the story. All of this can be credited to Piazzola's strong presence on stage, great chemistry with Edris and Polenzani, and his beautifully-delivered vocal performances.
The lavishness of 1850s Paris also suggests a lot of traditionally beautiful costumes (costume design by Cait O'Connor), of which this LA TRAVIATA delivers in full. The set (set design by Riccardo Hernandez) for most of the production is a curved, blank wall that makes for gorgeous silhouette and shadow work alongside the lighting design (Marcus Doshi). The three acts that make use of these features do so brilliantly - in party scenes, the curved walls and stark lighting create a caged-in effect and looming shadows of partygoers, all which help enforce the idea that Violetta is trapped in this world. The third-act party scene also features some impressive puppetry (puppet design by Cait O'Connor) to bring the matadors' stories to life.
Nearly all of the set is stripped away for the heartbreaking final act, which helps show just how little Violetta has left; despite that, Edris, Polenzani, and the entire cast make those final moments of the production and of Violetta's life extremely memorable - even with an unplanned delay. In the final ten minutes of the opera a medical emergency in the audience caused the production to halt - quick intervention from Piazzola and the cast helped light the auditorium up, and thankfully the audience member was alright. A pause like that at such a tense moment might've caused a drop in momentum, but once the situation was resolved the cast hit the ground running to make for a powerful end to this emotional story. And even with the delay pushing the runtime to over three hours, they practically flew by - a prime example of how easy it can be to be pulled into a good story, when it's told exceptionally well.
---
The Canadian Opera Company's LA TRAVIATA runs through May 20 at The Four Seasons Centre for the Performing Arts, 145 Queen St. W, Toronto.
For more information or to purchase tickets, visit www.coc.ca/productions/23083
Photo credit: Michael Cooper