BWW Review: BAKKHAI at the Stratford Festival is Chilling and Exhilarating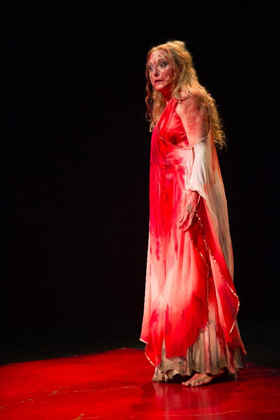 This season at the Stratford Festival is the final season for the Tom Patterson Theatre as it currently stands. It will be entirely rebuilt, starting this fall. The current space is going out with a bang, however, in terms of the diverse and exciting productions that can be seen on its stage this season. Each production is excellent, but the most exciting of all may well be Jillian Keiley's production of BAKKHAI. This play may not be for everyone, but if you appreciate good, exciting, and inventive theatre, and don't blush too easily at eroticism on stage, then I highly suggest you get your tickets immediately.
Typically called "The Bacchae", this is a classic Greek Tragedy by Euripides. The production being performed at the Festival is based on a newer translation by Anne Carson. It tells the story of Dionysos (Mac Fyfe) a Greek God who returns to Thebes in human-ish form in order to punish the human rulers of Thebes for not allowing its citizens to worship him. The punishment becomes very personal, as Dianysos targets Agave (Lucy Peacock), mother of King Pentheus (Gordon S. Miller) by bringing her into the fold as one of his worshippers, and then he targets Pentheus himself, by seducing him with his pre-existing sexual desires, and leading him into an utterly tragic demise.
With its eroticism, violence, and devastating conclusion, this play exploits the audience's inherently human desire to watch something horrific play out on stage-much like that unexplained desire to turn and look while passing by an accident in the middle of the road. The simultaneous dread and anticipation makes for some enthralling theatre. I observed many audience members half covering their eyes, whilst simultaneously leaning forward in their seats. I was one of them.
There has been much talk of the use of an 'intimacy choreographer' (Tonia Sina) for this production. Much like the gruesome tragedy that the audience witnesses through half covered eyes, there is also a sense of voyeurism when the audience witnesses some private sexual moments. That said, if Dianysos and his followers had their way, these moments wouldn't be private at all. They would be celebrated.
As is the case with most Greek Tragedies, the chorus plays a prominent role. In fact, this chorus, the Bakkhai themselves, (consisting of: Sarah Afful, Jasmine Chen, Laura Condlln, Rosemary Dunsmore, Quelemia Sparrow, Diana Tso, and Bahia Watson) is so prominent in this production that they get to take the final bow. Another common component of a chorus in a Greek play, is singing. It is not uncommon for a few performers to be plucked from the company of one of the Festival's musicals in order to amplify the vocal performance of a chorus in a play like this. This is not the case for this production and performers who are not as well known for their singing voices are given quite a heavy workload in that department. The voices are in tune, and melodious enough, but some are not as polished as others. This is undoubtedly intentional. It reminds the audience that the Bakkhai are every day humans (with every day singing voices), who have left their lives to join this spiritual commune.
The rest of the company is equally as engrossing as the Chorus. Mac Fyfe is captivating as Dionysos. Even when he is not the focus of our attention, the character is so engaged in what is happening before him, that, despite his human form, he very much seems like the omniscient god that we know him to be. As his foil, Gordon S. Miller is fantastic as the buttoned up King Pentheus. With his own insecurities always just beneath his puritanical surface, Pentheus is a fascinating character to watch throughout this play. Miller brings a vulnerability to him, while maintaining the character's vanity.
Many of the performances in this play come in the form of one or two devastating monologues. Much of the action is not seen, but instead, the audience learns of what has transpired as a character, such as Pentheus' Servant (Andre Morin) recounts it. After scarcely being seen throughout the play, Morin's performance as he describes Pentheus' is breathtaking. Another breathtaking performance comes from Ms. Peacock. Agave's harrowing discovery of what she has done while temporarily mad, is absolutely devastating. The full extent of the devastating reality that Agave must face, is amplified by the realistic props from Designer, Shawn Kerwin.
Overall, this production is chilling and exhilarating. Audience members are essentially guaranteed to be talking about it for days.
BAKKHAI continues in Repertory at the Tom Patterson Theatre until September 23rd.
https://www.stratfordfestival.ca/WhatsOn/PlaysAndEvents/Production/Bakkhai
Photo Credit: Cylla von Tiedemann

Related Articles View More Toronto

Stories

Shows
Based out of Stratford, Ontario, Lauren is an Occupational Therapist working in mental health by day and a BWW Contributor by night (or by matinee). (read more...)