Photo Flash: Cabrillo Music Theatre Takes to Heaven SISTER ACT
CABRILLO MUSIC THEATRE is going to "take you to heaven" with the second show in its 2016-2017 season, SISTER ACT! For the first time in the Kavli theatre, Cabrillo will present this hilarious new musical, with music by Alan Menken, lyrics by Glenn Slater, book by Cheri and Bill Steinkellner, musical direction by Kyle C. Norris, choreography by Michelle Elkin and direction by Misti B. Wills. SISTER ACT opens on Friday, April 21, 2017 and runs through Sunday, April 30, 2017 at the 1,800-seat Kavli Theatre at the Thousand Oaks Civic Arts Plaza, 2100 Thousand Oaks Boulevard in Thousand Oaks.
SISTER ACT is the feel-amazing musical comedy smash based on the hit 1992 film that has audiences jumping to their feet! Featuring original music by Tony and 8-time Oscar winner Alan Menken (Newsies, Beauty and The Beast, Little Shop of Horrors), this uplifting musical was nominated for 5 Tony Awards including Best Musical. It's Las Vegas in the 1970s, and when disco diva Deloris Van Cartier witnesses a murder, she is put in protective custody in one place the cops are sure she won't be a found: a convent! Disguised as a nun, she finds herself at odds with both the rigid lifestyle and the uptight Mother Superior. Using her unique disco moves and singing talent to inspire the choir, Deloris breathes new life into the church and community but in doing so, blows her cover.
Soon, the gang is giving chase only to find themselves up against Deloris and the power of her newly-found sisterhood. Filled with uplifting gospel music, outrageous dancing and a truly moving story, SISTER ACT will leave audiences breathless. A sparkling tribute to the universal power of friendship, Cabrillo Music Theatre's SISTER ACT is reason to rejoice!
"SISTER ACT is going to leave our subscribers and audiences dancing in the aisles," says newly-appointed Managing Director, Will North. "It's got a fantastic score by the legendary Alan Menken (Beauty and the Beast, Little Shop of Horrors) and a great message about love and acceptance! In addition, we have an amazing creative team to bring this feel-great musical to life on the Kavli stage. Our production of SISTER ACT promises to be the perfect Springtime family experience of the season!"
ABOUT THE CREATIVE TEAM AND CAST
MISTI B. WILLS (Director) recently directed the NYC premiere of A Pound in Your Pocket (with music by Charles Strouse and Lee Adams). Other credits include: Off-Broadway: In Search of Euphoria (Fidelity Futurestage Program, New World Stages), Tempest (Assistant Director, La MaMa, ETC., NY Times Critics Pick), Twilight the Musical (Assistant Director, New World Stages). Off-Off Broadway: Shake the Earth (2015 NY Fringe Festival, Theater is Easy Best Bet, West Coast Tour 2016), The Drunken City (Jump for Joy Productions, NY Workshop Theatre), Afterlight (Cherry Lane, 2009 NY Fringe Festival), Songs for a New World, Twelfth Night (Shakespeare's Sister Company), The Pearl Merchant (Threads Theater Company). Regional Credits: My Fair Lady (Forestburgh Playhouse), and New York Water (Depot Theatre). Misti has been on the faculties of The NY Film Academy, The American Academy of Dramatic Arts, and Long Island University in Brooklyn. Member of Stage Directors and Choreographers Society. www.mistiwills.com.
Michelle Elkin (Choreographer) most recently choreographed a promo for the TV Land show "Younger" as well as a piece for the NSO Pops Opening at Kennedy Center. Last Spring, Michelle choreographed Cabrillo Music Theatre's Children of Eden, and created musical numbers featuring Tony Award winner Sutton Foster and special guest Joshua Henry, for the National Symphony Orchestra at Kennedy Center, the New York Pops at Carnegie Hall, and the Houston Symphony at Jones Hall. She has lent her choreographic talents to the hit ABC Family show, "Baby Daddy," the TNT pilot "Dawn," directed by Sam Raimi, as well as a production of Little Shop of Horrors in Tampa, FL. Michelle's choreography has been seen in such feature films as "Wild Hogs" and "What Just Happened," as well as the Emmy Award winning television shows "Boston Legal," "Weeds," Lifetime's reality show "Your Mama Don't Dance," "Warren the Ape" on MTV, "Marvin, Marvin" on Nickelodeon, as well as the tap sequences in ABC Family's "Bunheads." She was the Associate Choreographer for the films "Semi-Pro," "Tropic Thunder," "10 Things I Hate About You," "Cinderelmo," "Looney Tunes: Back In Action," "13 Going on 30," "Starsky and Hutch," tv series "Viva Laughlin," "Dancing with the Stars," the musical "Sister Act" at Pasadena Playhouse, and the 58th Emmy Awards with Conan O' Brien, the 63rd Emmy Awards with Jane Lynch, and 81st Academy Awards with Hugh Jackman. Michelle was also the Associate Choreographer of the Broadway show Wonderland at the Marriott Marquis Theater. She is a current faculty member at The Performing Arts Center in Los Angeles and AMDA LA.
KYLE C. NORRIS (Musical Director) Broadway: Rocky, Pippin, First Date. 1st National Tour: If/Then (w/Idina Menzel), Legally Blonde (w/Michael Rupert), West Side Story (w/Grant Gustin). Las Vegas: Spamalot, Mamma Mia, Hairspray, Avenue Q. An active composer and singer-songwriter, his folk-rock musical Rex won Best Music at the NYC Sound Bites Festival and his debut EP will be released this summer.
Cast of SISTER ACT will feature: Daebreon Poiema as Deloris; Debbie Prutsman as Mother Superior; Chelsea Morgan Stock as Sister Mary Robert; Francesca Barletta as Sister Mary Patrick; Dedrick Bonner as Curtis; Wilkie Ferguson, III as "Sweaty" Eddie; Karla J. Franko as Sister Mary Lazurus; Hallie Mayer as Sister Mary resa; Tania Pasano Storrs as Mary Martin of Tours; David Gilchrist as Monsignor O'Hara; Kenneth Mosley as TJ: David Kirk Grant as Joey and John Paul Batista as Pablo. The ensemble will feature (in alphabetical order): Bernadette Bentley, Jacob Byrd, Gwen Carole, Amanda Carr, Ron de la Peña, Zy'Heem Downey, Jenna Elise, Catriona Fray, Erin Grandelli, Lakeisha Renee Houston, Fay James, Alyssa Noto, Katie Porter Rile Reavis, Shanta' Marie Robinson, Dana Shaw, Marie Spieldenner, Tyler Stouffer, Natalia Vivino, Terri K. Woodall and Kendyl Yokoyama.
The Design Team of SISTER ACT will feature: Lighting Design by Christina L Munich,
Sound Design by Jonathan Burke, Costume Design by Helen Butler, Props Design by Alex Choate, and Hair & Make Up Design by Daniel Robles. The Production Stage Manager is Art Brickman.
ABOUT THE PRICING AND SCHEDULE
SISTER ACT will open on Friday, April 21, 2017, and run through Sunday, April 30, 2017. Performances are Thursday at 7:30pm, Fridays and Saturdays at 8:00pm, and Saturdays and Sunday, April 23 at 2:00pm; with a special early performance at 1pm on Sunday, April 30. A post-show discussion with cast, staff, and audience will follow the Saturday, April 22, 2:00pm performance. A signed performance for the deaf and hard-of-hearing will take place on Saturday, April 22nd at 2:00pm, followed by a post-show discussion with cast, staff and audience.
Tickets are on sale now and may be purchased at the Thousand Oaks Civic Arts Plaza Box Office located at 2100 Thousand Oaks Boulevard in Thousand Oaks, or through www.cabrillomusictheatre.com, or by phone at (800) 745-3000. For groups of 10 or more, please call Group Sales, Cabrillo Music Theatre at (805) 497-8613 x 6.
Ticket prices range from $34-$79. For ticket and theatre information, call (805) 449-ARTS (2787). SISTER ACT performs exclusively at the Kavli Theatre, Thousand Oaks Civic Arts Plaza, Bank of America Performing Arts Center, at 2100 Thousand Oaks Boulevard in Thousand Oaks.
CABRILLO MUSIC THEATRE'S 2016-2017 Season will conclude with PETER PAN (Summer 2017) in the 1,800 seat Kavli Theatre. For membership and ticket information, call 805-497-8613 x 6 or visit www.cabrillomusictheatre.com.
To schedule press interviews, photos, press comps, or for additional information, please contact David Elzer/DEMAND PR at (818) 508-1754 or by e-mail at davidelzer@me.com.
Music Theatre is the Ovation Award-winning Resident Musical Theatre Production Company of the Thousand Oaks Civic Arts Plaza, and a non-profit theatre organization. For over three decades, Cabrillo has been enriching the cultural life of Ventura and Los Angeles Counties and the surrounding areas by providing an extraordinary performing arts experience through live, Broadway-quality productions of musical theatre. It is Cabrillo's mission to provide the highest quality musical experience, to foster educational opportunities, and to promote cultural and artistic enrichment to enhance the quality of life in Southern California. By creating opportunity for up-and-coming performers and artists, has launched hundreds to success in theatre, movies, television and music, including Adam Lambert, Katharine McPhee, and Tony nominee Stephanie J. Block. In addition, Cabrillo Music Theatre goes "Beyond the Footlights" with Outreach programs to give back to the community, and to provide enhanced theatre experiences for all audiences. Since the inception of "Beyond the Footlights," over 49,000 underserved children, in-need seniors, and active military have enjoyed Cabrillo Music Theatre's productions at no charge. In addition, Cabrillo provides ASL signed performances of every production; talkbacks with cast and staff; and Cabrillo's Animal Rescue program, which raises funds and awareness for homeless and abused dogs and cats.
For more information about Cabrillo Music Theatre's "Beyond the Footlights" programs call (805) 497-8613 x 1 or write to info@cabrillomusictheatre.com.
Photo Credit: Ed Krieger

Terri K. Woodall,
Daebreon Poiema
and
Fay James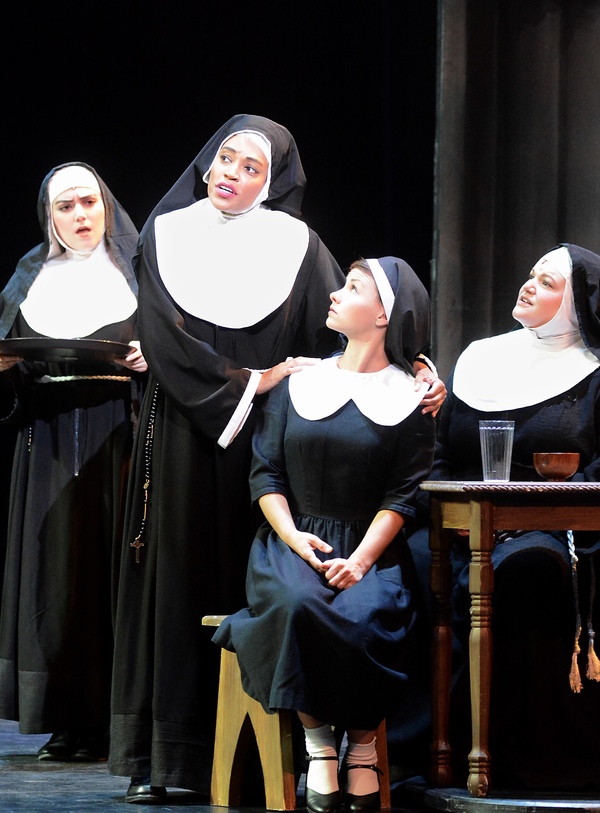 Natalia Vivino
,
Daebreon Poiema
,
Chelsea Morgan
Stock and
Francesca Barletta
John Paul
Batista,
David Kirk Grant
,
Dedrick Bonner
and
Kenneth Mosley
THE COMPANY OF NUNS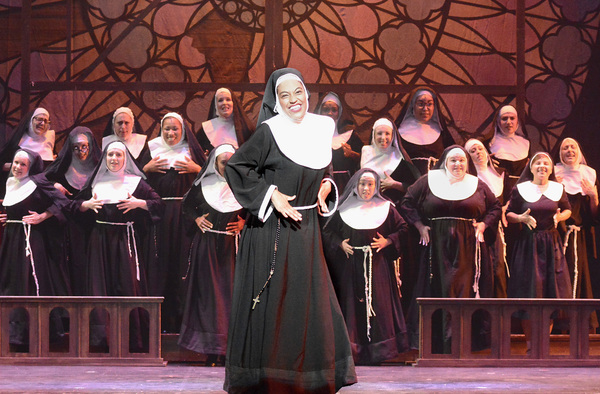 Daebreon Poiema
and the nuns
Daebreon Poiema
and
Debbie Prutsman
Wilkie Ferguson
III and
Daebreon Poiema
THE COMPANY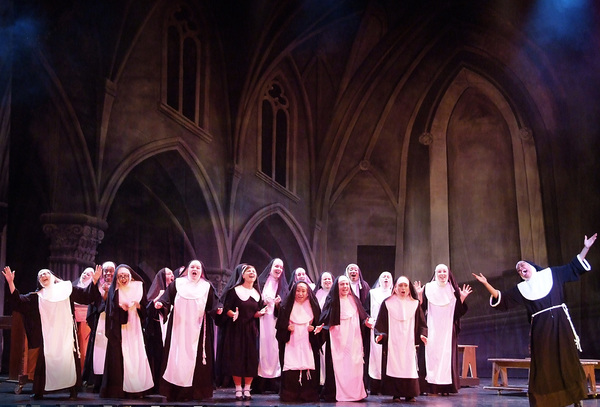 Daebreon Poiema
and the Company