BWW Review: JULIUS CEASAR at Kingsmen Shakespeare Festival
What happens when a family loses a loved one? Said family bans together, consoles each other, and stand as a united front to continue the celebration of the memory of the lost family member.
Such is the case with Kingsmen Shakespeare Company and their current production of "Julius Caesar" playing through August 6.
Having lost their director and prominent company member, John C. Slade, due to injuries caused by a recent car accident a week prior to Opening Night, the company's Artistic Director, Michael J. Arndt, stepped in and took the directing reigns forging ahead to successfully bring to life Slade's vision of this project of which he was working on for nearly 12 months. Along with the support of Associate
Artistic Director, Brett Elliott, and prominent company member Jason D. Rennie, the three (along with the Company of actors, artists, designers, and staff) have turned tragedy into artistic success.
What this reviewer witnessed on Opening Night was 2+ hours of passion, raw emotion, quality acting, and a tribute to a loved and missed family member.
Leading the show are three actors who keep the movement and the story telling of this production flowing. Todd Lanker (who recently played the comical and fluid Berowne in "Love's Labour's Lost"), here plays the ever solid, emotional and sometimes stoic Brutus. As Cassius, usually a male role, Trisha Miller puts her substantial stamp on this role making it all hers. Miller is a force onstage and all eyes are on her when she steps into the scene. Multi-hat-wearing Brett Elliott produces a poignant, truthful, and often affecting Antony. At the end of Act I, Elliott's speech evoked a rousing "...now, that's how you end an act..." from an involved nearby audience member.
One of the many unique and entertaining factors for the audience in seeing both shows with many of the same cast members, is seeing those cast members in diametrically different roles, such is the case with Michael Faulkner (Decius), Jason D. Rennie (Cinna), and Andy Babinski (Lepidus). Usually cast as the clowns utilizing dialects, shtick, or pratfalls, it is a nice change of pace seeing these talented actors i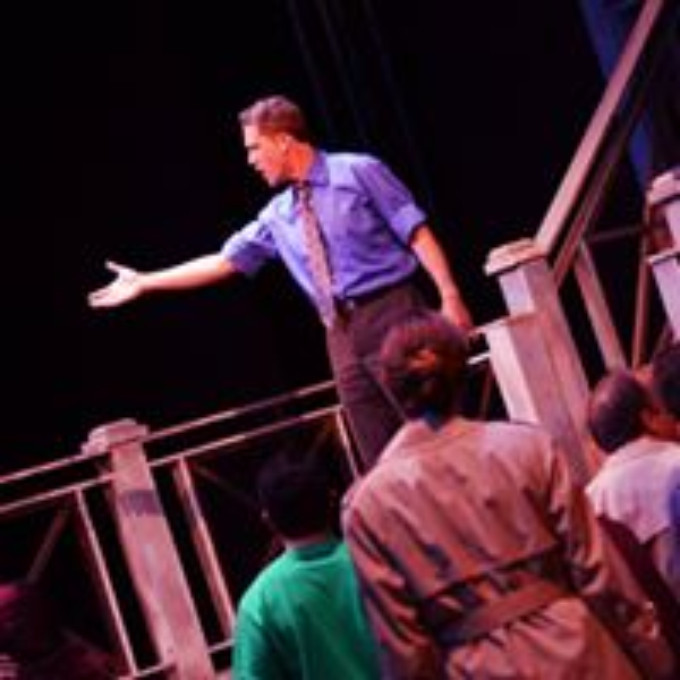 n such "every-man" roles.
Within the partnerships of Leigh Allen's lighting, Brett Elliott's fight choreography, and Christopher Hoag's score, multiple artistic entities come together throughout the show resulting in some powerful images. Such moments include the Soothsayer (Kaitlin Ruby) delivering the infamous warning, a futuristic fight sequence with Logan Chase and RJ O'Young, and a creepy visionary flashback involving Brutus (Lanker), Julius Caesar (Gary Best) and Portia (Angela Gulner).
The Kingsmen Shakespeare Company is Cal Lutheran's professional theater company.
The festival grounds open at 5:30 p.m. for picnicking and entertainment. General admission is $20 for adults and free for those under 18. Individual tickets are available at the door only. For lawn box reservations or more information, visit kingsmenshakespeare.org or call 805-493-3452.
Photo Credit: Chris Reynolds-Baldwin
Related Articles View More Thousand Oaks

Stories

Shows