Review: Gilbert and Sullivan's PIRATES OF PENZANCE Reimagined as an Interactive Beach Party at the Pasadena Playhouse
Back in the late 60s, groups of people would meet up at an agreed-upon place to attend a "happening," defined as a partly improvised or spontaneous piece of theatrical or other artistic performance, typically involving audience participation. This description is exactly how I would describe what is taking place at The Pasadena Playhouse through February 25, 2018, with Gilbert and Sullivan's PIRATES OF PENZANCE as reimagined by the Chicago-based Hypocrites acting troupe. Adapted and directed by Sean Graney, co-adapted by Kevin O'Donnell, with music direction by Andra Velis Simon,
the troupe has found a way to turn the classic on its head, surprising audiences with a raucous 80-minute beach party that blends the original operetta with modern day attire, a central stage area from which the tossing of beach balls is encouraged, kiddie wading pools are available for seats, and lots of audience participation is expected during every moment the 10 energetic actor-musicians are in the house.
This wacky beach party - with flying beach balls, rubber duckies, ukuleles, banjos, plastic swimming pools, and outrageously clever costumes - brings the audience on stage for a night they won't forget. In fact, you will know something very different is
about to take place when you walk inside the Playhouse to find half the audience seats covered over with the staging area, surrounded by risers on all sides with a conveniently placed Tiki bar located near the center where you can partake of your favorite beverages throughout the show. There are even risers placed on the proscenium stage itself, allowing those seated there to glance up and see all the rigging used to raise sets as well as people during more traditional performances.
But no matter where you sit, be prepared to be called upon to participate, either by hitting a beach ball over to another area, speaking with a performer who approaches you with a question or wants you to sing along, or perhaps even asking you to either share your seat or get up and allow them to use it as a performance space. I guarantee no two performances will be exactly the same due to the amount of improvisation necessary from start to finish. So be sure to listen at the very beginning when all the "rules" involving this very non-traditional staging are explained to you!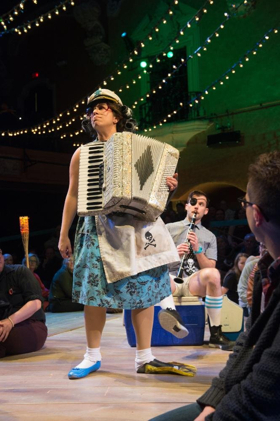 For those not familiar with the original story, which may be a bit too convoluted to follow in this production with its sappy pirates, dewy-eyed damsels, bumbling bobbies and a stuffy Major General, Gilbert and Sullivan's hilarious and hopeful farce follows the story of young Frederic (Doug Pawlik), an orphan who has mistakenly been apprenticed to an ineffectual but raucous band of pirates led by The Pirate King (Shawn Pfatsch), as he disavows the pirates' way of life and falls for the beautiful Mabel (Dana Omar who also comically portrays Ruth, the older and only female aboard the pirate ship) when they land at the seaside town of Penzance. While the entire score is familiar, no doubt the most famous is "Poor wand'ring one," and the frequently parodied patter song "I am the model of a modern Major-General," which is performed with speedy comic perfection by Matt Kahler.
I especially enjoyed each entertaining appearance of the trio of Mabel's other sisters (Tina Muñoz Pandya, Amanda Raquel Martinez and Leslie Ann Sheppard),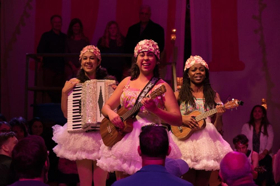 dressed in ballet tutus with flower-embossed bathing caps on their heads, who sashayed their way around the staging area, harmonizing beautifully while playing an accordion and ukuleles! In fact, the entire cast (Mario Aivazian, Eddie Curillo, Matt Kahler, Amanda Martinez, Dana Omar, Tina Munoz-Pandya, Doug Pawlik, Shawn Pfautsch, Leslie Ann Sheppard and Lauren Vogel) plays various instruments as they wander around the audience while portraying many ensemble parts throughout the production, making for an all-inclusive raucous experience of laughter, awe and wonder.
Kudos to the entire production staff for their overall talents in making this incredibly fun experience come alive: scenic designer Tom Burch; prop designer Maria DeFabo; lighting designer Heather Gilberg; sound designer Kevin O'Donnell; costume designer Alison Siple; with choreography by Katie Spelman.

An interesting side note is the title is one of witty references: in 1879, Penzance was a docile seaside resort and no place to have found a pirate. And in their day, the title directly refers to piracy of the era - the large number of unauthorized performances of Gilbert and Sullivan's operetta HMS Pinafore that had taken place in North America without any royalties paid to its authors. It's just another example of how theatre has always reflected the political time in which it was written.
The wackiest beach party in town for Gilbert and Sullivan's PIRATES OF PENZANCE, as reimagined by the Chicago theatre hooligans The Hypocrites, continues at The Pasadena Playhouse on Tues-Fri at 8pm, Saturday at 2pm and 8pm, and Sunday at 2pm and 7pm. Tickets start at $25 and may be ordered by calling 626-356-7529 or online at pasadenaplayhouse.org. A one-week extension has already been added through February 25, 2018 due to high ticket demand, so be sure to order yours soon! The Pasadena Playhouse is located at 39 South El Molino Avenue, Pasadena CA 91101, where tickets may be purchased at the box office.
Cast Photos by
Jenny Graham