Richard Tognetti To Perform Beethoven's Violin Concerto With Australian Chamber Orchestra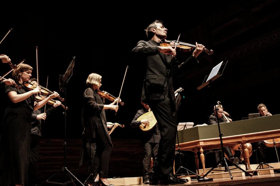 In a monumental finale to their 2018 Season, the Australian Chamber Orchestra will pay homage to one of the greatest and most influential composers of all time: Ludwig van Beethoven.
Tognetti's Beethoven will see the ACO's 17-piece core ensemble triple in size for performances of Beethoven's mighty Violin Concerto, to be performed by ACO Artistic Director Richard Tognetti, and the famed Fifth Symphony.
These concerts will mark Tognetti's first performance of Beethoven's Violin Concerto with the ACO in eleven years. He first performed the Concerto with the Orchestra in 1993, and in 1997 made a critically-acclaimed recording of the work, performed on gut strings, released under the ABC Classics label. He most recently recorded the second movement of the Concerto for the ACO's multimedia film collaboration, Mountain, released in 2017.
Tognetti will perform Beethoven's Violin Concerto on his 1743 Guarneri del Gesù violin, on loan from an anonymous Australian private benefactor.
Beethoven's Fifth Symphony is one of the most revered and influential pieces of music ever written. The opening four-note motif - da-da-da-DUM - is so electrifying, powerful and universally well-known that it has been referred to as classical music's 'calling-card'.
In the 210 years since it was first premiered at the Theater an der Wien in Vienna, the Fifth Symphony has been immortalised through countless adaptions, remixes and pop culture references, by musicians as diverse as Franz Liszt, the Electric Light Orchestra, Walter Murphy for Saturday Night Fever, and electroartist Wolfgang Gartner.