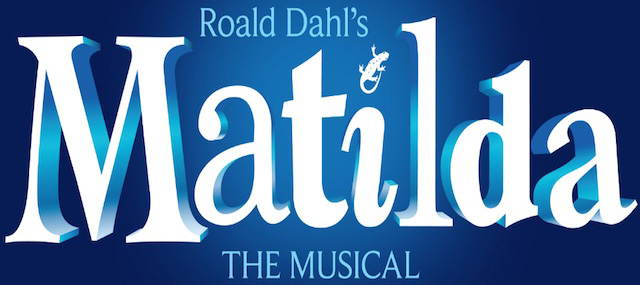 Click Here for More Articles on MATILDA
BWW Review: Officially Opening in Sydney, MATILDA THE MUSICAL Tells The Story Of A Young Girl's Courage and Imagination With Magic and Marvelous Music.
Thursday 20 August, 2015, 7pm, Lyric Theatre, The Star, Sydney
Roald Dahl's popular childrens' book MATILDA comes to life in Tim Minchin (music and lyrics) and Dennis Kelly's (book) heartfelt musical interpretation, MATILDA THE MUSICAL. The timeless story of the smart little girl that dares to change her story and stand up for what is right that first captured hearts on paper and then on stage in the West End and Broadway has finally made it to Australia and been met with thunderous applause.
The first striking image is the stage, drawing focus to the importance of words with the wooden tiles with letters covering not only the proscenium but the legs and boarders surrounding the stage and the stage itself. In addition to the challenge to find words in amongst the tiles, a great way to occupy children, young and old whilst waiting for the show to start or during intermission, the towering bookcases tie in to the world of books and stories that we learn are Matilda's refuge from an uncaring, uneducated family.
Minchin and Kelly have drawn on Dahl's whimsy whilst also capturing his darker commentary on humanity as they tell the story about a seemingly plain little girl who turns out to be intelligent, brave, and imaginative with a strong moral compass and a maturity beyond her years, all topped off with a touch of magic. The lyrics and music are amazing and unique as Minchin's signature wit and style comes through to ensure this stands out from other musicals. The craftsmanship with expressive, descriptive, and sometimes cutting words is seamlessly carried through in Kelly's dialogue.
Whilst Dahl's original story is a childrens' book, Minchin and Kelly have ensured MATILDA THE MUSICAL has elements for both children and adults. For children there is the encouragement that no matter how small/young they may be and how insignificant they may feel, they can make a difference and doing the right thing is worth it. For adults, as well as reminding them that they are in charge of their future and the importance of standing up for what you believe in, MATILDA THE MUSICAL is also a reminder that it is useful to stop and see things through a child's eyes and remember their own youth. The snorts of laughter from the adults as they recognized childhood situations such as fear of the unknown for the first graders to the pranks played shows the opening up and reconnecting with their inner child. There is a deliciously twisted humor as all too familiar childhood experiences play out, snide barbs are exchanged between adults and observations of society are highlighted.
Visually, whilst very detailed, the overall images are kept simple so the characters are clear and the sets are simple. Costumes help define characters before they speak their first line from Mr Wormwood's acid green plaid suit to Miss Trunchbull's leather belted militaristic coat dress and Miss Honey's homely floral dress and cardigan. Lighting helps echo the tone from the dark fear that Miss Trunchbull runs Crunchem Hall with to the bright lightness of the library where Matilda is valued and her presence welcomed by Mrs Phelps.
For opening night, Bella Thomas played Matilda (Thomas shares the role of Matilda with Molly Barwick, Sasha Rose and Georgia Taplin). Thomas captured Matilda's tenacity but also her maturity and awareness beautifully. Thomas has a strong clear sound whilst still capturing the English accent consistently and her Naughty is delightful in its musicality and physicality. Thomas' telling of the story of the Acrobat and the Escapologist to the captivated Mrs Phelps conveys Matilda's love of stories in the expression of the rollercoaster plot line that is revisited throughout the performance. Matilda's quiet achiever and wise beyond her years personality is captured in the stillness and her blending into group scenes.
The child cast that make up Matilda's classmates are just as impressive from the cheeky precocious Lavender to the gluttonous Bruce. For very young children, they are as professional as an adult ensemble with precise choreography and energetic vocals, hamming up the facial expressions to convey their emotions from the bratty children fighting during Miracle to the scared first years in the School Song. The small children are complemented by the adult ensemble making up the older students which have a tremendous energy as they try to intimidate the younger students in the school yard and share in the longing wish of When I Grow Up.
Elise McCann captures Miss Honey's timid sweet nature and her My House is pure and moving in its resignation that a simple home is all she needs. Her top notes in Pathetic are however a little strained, having more strength and warmth in her lower register where most of her numbers sit. Marika Aubrey and Daniel Frederiksen capture the caricature of Matilda's parents, Mrs and Mr Wormwood. Mrs Wormwood is a sneering, self- absorbed, disinterested mother more concerned about her dance competitions and her looks with Aubrey demonstrates well although the comedic timing of some of the lines could be finessed to increase impact. Mr Wormwood is the greasy charlatan used car salesman, also focused on his appearance and constantly dismissive of his younger child whilst praising his idiot son Michael Wormwood (Daniel Raso). Frederikson's physical humor is utilized as Mr Wormwood continues to be the subject of Matilda's pranks.
James Millar's Miss Trunchbull is a stand out of the adult cast in the nuanced expressions and physical comedy along with the songs like The Hammer and The Smell of Rebellion where former Olympic champion gets lost in her own world. Cle Morgan's interpretation of Mrs Phelps is endearing in her ditsy, innocent, energy, enthusiasm and belief of Matilda's stories. Stephen Anderson gives the Children's Entertainer the requisite world weariness as he bemoans the trend for parents to all think their child is a Miracle. In contrast, as Sergei, Anderson brings and comedy and sensitivity to the Russian Mob Leader as he gives a sweet reprise of This Little Girl.
MATILDA THE MUSICAL is captivating work and the Sydney production lives up to the reputation that the West End and Broadway productions have created. It has humor, tragedy, stories within stories, greed, vulnerability, mystery, magic and moral lessons whilst exposing the good and bad in people and the ability of the littlest person to make a difference. With a powerful message for both children and adults alike and music and lyrics that get in your head, this is a must see.
Sydney Lyric Theatre
From 28 July 2015