ALISON'S HOUSE by Susan Glaspell Comes to the Depot Theatre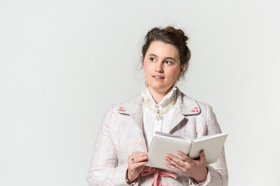 Inspired by the life and work of the American poet Emily Dickinson, The Depot Theatre in Marrickville presents the (lost) American classic and Pulitzer Prize winner, ALISON'S HOUSE by Susan Glaspell. Motivated by a desire to bring iconic, but neglected plays written by women into contemporary consciousness, ALISON'S HOUSE is an integral part of Depot's 2018 Season, playing 8pm Wed-Fri, 2pm and 8pm Sat, 4 - 21 April 2018.
It is 18 years since Alison Stanhope, the country's foremost poet, died. Now the house she lived in must be sold, but it holds secrets. Does the private life of a public figure belong to the world? It is a question of our time, yet ALISON'S HOUSE, a play from 1930 set on New Year's Eve in 1899, starts with this very question. In a classic example of life imitating art imitating life, Emily Dickinson's estate denied Glaspell the use of Dickinson's name and work, so she rewrote the script, changing the name to Alison.
One of American drama's best kept secrets, Glaspell was a Pulitzer Prize-winning playwright, an actress, director, novelist, biographer and poet. Highly acclaimed and widely known during her era, she drifted into obscurity after her death in 1948. A contemporary of Eugene O'Neill, Glaspell was a founding member of The Provincetown Players, an important collaborative in the development of modern drama in the United States.
ALISON'S HOUSE premiered in New York in December 1930. It was unexpectedly and controversially awarded the Pulitzer Prize in 1931. This production is directed by Depot's co-artistic director, Julie Baz, with set design by fellow coartistic director, David Jeffrey, lighting design by Mehran Mortezaei, sound design by Thomas E. Moore and stage manager Rebecca Lang. The show features a terrific line up of some of Sydney's best emerging and seasoned indie theatre talent: Matthew Bartlett, Veronica Clavijo, Penny Day, Dominique De Marco, Elliott Falzon, Pheobe Fuller, David Jeffrey, Brendan Lorenzo, James Martin, Tasha O'Brien and Sarah Plummer.
The Depot Theatre is a not-for-profit theatre situated within and proudly supported by the historic Addison Road Centre, a thriving inner west hub for culture, arts and the environment visited by over 200,000 people annually. Founded by Julie Baz and David Jeffrey in 2015, The Depot Theatre challenges and entertains its audiences with theatre that is accessible, affordable and - most importantly - a really fun night out.
Tickets: $32 Full | $27 Concession | $22 Cheap Wed | $22 Previews
Bookings: http://thedepottheatre.com/alison-s-house
More Hot Stories For You