St. Louis Area Cast Announced for National Tour Of MENOPAUSE THE MUSICAL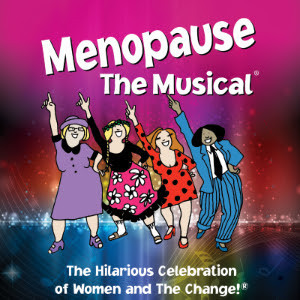 GFOUR Productions, winner of 44 Tony Awards and 54 Drama Desk Awards, has announced the cast of the international hit show Menopause The Musical coming to the Playhouse @ Westport Plaza, 635 Westport Plaza, in St. Louis for weekly performances beginning Tuesday, January 9 and running through Saturday, March 31.
Tickets are $68 and may be purchased through MetroTix, online at metrotix.com or by phone at 314-534-1111. Additionally, tickets will also be available at the Playhouse @ Westport Plaza box office one hour prior to show time. Greater discounts for groups of 10+ available by calling 314-616-4455.
Menopause The Musical is a groundbreaking celebration of women who are on the brink of, in the middle of, or have survived "The Change." Now celebrating 16 years of female empowerment through hilarious musical comedy, Menopause The Musical has evolved as a "grassroots" movement of women who deal with life adjustments after 40 by embracing each other and the road ahead. Set in a department store, four women meet while shopping for a black lace bra at a lingerie sale. After noticing unmistakable similarities among one another, the cast jokes about their woeful hot flashes, mood swings, wrinkles, weight gain and much more. These women form a sisterhood and unique bond with the entire audience as they rejoice in celebrating that menopause is no longer "The Silent Passage." St. Louis critics agree this show is a hit! "...an easy-going, fun-loving romp!" hailed Mark Bretz of the Ladue News. And, Tina Farmer of KDHX Radio raved, "A perfect choice for a girl's night out...a clever parody, handled with a light touch and sassy, oh snap attitude that's certain to bring the laughs!"
The cast for the St. Louis performances includes the following St. Louis area natives: Rosemary Watts (Iowa Housewife) was the original Iowa Housewife in MENOPAUSE THE MUSICAL for eighteen months. Recently, she performed in BEST OF ENEMIES at Bluff City Theatre in Hannibal, MO. Other shows include: I LOVE YOU, YOU'RE PERFECT, NOW CHANGE (City Theatre, Hot City Theatre, and The Playhouse at Westport Plaza); FAMILY O. Mann (TNT); TABLE MANNERS (Off the Cuff Productions); LOVE TROUBLE and DREAMS OF BABY (ShatterMask Theatre); UNCOMMON WOMEN ... (The Black Repertory Theatre); and THE SANDERS FAMILY CHRISTMAS, SOUTH PACIFIC, and 1940's RADIO HOUR (The Little Theatre on the Square, Sullivan, IL). She was part of the resident company of Historyonics Theatre for over eleven years. For the past 30 years, she has loved sharing the stage in cabaret shows with her talented husband, Joe Dreyer.
Laura Ackermann (Earth Mother) Laura first joined the cast of MENOPAUSE THE MUSICAL in 2006, where she met her dear friends, Rosemary, LeeAnne and Marty. A native St. Louisan, Laura began her career in 1974 at The Muny Opera. Since then, she has done 36 shows at The Muny, playing such roles as Auntie Em in THE WIZARD OF OZ and The Bird Woman in MARY POPPINS. Laura has performed or choreographed for the New Jewish Theater, Bluff City in Hannibal, The Ozark Actors Theater in Rolla and Stages St. Louis. She recently did a two year stint as the Dance Director for The Show Me Arts Academy, founded by Marty Casey. Laura is also the choreographer for Nipher Middle School in Kirkwood. In the olden days, she was a member of the Broadway cast of THE BEST LITTLE WHOREHOUSE IN TEXAS.
Marty K. Casey (Professional Woman) was born and raised in St. Louis, Missouri. Her career spans over 20 years, performing in the United States, Germany, and France. She has been a member of the Actor's Equity Association since 2006. It was the role of the Professional Woman in MENOPAUSE THE MUSICAL that afforded her the opportunity to become a member. Since her last performance, Marty has appeared in several movies, "Four Way Stop," "Retribution," "The First Pick," and "Parallel Chords." During the unrest of Ferguson, Missouri, Marty founded Show Me Arts Academy which is under the Show Me Arts Foundation and recently created a youth group, SPREADING THE LOVE Singers. Her community contribution has landed her two national awards, Advocate of the Year from Mathews-Dickey Boys & Girls Club and Community Service Award from JUGS (Justice, Unity, Generosity and Service) and recognition from singer Beyonce' on her #BeyGood website. Her next project is the debut of her one-woman show "It's Not a Man's World" this April.
Lee Anne Mathews
(Soap Star) Lee Anne is thrilled to be reunited with her Menopause family. Before moving to St. Louis in 2006 to play the Soap Star here at Westport, Lee Anne traveled the world performing in venues from Toronto to Tokyo and from Alaska to Florida. Locally, she has worked for many theatre companies as an actor, director and stage manager including the Muny, Shakespeare Festival of St. Louis, New Jewish Theatre, St. Louis Actors Studio, Upstream Theatre, and more. She was recently nominated for a Tampa Bay Theatre Award for her performance as the Baker's Wife in INTO THE WOODS at FreeFall Theatre Company in Florida. She has volunteered for worthwhile arts organizations such as Prison Performing Arts and the Show Me Arts Academy. Lee Anne teaches theatre at Crossroads College Prep School in the city, and was awarded Maryville University Teacher of the Year in 2014. Proud member of AEA.
Judi Mann (Full Understudy) is thrilled to be returning to the Playhouse @ Westport Plaza for her third run of MENOPAUSE THE MUSICAL. An award-winning actress and writer, and graduate of A.M.D.A. in NYC, Judi briefly appeared Off Broadway, toured the country with Carol Channing in HELLO DOLLY, and Howard Keel in MY FAIR LADY and SOUTH PACIFIC. She most recently appeared at Arrowrock Lyceum in a musical & a farce. Judi has appeared in or voiced numerous TV and radio commercials, and films, most recently, a horror feature, The Nameless. Ms. Mann is the proud Theater Dept. head of Show Me Arts Academy, a non-profit Arts organization which brings art opportunities to underserved St. Louis city youth. She is mom to three grown kids and married to actor James Anthony. Judi runs a small wedding business, Wonder Weddings, and has had the honor of marrying over 200 couples. Inspired by a hot flash and a bottle of wine, Menopause The Musical is a celebration of women who find themselves at any stage of "The Change." The laughter-filled 90-minute production gets audience members out of their seats and singing along to parodies from classic pop songs of the '60s, '70s and '80s. The hilarious musical has entertained audiences across the country in more than 450 U.S. cities, nearly 300 international cities and a total of 15 countries. For more information, visit www.MenopauseTheMusical.com.
The Playhouse @ Westport Plaza is located at 635 Westport Plaza in Maryland Heights, Missouri and is a venue filling a niche for a variety of Broadway and Off-Broadway entertainment that would otherwise not find its way to the St. Louis area. Programming at the venue is offered at affordable ticket pricing so that anyone can have dinner at one of the many restaurants in the area as well as see a great show. For additional information on upcoming events, please visit www.playhouseatwestport.com.
About G4 Productions Proud producers of MENOPAUSE THE MUSICAL, now in its sixteenth year - it is the longest-running scripted production in Las Vegas history, and can be seen nightly at Harrah's Hotel and Casino on the 50-yard line of the Las Vegas strip. MENOPAUSE is also on tour around the U.S., as well as playing in Spain, Mexico City, and the U.K.
Other recent successes include GROUNDHOG DAY THE MUSICAL, nominated for 7 Tony Awards including Best Musical; THE PLAY THAT GOES WRONG on Broadway, winner of London's Olivier Award for Best Comedy, and the acclaimed production of DREAMGIRLS, currently selling out on London's West End. Their Tony Award-nominated production of FIDDLER ON THE ROOF will launch its national tour in the fall of 2018, and their Tony Award-winning production of LADY DAY AT EMERSON'S BAR AND GRILL starring 5 time Tony Award winner, Audra McDonald, will open on London's West End this summer. Other selected highlights include winning the 2013 Tony Award for their 50th anniversary production of Edward Albee's WHO'S AFRAID OF Virginia Woolf; Co-financing the 5 time Tony Award, 5 time Drama Desk Award, and 7 time Olivier Award winner for Best Musical, MATILDA THE MUSICAL; and producing the popular 9 TO 5 THE MUSICAL with music by Dolly Parton, and RING OF FIRE the Johnny Cash Musical Show.
They began producing in 1981 with NINE, winning the Tony Award that year for Best Musical. Among their favorite past Broadway productions are MY ONE AND ONLY starring Tommy Tune, ZORBA THE GREEK starring Anthony Quinn, THE RINK starring Liza Minnelli, BABY, GRAND HOTEL, GRIND, BIG, TRUE WEST, the original and the revival of LA CAGE AUX FOLLES which won them Tony Awards for Best Musical in 1983 and Best Revival in 2004. Their combined shows have been nominated for 121 Tony Awards, winning 44 and 110 Drama Desk Awards, winning 56. For more information, please visit www.GFourProductions.com.
More Hot Stories For You