Review: DISNEY'S THE LITTLE MERMAID by Variety Theatre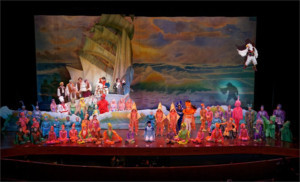 Variety Theatre presented their production of Disney's The Little Mermaid at the Blanche M. Touhill Performing Arts from October 18th thru 21st. This performance celebrated the 10th Anniversary of Variety Theatre, the country's only production of its kind that features Variety children with disabilities, along with St. Louis' most talented children, as well as Adult Actors' Equity Association performers.
Variety Theatre was once again under the direction of Tony Award nominee, Lara Teeter, who also served as choreographer, masterfully utilized all members of the cast and highlighted their talents in every scene. The music was lively and energetic from the performers and orchestra. The scenic, lighting, and sound designs were impressive and truly brought to life the setting whether on land or under the sea. The vibrant and colorful costumes were creative and whimsical, and even incorporated special lighting effects for some characters. The aerial work was magical and flawless throughout the performance.
Berklea Going as Ariel showed her incredible talents in her heartfelt performance in the title role. Executive Producer, Jan Albus said, "It is really special to have Berklea back performing with Variety Theatre in our 10th season since she performed in our first production, Tom Sawyer as Becky Thatcher!"
Also leading the cast, Variety was fortunate to have three-time Tony nominee, Terrence Mann, as King Triton. He brought strength to the sea world that was filled with humor from Ian Nolting as Flounder, Michael Hawkins as Sebastian, and Dena DiGiacinto, Chandler Ford, Allison Newman, Corbyn Sprayberry, Larissa White, Caitlin Witty as the Mersisters. Joy Boland as Ursula and her electric eels, Brandon Fink as Flotsam and Mason Kelso as Jetsam, were sinister and evil, but found many amusing moments throughout their scenes.
David Bryant Johnson as Prince Eric led the cast on land with his powerful voice, and John Kinney as Chef Louie was hilarious in this role. The fabulous Drew Humphrey as Scuttle always gives such "positoovity" to his performances. Alan Knoll as Grimsby and the rest of the adult ensemble, including members of The Big Muddy Dance Company, kept the energy going throughout the entire performance.
The true stars of every Variety Theatre performance are, of course, the children of all abilities. This production always finds a unique way to incorporate the children as featured members of the cast, and you just can't imagine the performance without the big smiles on every one of them. It is what make these productions a highlight of the theatre scene every year. In fact, in 2018, Variety Theatre was awarded the "Special Award for a Body of Work" by the St. Louis Theatre Circle, an honor that is not an annual award, but is only presented when it is truly deserved.
Variety Theatre has not only entertained, but inspired the audience, and made us proud to be a part of their world once again.