THE ILLUSIONISTS: DIRECT FROM BROADWAY llega a españa en diciembre
THE ILLUSIONISTS: DIRECT FROM BROADWAY, uno de los espectáculos de magia más reveladores del momento, llega a España. Lo hará en cinco únicas funciones los próximos 8, 9 y 10 de diciembre y las entradas acaban de salir a la venta. Siete ilusionistas sorprenderán a los espectadores en un espectáculo de magia sofisticada que ha cautivado a más de 10 millones de personas.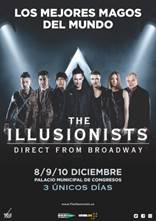 El show combina espectaculares trucos que desafían a la lógica e incluso a la muerte, en un despliegue de ilusionismo, levitación, adivinación, hipnotismo y desapariciones, que continúa el legado de los grandes de la historia, como Harry Houdini. El espectáculo se adapta a la estética contemporánea en una armoniosa combinación de teatralidad y magia sin precedentes que ha cautivado a crítica y público de todo el mundo.
THE ILLUSIONISTS: DIRECT FROM BROADWAY ha batido récords de taquilla en Broadway y en teatros como la Ópera de Sidney, el Auditorio Nacional de México o el Centro de Artes de Melbourne y grandes medios de comunicación como The New York Times o Time Out han alabado su espectacularidad.
Luis de Matos, Maestro Ilusionista y uno de los magos más respectados del mundo, será el Maestro de Ceremonias. Junto a él estarán: James More, Maestro del Engaño y conocido por su famosa participación en el programa Britain's Got Talent. Yu Ho-Jin, El Manipulador, uno de los más elegantes y estéticos ilusionistas del mundo; Leonardo Bruno, el Alquimistauno de los talentos más aclamados por el público; Gaetan Bloom, el Charlatán, conocido por su gran creatividad en escena; Andrew Basso, el Escapista, rey de la evasión y conocido como el rock star de la magia y Josephine Lee, La Hechicera, y una de las magas más embaucadoras y prominentes del momento.
Entradas a la venta más información en: http://www.theillusionists.es/
PRECIOS: Desde 32€
HORARIOS:
V: 21.30h
S: A las 17h. y a las 21.30h
D: A las 12.30 y a las 17h.
Related Articles View More Spain

Stories

Shows
Felipe Velasco was born in Madrid. He is currently studying medicine, but he is also working as assistant director of the website todoliteratura.es, writing about (read more...)