Click Here for More Articles on ALADDIN
BWW Review: DISNEY'S ALADDIN Takes You On A Magical Ride At The Sands Theatre, Marina Bay Sands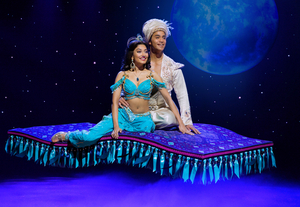 Don't we all fancy a ride on the magic carpet? Soaring, tumbling freewheeling, through an endless diamond sky. The long-awaited Disney musical, Aladdin, has arrived in Singapore on 21 Jul 2019, its first and only stop in Asia. We experienced the famous mythical city of Agrabah, complete with captivating dance numbers, ballads, genies and wishes.
Based on the Academy Award®- winning animated film, Aladdin premiered at Broadway in 2014 and was a massive hit since then. It quickly established itself as one of the most significant new blockbusters in recent years, welcoming close to 10 million people worldwide. This production of Disney's Aladdin opened in Sydney in 2016 and has since travelled to Melbourne, Brisbane, Perth, Auckland and Adelaide before making its way to Singapore. It will finally play in Singapore as its final stop the only stop in Asia.
Having grown up with the 1992 animated movie, singing and dancing to the score. The young girl in me was eager full of anticipation to experience the magic live on stage. It tells the tale of Aladdin, a poor poverty-stricken thief who met the beautiful Princess Jasmine, and they fall in love. But Aladdin, could not marry the princess unless he becomes a prince. Cue a magical lamp and the Genie that grants wishes paired with villains who try to foil their plans and tries to capture Aladdin at every possible opportunity. To top it all off, a fairy tale ending, it is the show that we know and love.
The unexpected was how the spectacular performances, special effects, sets and costumes blew me away. A mammoth of a show, it has a staggering 337 glittering costumes, which feature 1,225 different fabrics, 712 different styles of beads and almost 500,000 Swarovski crystals. Forty tonnes of exotic flying scenery and 60 tonnes of automation and staging was specially sent for this production to recreate the fantasy city of Agrabah. Including the colourful marketplace, the lush palace of the Sultan and his princess daughter Jasmine and the legendary Cave of Wonders. Every time Jasmine and her palace maids step on stage, the ladies dressed in beautiful fabric shimmers while they move and dance. Do not let me get started on the Cave of Wonders. It is a breath-taking sight. Probably the most elaborate and beautiful set ever.
This production boasts a cast of 34 people from Australia, New Zealand, United States of America and Canada, with a calibre of talents who have performed on Broadway and beyond. Setting the tone and welcoming us to the show is the charming and powerful Genie, played by the talented Gareth Jacobs. Every time the Genie appears, he commands the stage full of energy and diva-like sass. The opening number, "Arabian Nights" and "Friend like Me" are probably my favourites in the show. And one would think of the amount of stamina Jacobs have to carry these items. They are the epitome of a show tune, embodies the essence of a perfect musical experience. With a little magic and a lot of confetti, just like watching a Tony Award opening number.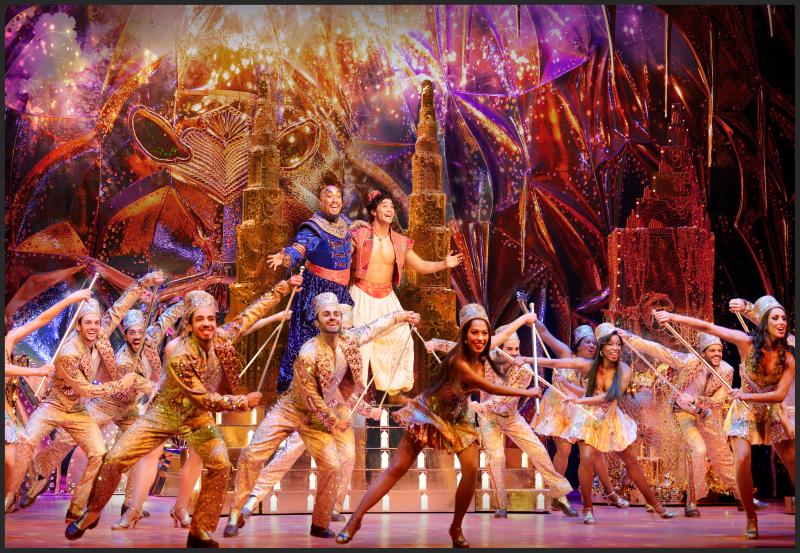 Sydney born Graeme Isaako plays the titular role of the boyish Aladdin. Aladdin falls in love with Jasmine played by the beautiful Shubshri Kandiah in her first role fresh out of college. I always enjoy watching a strong female character portrayal rather than a damsel in distress. Kandiah's Jasmine shows courage and will not hesitate to turn down suitors in her determination to marry for love. Both Isaako and Kandiah exudes charming chemistry throughout the show, belting out their numbers with perfection. "Proud Of Your Boy" deserves a special mention, as Isaako's performance tugged at my heartstrings.
The musical also includes new characters- Jafar's lackey Iago (Doron Chester) and Aladdin's rambunctious friends and fellow thieves Babkak (Troy Sussman), Omar (Adam Di Martino) and Kassim (Rob Mallet). The trio is a joy to the piece, injecting life into the scenes with their boisterousness, minus a few missed high notes. There were also references to monkeys, which fans will pick up as a homage to the story.
The magic of the magic flying carpet met with "Oooo"s from the audience. Although I could barely see the faces as they fly through the "dimly lit" night sky, I could not deny that they pulled this one off flawlessly. It was romantic and blissful. No one is quite sure how it is done, and we will believe in the magic of Disney. Just like how the Genie appears from the magic lamp, and the split-second costume changes as the wishes are granted.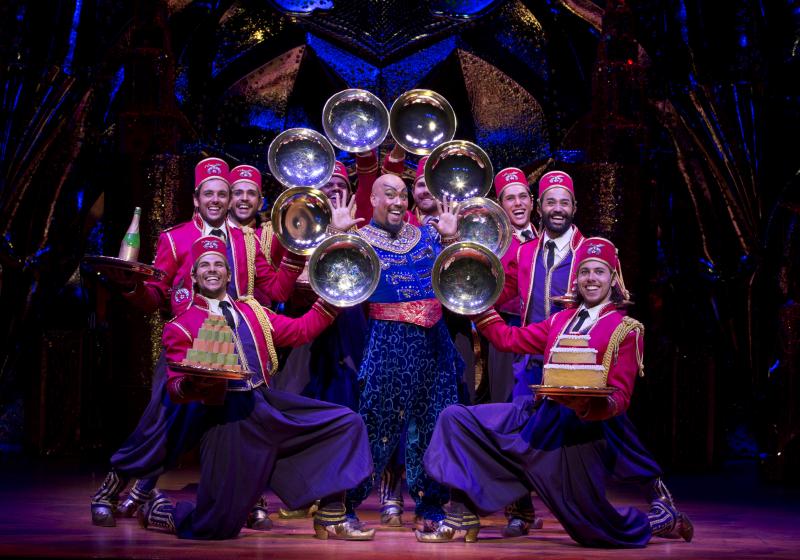 We love the Genie's constant effortless breaking of the forth wall, interacting with the audience and injecting local flavour into the show (aka Chilli Crab). Not only that, there is the modern touch such as a reference to personal boundaries and "two snaps". A medley of classic Disney songs will also entertain fans- it was a cross over that we never knew we needed.
This musical tells a timeless story set in a magical place. We see our favourite Disney characters come to life in song and dance. Paired the underlying lesson to be who you truly are, Aladdin is entertaining to watch and indeed a musical for everyone young and old.
Aladdin runs till 1 Sep 2019 at Sands Theatre at Marina Bay Sands. Tickets are from $68 to $208.
Images: Base Entertainment Asia