by BroadwayWorld TV - Dec 12, 2019
Harry Connick Jr. is making his official return to Broadway tonight with the opening night of Harry Connick, Jr. - A Celebration of Cole Porter. To celebrate, we're looking back at his turn in Broadway's On a Clear Day You Can See Forever opposite Tony winner Jessie Mueller. Check out this video to get a peek inside the show's opening night festivities, including a special peek at Jessie's first time ever meeting Harry's former co-star Kelli O'Hara!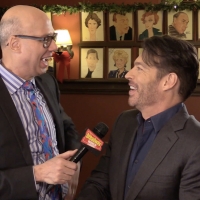 by TV - Press Previews - Dec 10, 2019
Following appearances in Thou Shalt Not, The Pajama Game, On a Clear Day You Can See Forever, and two separate concerts, Harry Connick Jr. returns to Broadway this season for the sixth time. This time around, the crooner takes on the classic songbook of one of America's most respected songwriters, Cole Porter.