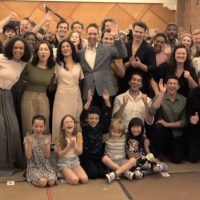 by Sneak Peek - Sep 24, 2022
The barricades are coming to a city near you! Cameron Mackintosh's production of Alain Boublil and Claude-Michel Schönberg's Tony Award-winning musical phenomenon, LES MISÉRABLES, is about to hit the road. The cast just gave BroadwayWorld a very special sneak peek and you can catch highlights in this video!
by Jeffrey Kare - Jan 24, 2018
Coming to the Durham Performing Arts Center for the very first time from January 30th-February 4th is the national touring production of the world's longest-running musical, LES MISERABLES. I recently had the great pleasure of interviewing actor Joshua Grosso, who stars in the iconic role of Marius.