The Underlying Chris - 2019 - Off-Broadway Tickets, News, Info & More
The Underlying Chris, a world premiere play from Pulitzer Prize finalist Will Eno, is a life-affirming and high-spirited look at how a person comes into their identity, and how sometimes it's life's tiniest moments that most profoundly change our lives. In these divided times, The Underlying Chris serves as a celebration of our differences, our individuality, and the many mysterious, difficult, and beautiful things we share simply by being alive.
Schedule
Running Time: 90 minutes with no intermission
(New York, NY)
305 West 43rd Street
Twitter Watch
@2stnyc
01/25/2022 03:17pm
We were honored to be the first company to simulcast a Broadway performance to Rikers Island with the support of… https://t.co/S6PhYOXeHh
@2stnyc
01/17/2022 11:30am
"The time is always right to do what's right." Martin Luther King Jr. Day is a reminder of the commitment we make t… https://t.co/XWC0NfI9Qe
The Underlying Chris Off-Broadway Cast
by Michael Dale - December 2, 2019
Time stands still but life goes on might be one way of looking at Will Eno's charming and sweetly philosophical The Underlying Chris, receiving a fine premiere production directed by Kenny Leon at Second Stage.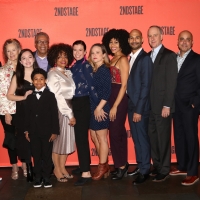 by Linda Lenzi - November 22, 2019
Second Stage Theater just celebrated opening night of the world premiere of Will Eno's The Underlying Chris. Directed by Tony Award winner Kenny Leon, the production will feature Hannah Cabell, Michael Countryman, Denise Burse, Nicholas Hutchinson, Lenne Klingaman, Lizbeth MacKay, Nidra Sous La Terre, Howard Overshown, Isabella Russo, Charles Turner, And Luis Vega.