The Snow Geese - 2013 - Broadway
Tony® and Emmy® winner Mary-Louise Parker (Weeds, Proof) returns to Broadway in this world premiere drama by Sharr White (The Other Place).
With war raging abroad, newly widowed Elizabeth Gaesling gathers her family for their annual shooting party to mark the opening of hunting season in rural, upstate New York. But Elizabeth is forced to confront a new reality as her carefree eldest son comes to terms with his impending deployment overseas and her younger son discovers that the father they all revered left them deeply in debt. Together, the family must let go of the life they've always known.
Tony winner Daniel Sullivan (Rabbit Hole, Proof) directs this stirring new play about a family waking up from their own personal Gilded Age as the world around them changes forever.
Video preview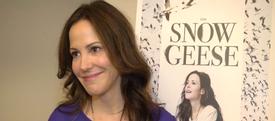 Schedule
Running Time: 2 hours and 10 minutes, with one intermission
Featured Reviews For The Snow Geese
Review: THE SNOW GEESE Sees America Through Chekhovian Eyes - BroadwayWorld
And if White's text doesn't shine any new light on the subject, the play is engaging enough when matched with Daniel Sullivan's handsome, mostly well-acted production, featuring distinguished visuals by John Lee Beatty (set), Jane Greenwood(costumes) and Japhy Weideman (lights)...Unfortunately, Mary-Louise Parker's wispy and underwhelming performance lacks the necessary depth, often speaking too quickly and softly to be understood. Far more strength and craft is displayed by Victoria Clark as her pragmatic and devout sister, Clarissa, and Danny Burstein as Clarissa's thickly accented German husband, a doctor keeping Elizabeth on medication to sooth her depression.
The Snow Geese: Fighting On - Huffington Post
Those drawn to "The Snow Geese" for the star at the center of it, Mary-Louise Parker, might be disappointed to discover a vulnerable, careless woman whose demons have been exposed after the untimely death of her husband. It won't come as a surprise, though, for those who saw playwright Sharr White's other Broadway play earlier this year, "The Other Place." A common thread runs between those two plays about the mania that follows the loss of a loved one...As Elizabeth dreams of her husband's reemergence, Parker shows off her acting chops. It's a scene that sits tangential to the drama taking place around it, but it lends incredible insight into Elizabeth's troubled mind and heartbroken soul. To some degree, the play could use more of those moments, where Elizabeth appears to be alone, but is much more alive in those moments than at any other point in the play. They also give the audience a chance to marvel at what talent Parker brings when the stage clears and makes way for her.
The Snow Geese Broadway Cast