The Snow Geese - 2013 - Broadway
Tony® and Emmy® winner Mary-Louise Parker (Weeds, Proof) returns to Broadway in this world premiere drama by Sharr White (The Other Place).
With war raging abroad, newly widowed Elizabeth Gaesling gathers her family for their annual shooting party to mark the opening of hunting season in rural, upstate New York. But Elizabeth is forced to confront a new reality as her carefree eldest son comes to terms with his impending deployment overseas and her younger son discovers that the father they all revered left them deeply in debt. Together, the family must let go of the life they've always known.
Tony winner Daniel Sullivan (Rabbit Hole, Proof) directs this stirring new play about a family waking up from their own personal Gilded Age as the world around them changes forever.
Video preview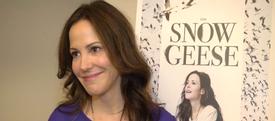 Schedule
Running Time: 2 hours and 10 minutes, with one intermission
Featured Reviews For The Snow Geese
'The Snow Geese,' theater review - NY Daily News
Sharr White's World War I-era drama, "The Snow Geese," is a low-flying work. Presented by Manhattan Theatre Club and MCC Theater, the play is interesting, but too diffuse to satisfy fully. Some compensation comes from a fine-tuned cast led by Mary-Louise Parker, who's at her signature idiosyncratic best...White raises lots of ideas - about parental favoritism, culture clashes and sibling rivalries. He doesn't fully develop any of these notions. And Arnold's 11th-hour solution to money woes should have been obvious to the whole family from the get-go. But the play is less about action and more about developing a group portrait. Another draft could have brought things into better focus.
Theater review: 'The Show Geese' - amNY
It takes some time -- too much really -- for the conflict to develop. But in time, "The Snow Geese," as directed by Daniel Sullivan with his characteristic polish, turns into the atmospheric character study that White intended. Jonigkeit's emotional transformation in disposition is the unexpected centerpiece of this production. While Parker brings a credible fragility and vulnerability, she comes off as too contemporary for a period piece. As family members, Danny Burstein and Victoria Clark offer fine performances that are remarkably sober compared to their acclaimed turns in numerous musicals.
The Snow Geese Broadway Cast