Click Here for More Articles on THE GLASS MENAGERIE 2016
BWW Review: Sally Field Stars In Sam Gold's Exquisite Production of THE GLASS MENAGERIE
One of the great things about live theatre is its lack of permanence. In film, the words, directorial choices, performances and other artistic contributions all exist as an unchangeably whole work of art. But with theatre, each production of a play, no matter how many times it has been done before, begins with only the author's text, leaving a new collection of creative souls to decide what to do with it.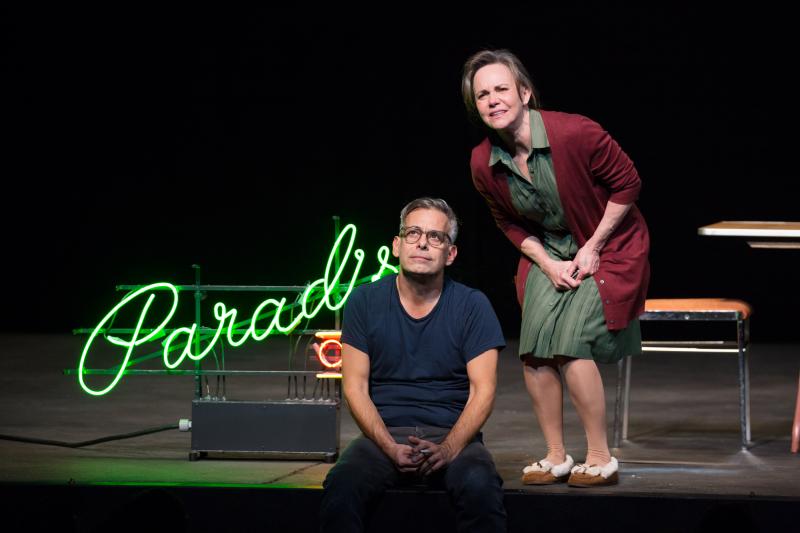 So, despite the objections of a vocal faction of theatre fans who don't care to see Broadway revivals of plays and musicals that may have been done as recently as ten or fifteen years ago, it can be a thrilling experience to watch an outstanding production of a great classic presented in a manner that's completely different from the last outstanding production.
Tennessee Williams, regarded in the upper echelon of the finest playwrights this country has produced, made his Broadway debut in 1945 with The Glass Menagerie, a play that has seen a Broadway revival in every decade since the 1960s.
As explained in a prologue delivered to the audience by Tom Wingfield, the character who acts as a stand-in for the author, the play is a memory. In Williams' case, it was a memory of being a young man trying to escape the stifling existence of living with his histrionic mother and emotionally fragile sister.
That little bit of information, that we're watching a character's memory, and that every moment is his subjective view of reality, opens up a world of interpretive possibilities.
It was less than four years ago when director John Tiffany's beautifully stylized Broadway revival was centered on the elevated reality of Cherry Jones' performance as Amanda Wingfield, a St. Louis woman with memories of being a sought-after southern belle, who was abandoned 16 years ago by a husband who worked for the phone company and "fell in love with long distances."
In stark contrast, audiences walking in to see director Sam Gold's exquisite new production may think they've stumbled onto a run-through in the middle of the rehearsal process. Andrew Lieberman's set design consists of a mostly bare stage, save for a simple table surrounded by chairs. Those looking into the wings can see various props stacked up on shelves.
When Joe Mantello enters as Tom, delivering his opening monologue, he's dressed contemporarily by costume designer Wojciech Dziedzic, and designer Adam Silverman keeps the house lights up for so long that seasoned playgoers may find themselves impatient for the usual slow fade into darkness.
At the beginning, Mantello's Tom works the crowd with the pleasant ease of a jazz musician lullabying his 2am audience. He's obviously in a better place now than he was as the young aspiring poet of his youth.
Perhaps he's even become a playwright, suggested by Gold's staging that has characters entering from the real world and then joining him on stage.
"I give you truth in the pleasant disguise of illusion," Tom explains, before summoning his mother Amanda (Sally Field) and older sister Laura (Madison Ferris) to enter from a side door on the audience's level and climb the stairs to join him to perform the illusion he's created.
It's not an easy climb because Amanda is trying to maneuver her daughter's wheelchair up the steps. As scripted by Williams, Laura walks with a limp, contributing to her shyness and low sense of self-worth. (The title refers to her beloved collection of glass animals, her favorite among them being a unicorn.) Ferris, however, has muscular dystrophy, and is the first wheelchair user to play the role on Broadway. When she moves around on her own, it's with both her hands and feet on the floor and her back extremely arched.
Though the intermission has been eliminated, the script has not been otherwise altered, so Amanda's insistence that her daughter has no physical challenges to deal with points out her delusional view of the world, while Field maintains the plainspoken naturalism of a woman Tom apparently remembers as being coarse and bitter. The icy stare on Ferris' face and her confident tone of speech suggests that Tom believes Laura, while considered shy by others, kept to herself because she was disdainful of the way she was treated by others.
In this memory, Amanda doesn't see her son quite clearly, either. Though she complains about Tom just pushing his food around instead of eating dinner, Mantello takes a healthy bite out of an apple as if to show how mentally lost she is.
It's not until Tom's friend from work, Jim (Finn Wittrock), arrives as a dinner guest that Field puts on an exaggerated drawl and an even more exaggerated dress, recalling the days when, as she claims, dozens of gentlemen callers would visit every week to be delighted by her artful conversation skills.
Though Laura has had a longtime crush on Jim from afar, when they're alone together, Ferris' reactions suggest her character is disappointed with his bland earnestness and standard ambitions. Still, in her mind he may be her one chance at getting away from her mother.
While Gold does work a bit of stagecraft into the production before the final blackout, the evening's brightest spotlight is on the words of Tennessee Williams, as played by an excellent ensemble. This grounded version of THE GLASS MENAGERIE is fully absorbing and thrilling in its simplicity.