The Dark Kalamazoo - 2002 - Off-Broadway
(New York, NY)
38 Barrow Street
by BWW News Desk - Mar 31, 2005
Roger Rees, Artistic Director of the Tony Award-winning Williamstown Theatre Festival (WTF), has announced details for the Festival's 2005 Season, running July 6 through August 28.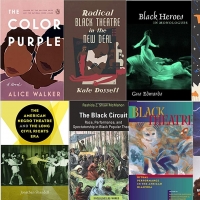 by BWW Features - Jun 28, 2020
We've rounded up 10 MORE books about Black theatre to read and educate yourself while in quarantine. 
by BWW News Desk - Jan 29, 2009
Loretta Greco has chosen Tough Titty to start off the new year, a dynamically theatrical and surprisingly funny odyssey through one woman's battle with breast cancer. Tough Titty, written by Oni Faida Lampley and directed by Robert O'Hara, marks the third play of Magic Theatre's 2008/09 season. In Tough Titty, when Angela's routine cannot keep breast cancer at bay, she must learn to face the disease, her family, and her community with equal doses of tenacity and humor. Richly emotional, Tough Titty is a boisterous exploration of one woman's willful search for grace.