The Crucible - 2016 - Broadway
It is a dramatized and partially fictionalized story of the Salem witch trials that took place in the Province of Massachusetts Bay during 1692 and 1693. Miller wrote the play as an allegory of McCarthyism, when the U.S. government blacklisted accused communists.
Starring Ben Whishaw as John Proctor, Tony winner Sophie Okonedo as his wife Elizabeth Proctor, Saoirse Ronan as Abigail Williams, and Ciaran Hinds as Deputy-Governor Danforth.
The production will be directed by Ivo van Hove, and will have scenic and lighting design by longtime van Hove collaborator Jan Versweyveld, costume design by Wojciech Dziedzic, and an original score by Philip Glass. Additional casting and design team will be announced at a later date.
Video preview
Photo preview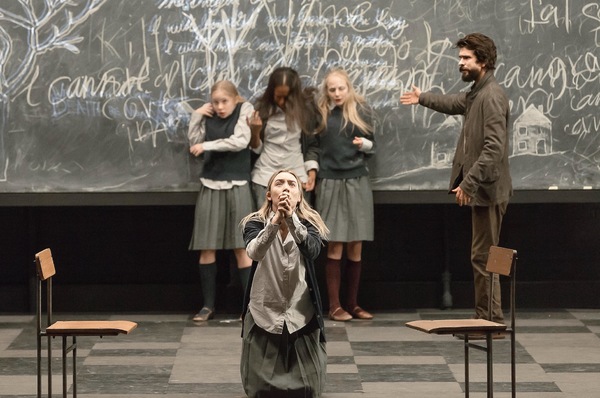 Schedule
Running Time: Two hours and 55 minutes
Featured Reviews For The Crucible
Ivo van Hove's 'The Crucible' a confusing revival - amNY
Ivo van Hove's Broadway revival of Arthur Miller's 1953 Salem witch trial drama/political allegory "The Crucible" is so bewildering that I hardly know where to start. That being said, the production is, more often than not, absorbing and blazing with intensity...More importantly, why does one of the young girls levitate in the air at one point? Why does the set fall apart at a climactic moment? Is van Hove suggesting that the girls really do have supernatural abilities? Or, more likely, is this all just striking but overblown and overindulgent imagery?...These are all great actors, but they achieve uneven results in this twisted environment. Whishaw comes across as too weak and lacks chemistry with the fully aggressive Okonedo. Ronan and Hinds are so assured and terrifying in the predator roles that it's no surprise to see Camp and Harner looking so shaken up and helpless.
The witch is back: 'The Crucible' as timely as ever on Broadway - NJ.com
Van Hove is nothing if not consistent -- just like "A View from the Bridge," his approach to "The Crucible" is alternately striking, lugubrious, and fruit loopy...Whether van Hove is succeeding in his stated goal of stripping away theatrical conventions and cutting to the heart of classic drama -- or, in fact, is doing the opposite, and serving up a "Crucible" that is affected and artificial -- probably comes down to your personal taste...[Ronan's] Abigail is at once sexually forthright and sadistically righteous; the most nightmarish sorority queen you would never want to cross. As John Proctor, the man who once had an affair with Abigail and who is now suffering the unexpected consequences, the wonderful Ben Whishaw...is wholly commanding, even as he rarely raises his voice. He makes deeply palpable both Proctor's mounting outrage and the man's nagging guilt that his own moral weaknesses are what set this disastrous chain of events in motion.
The Crucible Broadway Cast