The Crucible - Broadway
It is a dramatized and partially fictionalized story of the Salem witch trials that took place in the Province of Massachusetts Bay during 1692 and 1693. Miller wrote the play as an allegory of McCarthyism, when the U.S. government blacklisted accused communists.
Starring Ben Whishaw as John Proctor, Tony winner Sophie Okonedo as his wife Elizabeth Proctor, Saoirse Ronan as Abigail Williams, and Ciaran Hinds as Deputy-Governor Danforth.
The production will be directed by Ivo van Hove, and will have scenic and lighting design by longtime van Hove collaborator Jan Versweyveld, costume design by Wojciech Dziedzic, and an original score by Philip Glass. Additional casting and design team will be announced at a later date.
Video preview
Photo preview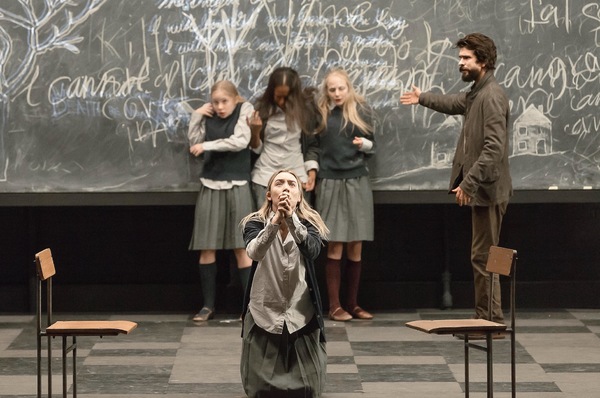 Schedule
Running Time: Two hours and 55 minutes
Featured Reviews For The Crucible
'The Crucible' With Ben Whishaw, Saoirse Ronan & Sophie Okonedo Bewitches On Broadway – Review - Deadline
Arthur Miller's 1953 drama The Crucible is a big play -- big ideas, big cast, big emotions. In a season of multiple Miller celebrations...Ivo van Hove's lucid and often mesmerizing production at the Walter Kerr Theatre honors all of those big factors without overwhelming us -- unless it's by the sheer impact of a company so right in nearly every detail, from the major roles to those less so...Van Hove and his incomparable troupe -- led by beautifully felt performances from Ben Whishaw (The Danish Girl), Sophie Okonedo (Hotel Rwanda) and Soairse Ronan (Brooklyn) -- play it straight. I think the impact must be quite similar to that felt by theatergoers 63 years ago.
'The Crucible': Theater Review - Hollywood Reporter
Almost operatic in their intensity, [Van Hove's] productions are designed to leave audiences agitated and uncomfortable, which is notably the case with this distressing 1953 drama, with its steadily amplified sense of horror and indignation...the mesmerizingly acted new production trades the play's specific period and milieu...for a pared-down look and non-naturalistic, indeterminate setting...the production presents a chilling account of the institutional arrogance and ignorance that are a threat to civil liberties in any age, particularly when the dividing lines separating politics, religion and the judiciary become blurred...The face of this production is Saoirse Ronan, icy and commanding in her first stage appearance...As strong as the ensemble is, the indispensable anchoring forces are Whishaw and Okonedo, both of them devastating.
The Crucible Broadway Cast