The Bridges of Madison County - 2014 - Broadway Tickets, News, Info & More
With her family away at the 1965 state fair, Francesca Johnson looks forward to a rare four days alone on her Iowa farm. But when ruggedly handsome National Geographic photographer Robert Kincaid pulls into her driveway seeking directions, what happens in those four days may very well alter the course of Francesca's life. Based on the best-selling novel, and developed by a Pulitzer- and Tony Award-winning creative team, this new musical captures the lyrical expanse of America's heartland along with the yearning entangled in the eternal question, 'What if...?'"
The Bridges of Madison County stars four-time Tony Award nominee Kelli O'Hara (South Pacific, The Pajama Game) and Steven Pasquale (Rescue Me, reasons to be pretty). It features a score by Tony Award winner Jason Robert Brown (Parade, The Last Five Years) and a libretto by Tony Award and Pulitzer Prize winner Marsha Norman (The Color Purple, The Secret Garden). It will be directed by Tony Award winner Bartlett Sher (The Light in the Piazza, South Pacific), who reunites with his celebrated Tony Award-winning South Pacific design team, including scenic designer Michael Yeargan, costume designer Catherine Zuber, and lighting designer, Donald Holder. Sound Design is by Jon Weston (How to Succeed..., The Color Purple).
Video preview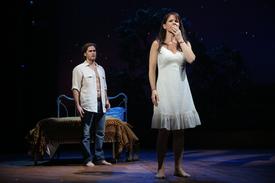 Featured Reviews For The Bridges of Madison County
Broadway Review: 'The Bridges of Madison County' - Variety
Everybody knows that playwrights shouldn't direct their own plays. But composers might also think twice about doing their own orchestrations. In an intimate house, Jason Robert Brown's lushly melodic score for "The Bridges of Madison County" would seem a proper fit for Marsha Norman's book, which is gushy but more literate than Robert James Waller's mawkish 1992 novella about soulful lovers in a hopeless adulterous affair. But although Kelli O'Hara and Steven Pasquale are in glorious voice as this passionate pair, the bombastic orchestrations and Bartlett Sher's overstated helming inflate the production into some quasi-operatic beast that thinks it's "Aida."
Theater review: 'The Bridges of Madison County' -- 2 stars - amNY
As devised by its creators, this slow, static and quiet adaptation of Robert James Waller's bestselling romance novel, which was previously adapted into a hit film with no less than Meryl Streep and Clint Eastwood, is a snooze and a misfire. It revolves around an unexpected tryst between Francesca, the Italian war bride, and Robert, a magazine photographer visiting her small town in 1960s Iowa for just a few days.
The Bridges of Madison County Broadway Cast