Something Rotten! - 2015 - Broadway
The time is Renaissance England, where two brothers, Nick and Nigel Bottom, are desperate to write a hit play. But how can they when the competition is the biggest star of the era, everyone's favorite bard: William Shakespeare? So they seek out the soothsayer Nostradamus. But not the Nostradamus, his nephew Thomas, who gives our heroes a completely original idea from the future - write a play with songs. And thus, the first ever musical is born. But not without much mayhem, madness, and musical mishaps. There is indeed Something Rotten! - and it will have audiences rolling in the aisles.
Video preview
Photo preview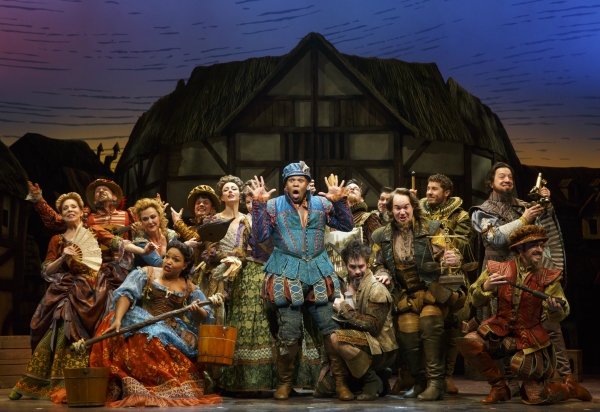 Schedule
Running Time: Two hours and 20 minutes, with one intermission
Featured Reviews For Something Rotten!
'Something Rotten!' is something fun - New York Times
Happily, the director/choreographer is Casey Nicholaw, whose distinctly joyful irreverence...is just what's needed here...The talented players are key. Brian d'Arcy James buoyantly returns to Broadway as Nick...Nick prefigures certain skeptical scholars in believing that Shakespeare's invention is not always truly his own. Certainly, as played by a devilishly funny Christian Borle, this Will's a slippery fellow...Nigel, played by John Cariani -- giving a relatively subdued performance, in which tenderness and goofiness are relayed with endearing understatement -- is actually the more inspired of the siblings...Even if you haven't brushed up on your Shakespeare recently -- or your musical theater -- you'll find plenty that's amusing, if little that's memorable, in Something Rotten!
Something Rotten! - TimeOut NY
...Something Rotten! has established itself as Broadway's funniest, splashiest, slap-happiest musical comedy in at least 400 years...tremendous care and showbiz savvy have gone into making a sophisticatedly silly rom-com that has it all: laugh-out-loud lyrics, catchy music, jaw-dropping sight gags and a powerhouse cast selling Bard-laced punch lines to the ecstatic balcony...the songs...are perfectly placed and deliver an escalating level of zaniness. Director-choreographer Casey Nicholaw...keeps it all spinning dizzily, imbuing the self-referential theatricality with sass and smarts. And what a cast. If you didn't already know what a smashing actor and singer Brian D'Arcy James is...here is a chance to see him carry a show with wit, fire and some impressive tap moves.
Something Rotten! Broadway Cast