Something Rotten! - 2015 - Broadway
The time is Renaissance England, where two brothers, Nick and Nigel Bottom, are desperate to write a hit play. But how can they when the competition is the biggest star of the era, everyone's favorite bard: William Shakespeare? So they seek out the soothsayer Nostradamus. But not the Nostradamus, his nephew Thomas, who gives our heroes a completely original idea from the future - write a play with songs. And thus, the first ever musical is born. But not without much mayhem, madness, and musical mishaps. There is indeed Something Rotten! - and it will have audiences rolling in the aisles.
Video preview
Photo preview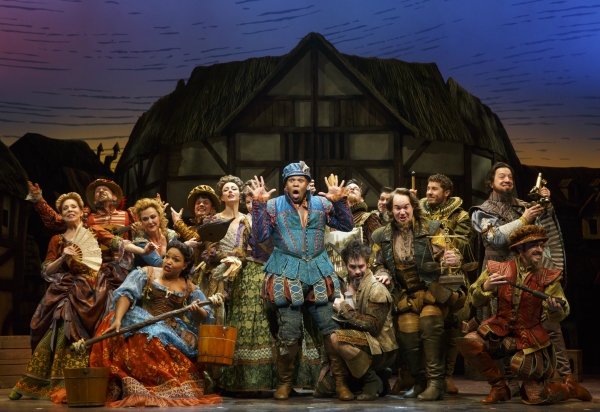 Schedule
Running Time: Two hours and 20 minutes, with one intermission
Featured Reviews For Something Rotten!
'Something Rotten!' Plays The Bard Card In Broadway Merriment – Review - Deadline
Something Rotten! revels in its silliness while delivering such a nonstop blitzkrieg of production numbers, each out-doing the one before, that you hardly notice how much you've fallen in love with the Bottom bros...It's entirely possible that I would have had a different reaction had not the show given us the exuberant D'Arcy James in his best role ever...Ditto Borle....The book is jam-packed with outrageous puns, bad jokes and inside references to Shakespeare and Broadway, and in that the show is like the much-missed series Forbidden Broadway, but on steroids...One surefire combination in the art of producing for Broadway is the ability to make audiences feel smart -- but not outsmarted -- and giddy at the same time...Anyone who can pull off jabs at Cats and Les Miz at this late hour has tapped into something, you know, not rotten -- and the best tonic I can imagine for this endless winter season.
'Something Rotten!' opens on Broadway - Star-Ledger
Chock full of show tune references, theatrical puns and Shakespeare quotes, the show is a field day for drama nerds. Casey Nicholaw's direction and choreography constantly amp up the silliness and energy, and the cast of veterans is more than game...The bouncy score is crammed with production numbers and clever rhymes...As Shakespeare, Christian Borle is in prime stage animal form...he begins gyrating in skintight pants as he quotes his most famous lines...Yet he seems to have a viable adversary in nervous Nigel, played by Cariani as a sweet-voiced, endearing underdog...The sincere aspects of the musical are its weak points...One could also quibble with the show's reliance on parody and pastiche. But, then, you don't go to "Something Rotten!" expecting something profound. With great comedic timing and expression, James is perfectly cast as the striver Nick.
Something Rotten! Broadway Cast